This is one of Todd Wilbur's copycat recipes. I make it all the time.

1/2 cup water
1/2 cup soy sauce
1 slice onion, quartered (1/4 inch thick)
2 nickel-size slices peeled ginger, halved
2 cloves garlic, quartered
1/3 cup sugar
1/3 cup pineapple juice
2 tablespoons vinegar

1 tablespoon cornstarch
1/4 water

Combine 1/2 cup water with soy sauce in a small saucepan over high heat. Add onion, ginger and garlic. Bring to boil, reduce heat and simmer for 10 minutes. Remove onion, ginger and garlic pieces with a slotted spoon (discard). Stir in sugar, juice and vinegar. Combine cornstarch and 1/4 cup water in a small bowl or cup. Add mixture to pan and stir while bringing to a boil. Once sauce has thickened, remove from heat.
__________________
Sandy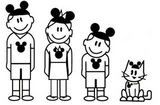 Animal Kingdom Lodge Pop Century All Star Music All Star Movies Caribbean Beach DCL Wonder 2001 DCL Magic 2004, 2008 DCL Dream 2011, 2012, 2014 DCL Fantasy 2015