This was originally posted on my blog. To visit it and see the video I mention in this report, visit
http://littlestwarriorspot.com/
. To go right to the video search "Sneak Preview".
************************************************** *****
I have a goal for myself. I can't tell you what my goal is because there are certain people who read this blog who would have a really cool surprise ruined if I shared it so instead I'm just going to be vague and annoying. But I bring it up because what it means for you, Dear Internet, is that I have a deadline for writing the story of Rachael's Make-A-Wish trip and that has somehow helped break me free from my writer's block.
I could spread the telling of our week out over the span of months really. There are stories to tell, moments to reflect upon, pictures to show. Over 1000 pictures. OVER. ONE THOUSAND. That's more than a thousand.
Wanna see one?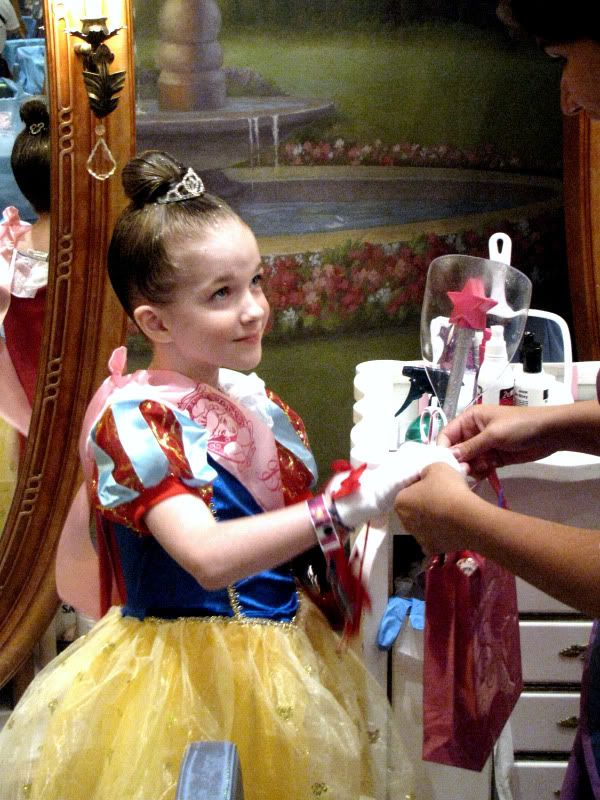 Moments before Rachael was transformed into this breathtaking princess who literally stole my breath and brought me to tears, (I kept saying, "I know she's mine but isn't she beautiful? She is really so beautiful!") we ran… RAN all the way from Main Street U.S.A. to Cinderella's castle where both Marc and Rachael had a 7:30 appointment at the Bibbiti Bobbiti Boutique. We were running and running and Rachael started saying, "My side hurts!" so Daddy throws her up on his shoulders and we continue to run and run until we get to the castle, out of breath and sweaty but so oh my goodness LOOK WHERE WE ARE wide-eyed amazed and only five minutes late!
18 minutes before our run began we were parking our car in the Magic Kingdom parking lot. At the gate, showing our tickets and having our bags searched we inquired about the fastest way to get to the Bippiti Boppiti Boutique and learned that we had to take a monorail from the parking lot to the park. A monorail that we seem to recall can take 20 minutes! So we hurry and lo and behold… the monorail is pulling in just as we ascend the ramp! A little fairy dust clearly led the way.
An hour before our entrance into the Magic Kingdom, we were both thankful and apologetic to the wonderful people representing Give Kids The World (which will get top billing in a future post). Thankful because wow this place is amazing even at first glance! and apologetic because we have absolutely no time for your tour, orientation, family photo or grand welcome. We have tickets to the Magic Kingdom and an appointment for a princessification and may we have our key, goodbye and we'll see you after midnight!
They were incredibly gracious, understanding and excited for us. They even gave us a big bag of really delicious food that should have been savored at a table and was instead scarfed down while driving down the highway in our rental.
But before our drive to Give Kids The World (GKTW) we arrived in Orlando with a reception fit for royalty.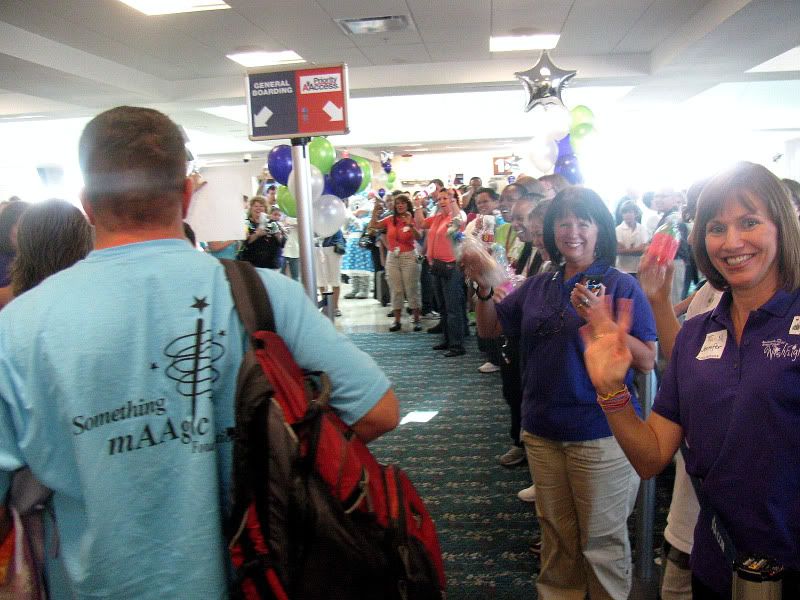 I have no idea how many people were lined up and erupting in cheers when we landed but it was overwhelming. Our wonderful GKTW representative, Jo, met us right there and took us down to baggage claims where some great guys from Avis were waiting for us. I ask these guys, "So…. what kind of rental are we getting?" "Oh, probably a minivan." "Hmm. That's what I drive at home. I've always wondered how it would be to have an SUV."
We get our luggage, Rachael shows her "Avis Fairy Godmother" a secret key she had in her possession and faster than you can say "We shoulda brought more luggage" Rachael inserted her key into this gigantic treasure box filled to the brim with such an array of gifts and toys she might be ruined for Christmas.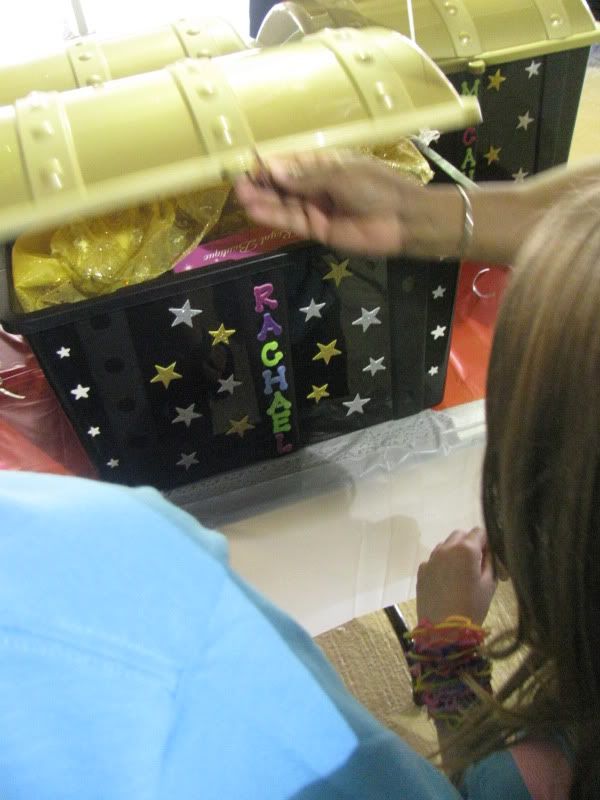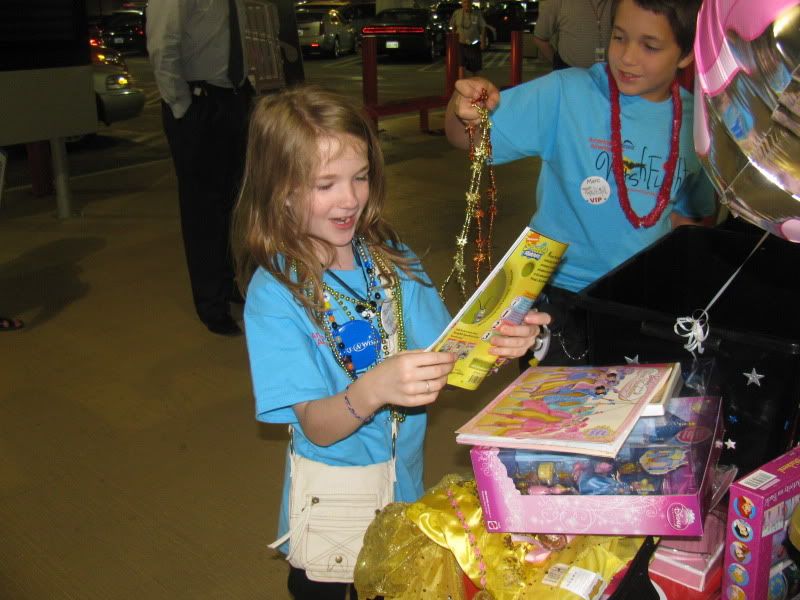 Then they loaded that and all our luggage into our shiny, new SUV.
We couldn't get to Orlando without going through Dallas though and let me tell you, we Texans can throw a party!
When we arrived at the gate in DFW, we were met by three real life princesses…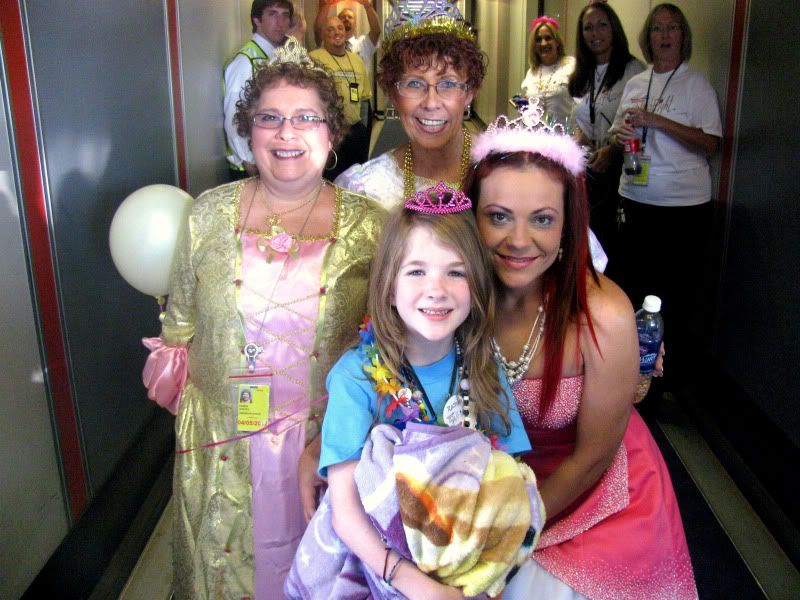 they loaded us onto a tram and….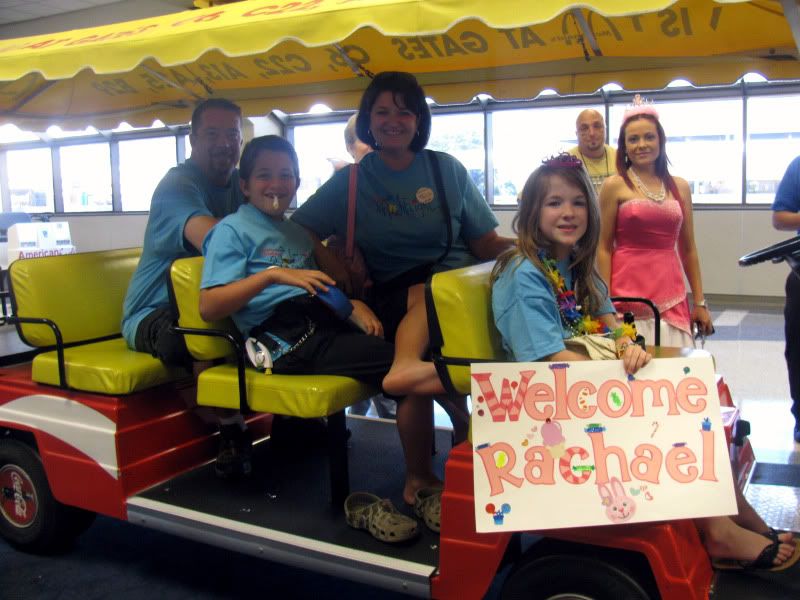 cheered our way through the whole airport!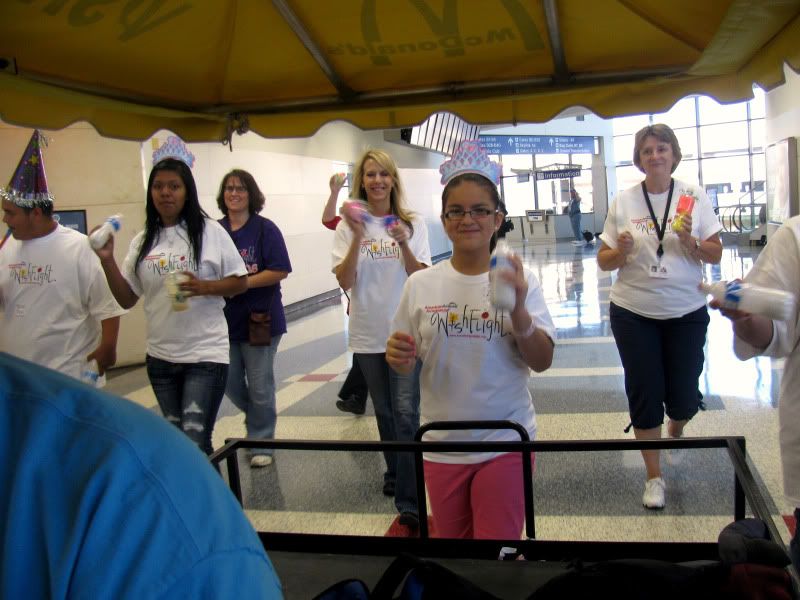 They shouted things like "Make way for Princess Rachael!" and led us in cheers all the way to our next gate. People were stopping and staring and wondering what the commotion was and then ultimately smiling and usually clapping along with us. Even Tom teared up. It was overwhelming.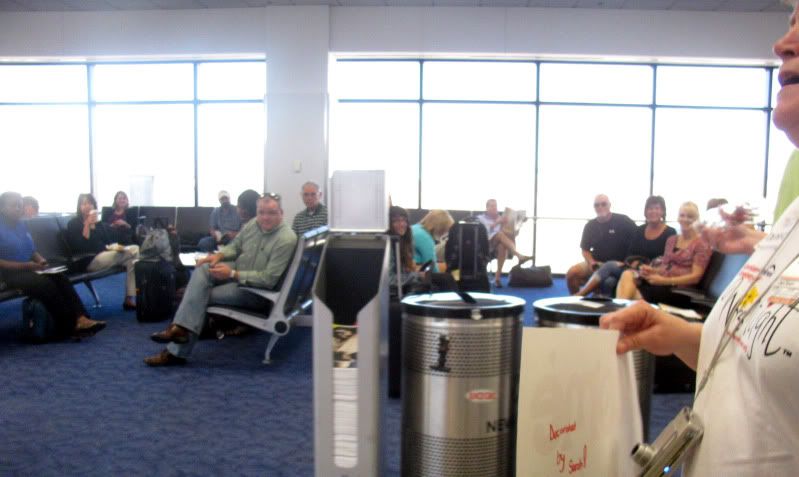 When we got to our gate, we passed through this…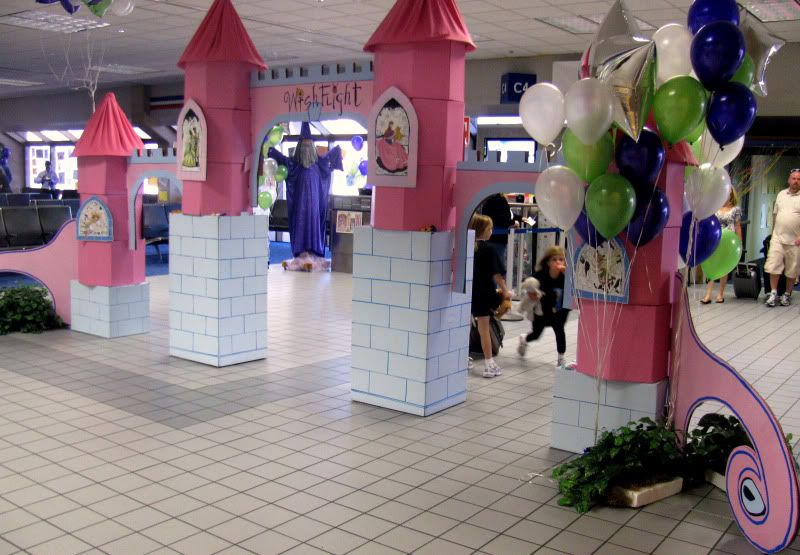 There were about 18 "Wish Families", I believe, who passed through DFW and I would venture to bet that each one of us felt the party was for us alone. Thank you Dallas, you now own a piece of my heart to go along with a few of my tears.
In the airplane, on the way there, Rachael opened a little box…
and found this…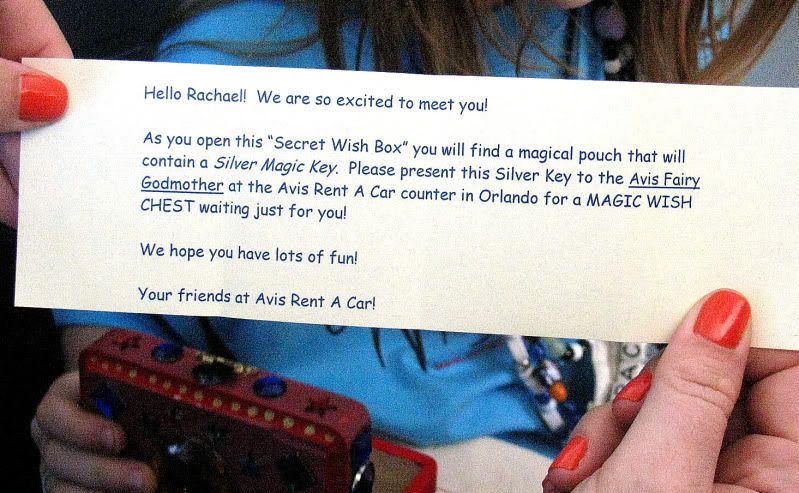 and this.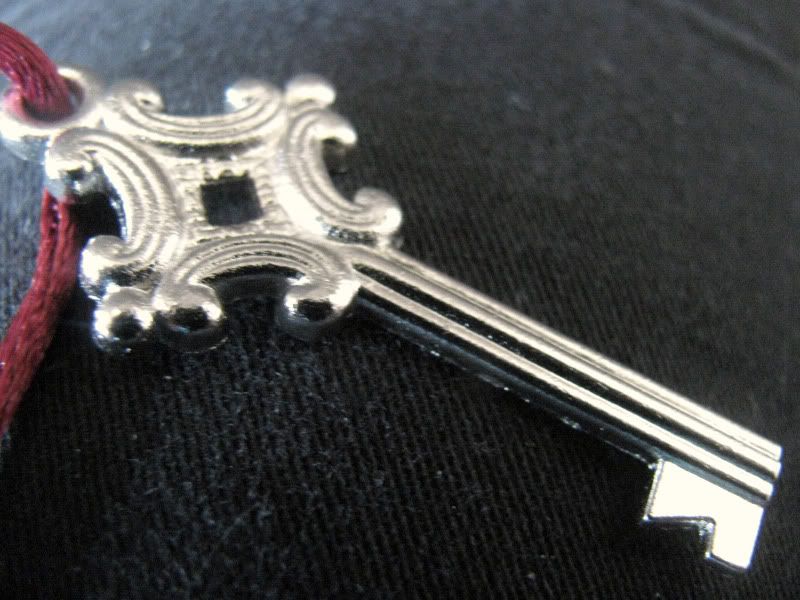 It was all part of a gift she had received earlier at a certain little party in our hometown.
We were the only family with a Wish Child who flew out of our city and the video I showed on my last post was from that airport. Rachael was not only on a Make-A-Wish trip, but she was invited to be part of a once a year experience hosted by American Airlines called "Wish Flight". This was the 15th year that the Something mAAgic Foundation has invited families from around the world to fly to Orlando on one special day when they will be truly celebrated. Honestly, we didn't even know to be excited. We were asked if we would like to participate back in June and not having any idea what we were signing up for, I wasn't at all sure it was anything we even really wanted.
We had no idea.
From start…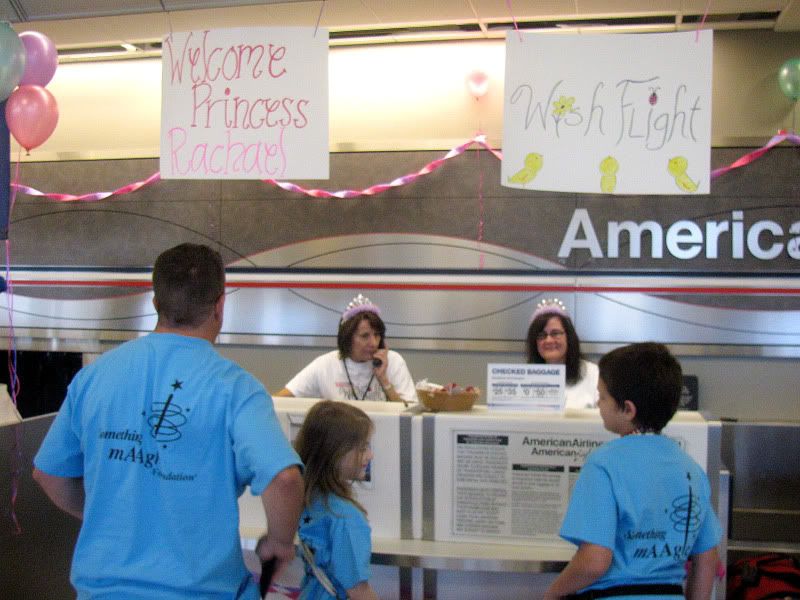 to finish…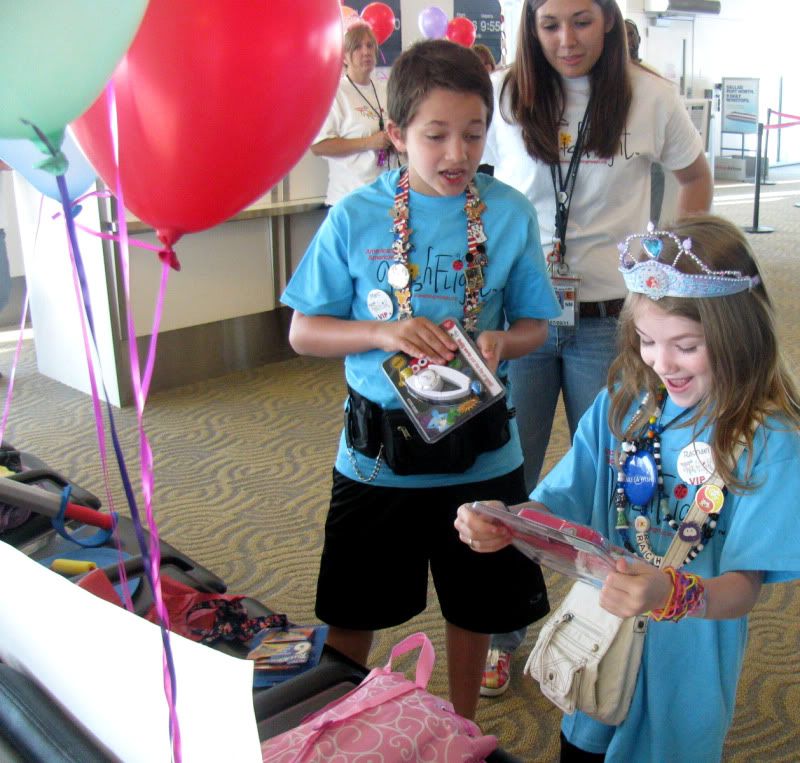 the celebration in our airport for Rachael was unbelievable. I mean really… beyond belief. If you haven't taken the time to watch the video, please do. I've seen it 9 times and I cried every one of them. Rachael was the star of the party, that plane, the airport! The pilot asked her if she was ready to take off and after she shouted, "Yes!" and the plane started moving he said, "We are going to start your trip Rachael with a sprinkling of pixie dust to help us fly!" When I recall that and then see this…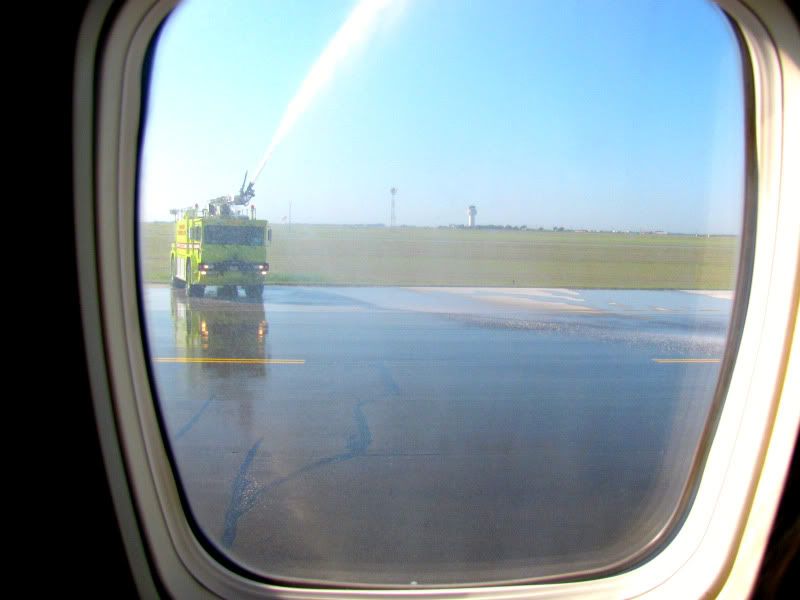 I cry again. Thank you has never felt so inadequate.
It didn't start here though. We had to get to the airport and Marc finally got his limo ride!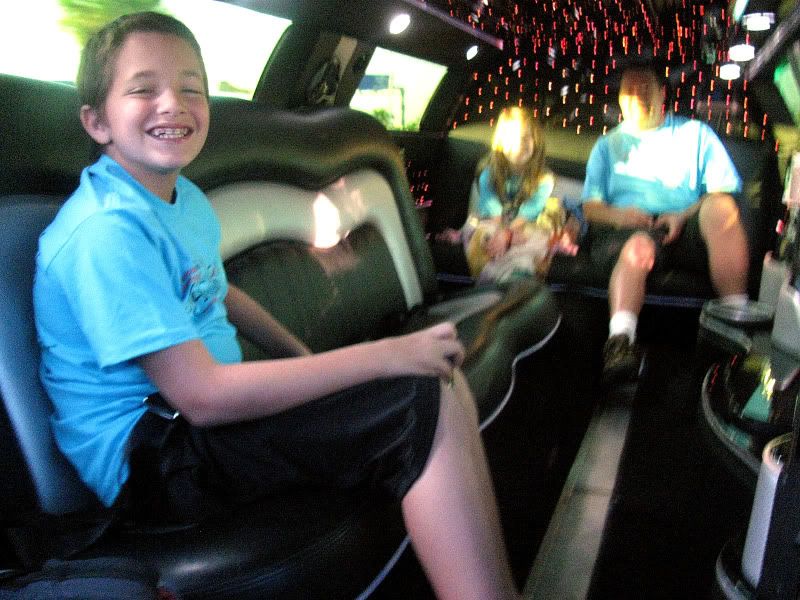 And when we left our house, we had to pass the school. And this is what we were completely, TOTALLY surprised with…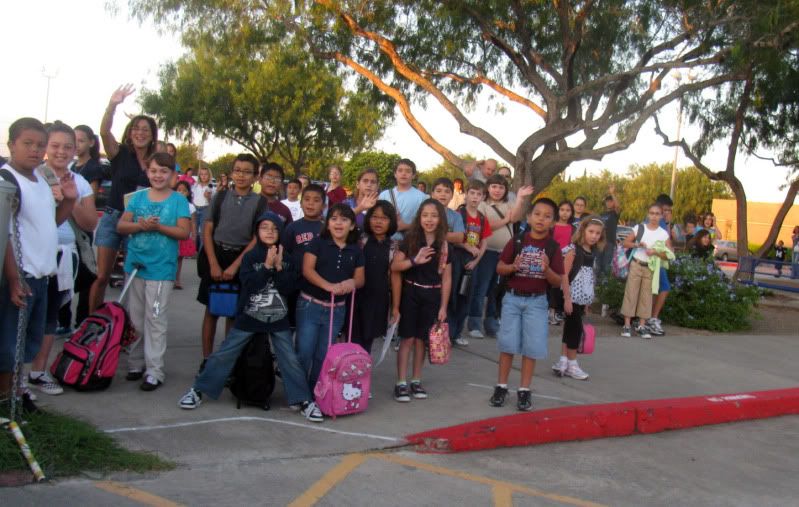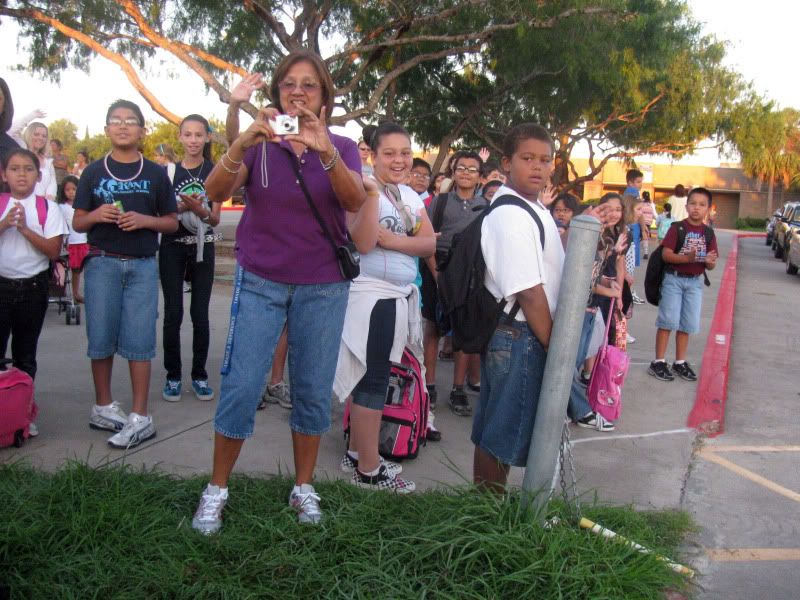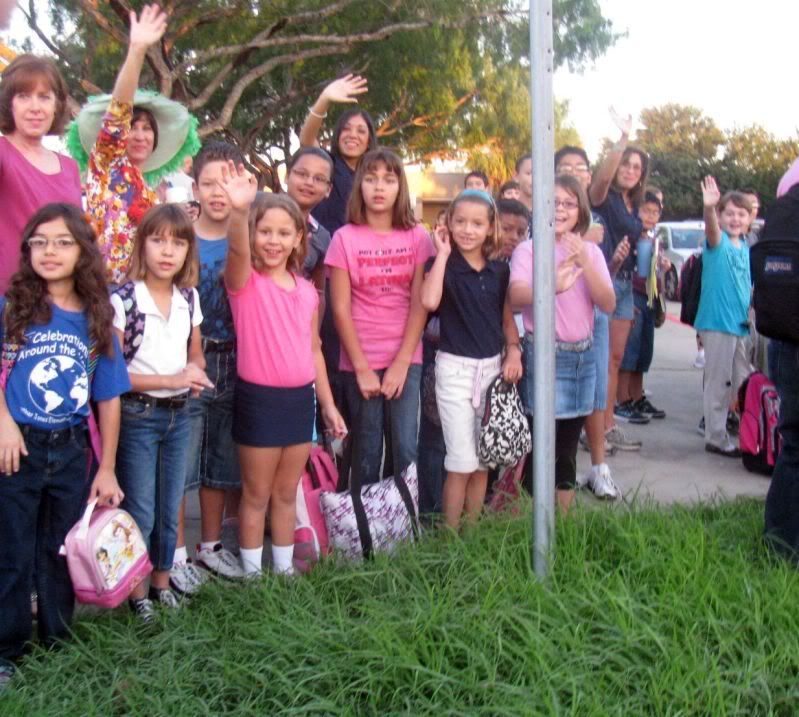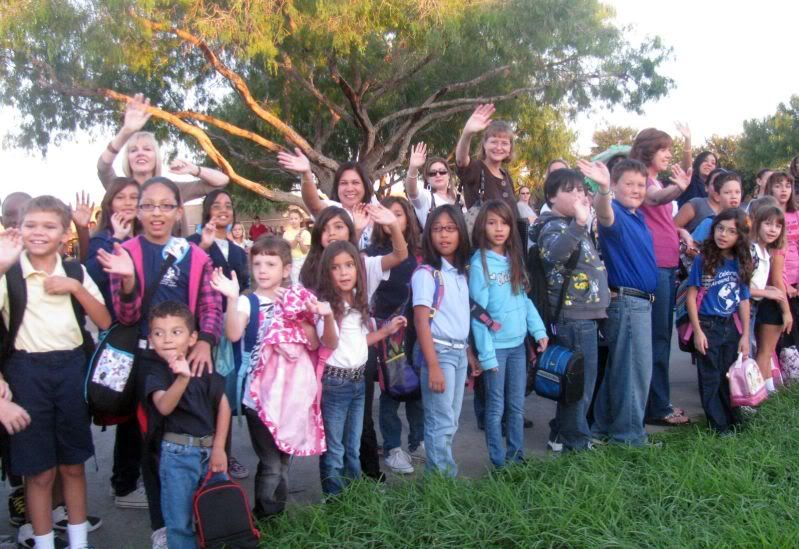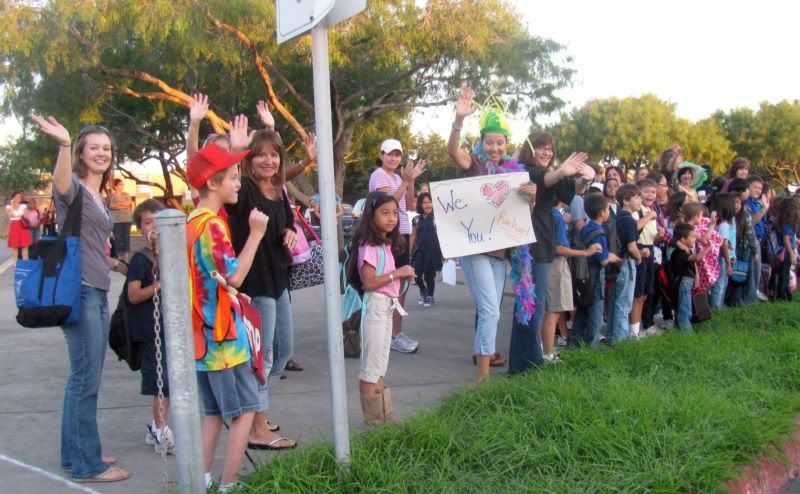 So at 7:35 AM, I was thankful for the first of many times that day for my newly purchased waterproof mascara. I needed it all day long. And I especially needed it almost exactly 12 hours later when it all came together and I saw this…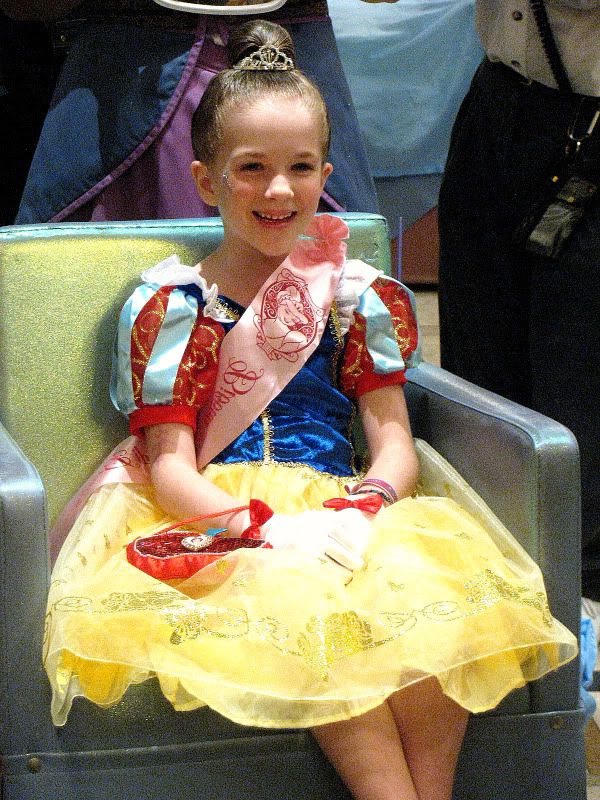 To be continued….