Part 1
First a bit of background, please forgive me if I am doing this a bit out of whack, never submitted a trip report. Here we go though!
Me-Shannon, female, age 27, loan anaylst, sunscreen lover, obsessive reader, theatre geek trip #3
DH-Nick, male age 29, radio producer/assistant program director, gadget guy, fast walker, incredible recollection of names, dates and random historical facts, trip #...um…way more then 3
Second trip together, married 2 ½ years.
August 28th-September 4th 2010
Our adventure began at our small home on August 28th, a not typically cold morning…but around 5am it was a wee bit chilly. Our flight was to leave just after 7 and fortunately we only live about 10 minutes from the airport (which contrary to what you hear on the flight is not in the capital city of Providence). Anywho, we arrive and find out gate without much of an issue. I am not a good traveler so I took some allergy pills in hopes of sleeping on the plane.
Fast forward an hour and a half and even though we are in boarding group b on Southwest we cannot sit together. HUGE issue for me and one of the flight attendants was super rude (makes me wonder what went so wrong in her day before 7am!) when we were trying to find seats…but I digress…and before I forget, attendants on our way home were AMAZING! I won't let one bad apple spoil the whole bunch. But I put on a brave face and DH checked on me whenever he was able and we arrived in sunny (hot) Orlando a full 20 minutes ahead of schedule much to my relief as the ride was pretty turbulent and I ended up seated next to a woman as ill-equipped at flying as I was.
We left the plane and were fully immersed in the chaos of Orlando International. DH suggested breakfast/lunch but seeing as we were back on terra-firma (close enough to it for comfort) I wanted nothing more then to make our way to the magical express! So off we went after a brief pit stop. We made our way to the tram and realized, when DH attempted to take a video, that one of two things had happened, either our back up memory cards for his camera (which I bought him for his birthday after reading reviews on the disboards) were in our luggage on route to the hotel, or we had forgotten to pack them. Turns out, we had forgotten to pack them along with the battery charger, fully charged the camera before hand thank goodness. And fortunately for us the price for a new card at the hotel wasn't much higher then at home. But I am jumping all over the place….
We made our way down to ground level and were quickly assigned a bus and enjoyed our first (and what turned out to be one of the longest) lines we were to wait in on our trip….about 20 minutes. Our bus came and we settled in with the rest of our sleepy companions to make our journey to Coronado Springs. Just as the bus got rolling….my allergy meds kicked in, that mixed with the adrenaline high of being in Florida I became fairly loopy for the next hour or so.
Before you could say "Bienvenidos amigos" we were rolling up to the brightly colored exterior and beautiful grounds of the CSR.
We left the bus with a spring in our collective step and walked into the familiar and inviting foyer of the CSR and made our way quickly to the check-in desk, there would be time to admire the scenery and check out the re-models later. We waited about 5 minutes in line before an incredibly friendly and knowledgeable female cast member whose name I wish I remembered greeted us. Check in was about as quick as check and painless as a check in can be (the only problem we ran into was with the echoing in the lobby it was a smidge difficult to hear the cast member) and we were handed a map and room keys. We were informed we would be staying in Casitas 5, which was a nice to hear as we stayed in Casitas 2 when we stayed there in 2007 when DH was in a friend's wedding in Disney. I asked where we might leave our bags while we waited for our room to be ready as it was several hours before check in and was very pleased to learn that our room was ready. Map and keys in hand we made our way to Casitas 5…we should have paid more attention to the directions we received as we got turned around, went up the wrong elevators, and ended up in Casitas 3. This would not be the last time this happened on our trip! Eventually we got ourselves on track and were very happy to discover the basic room we booked was in fact water view!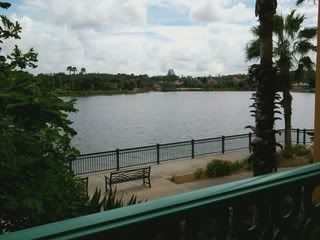 Upon entering the room we took a few minutes to admire the beautiful work done since 2007. Memories of bright walls and crazy loud linens danced in my head as I had allowed myself very few peaks at the websites before hand, I wanted to be surprised by the refurbishments. The mellow wall color, dark wood furniture and doors and the very updated entertainment system were all beautiful! We freshened up, called our parents to let them know we were at the resort and how to reach us there, armed ourselves with cameras and sunscreen and off to the bus stop we went….Magic Kingdom HO!
Given the time of day we were some of the only people on the bus and settled ourselves down to enjoy the quick ride to the park. We flew through security and breathed in the fresh air and wonderful smells coming off Main Street. We quickly grabbed maps and headed up to the train station, pausing briefly to soak up a few of the castle. We enjoyed the breeze, catching a glimpse of Woody and Jesse posing for pictures near Thunder Mountain and took a ride to Mickey's Toon Town Fair. After visits to Mickey and Minnie's homes (probably for the last time) we ducked into Starlight Ray's for a quick bite. Taking our lunch outside we found a quiet table and watched the world go by, reveling in the fact that months of planning, board visits, and podcasts later we were actually here.
Refreshed and fully fed for the first time since 5am we were off and running! First stop was the people mover and, after realizing there was next to no line at one of my personal favorites, Buzz Lightyear's Space Ranger Spin, we headed down to blast some red Zs. Considering this was a Saturday at the end of the summer, the less then 10-minute wait was wonderful. That ride never disappoints, especially since I kicked DH's butt! After admiring the horrible picture of ourselves we headed back out into the sunshine, which hit us like a ton of bricks. Not quite ready to start really walking and sweating we made our way to the "Monsters Inc Laugh Floor" for some good-natured ribbing at the expense of our fellow patrons. Enjoyable as ever we made our way out of Tomorrowland, past the temporary wall with views of construction equipment peaking out over head, by the castle, and caught the end of the mid-day show. We had heard rumors of moving character mouths but I don't think we really believed it until we were there. As the show ended and the crowd disbursed we slowly made our way into the Liberty Square/Frontier Land area where we stopped with our photopass for a few pictures near the castle which now grace a mousepad at my parent's house, an ornament for our tree, and both of our desks at work. We walked aimlessly for a bit, we assumed we would have had to go back to our room to get settled after 3 and as such had not planned out the day. But the crowds were light so lines and having to get specifically places and certain times was not really an issue. We took a seat and decided to watch some of the mid-afternoon parade. We aren't huge parade people so we only stayed for a few minutes, watched the Muppets, and made friends with some of the local wildlife.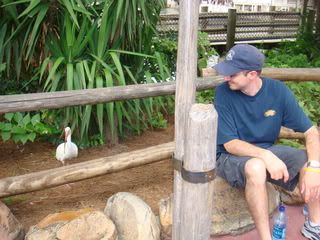 The decision was made to duck out of the parade, as we remembered from the boards and from a few different guidebooks, that while there are huge crowds on the parade route, there are very few people in line at the nearby attractions. So off we went to the Haunted Mansion. Our wait was virtually none existent. But I began to get nervous when I noticed a family with a very young daughter getting in line behind us. Into the stretch room we went and, as the very talented cast member closed the doors with a foreboding remark the young girl in her father's arms began to scream. Now, I must admit, when I was young I probably would have reacted the same way, exactly the reason my parents didn't take me on scary rides. I don't know what this little girl was usually like and under circumstances she might have been fine, but today she was not and as she screamed she thrashed her legs which were, at that moment, in line with my rib cage and upper abdomen. I felt a breeze from her tiny, flailing foot, and jumped in front of DH whose open arms were waiting, noticing as I did the nasty bruise that was headed my way other wise.
Onto the ride we went, both noting how impressed we were with the additions to the attraction both inside and out. The extra "bridal" bits really offered some continuity I think. I am sure other people feel they were not necessary but they were some pretty cool additions IMHO.
We were plopped back out into the sunshine just as the parade ropes were coming down. Before the crowd could flood the area in which we were standing we ducked further into Liberty Square and decided to into the Hall of Presidents. As we were informed the next show would be starting in about 5 minutes, memories from my first trip to the World flooded my head. I came to the World for the first time during the summer between seventh and eighth grade in the mid nineties, 4th of July week for a dance competition. I remember entering the large theatre, which was filled to capacity only to not really pay attention to the exhibit because I was distracted by the light snoring that immediately began popping up around me. I went in with only slightly improved hopes this time as last visit DH and I skipped this. We entered the theatre and took a seat, having our pick as the attraction was only about a quarter full; we chose seats just to the right of center near the back. I don't remember much about my first visit here; accept I knew that was a vast improvement. The opening movie was absolutely beautiful, well scripted, showing the highs and lows of America with a simple and relatively unbiased political voice, something you don't experience much these days. Once the curtains opened I immediately noticed for the first time, the details. The twitching of previous leaders feet and the subtle head movements were beautiful. We sat in silence and soaked up the speech of the Obama anamotron and felt ever so slightly lifted and happy to be where we were. Say what you will about the country and it's political state, it is a very interesting time in American history and we are living it.
The day was wearing on and we were exhausted from our trip, so we made the decision to slowly walk down Main Street towards the exit. We looked into a few shops along the way while DH tried to figure out what was being done behind the tarps. The smell of fresh baked cookies and popcorn filled our nostrils as we headed back to the bus stop, wanting to take a rest before really kicking our vacation into high gear!
Please check back soon, I will post links to other sections of the report as I write it! Thanks for sticking with me this far!