Quote:
Originally Posted by
kristinebarboza
anyone have coupons for july
also what is a good day to go there
i will be in california from july 3 to july 8
Do you have a AAA card; I believe they discount maybe $10 pp with a AAA card.
I would stay away from the weekend days, when most of the locals will be there.
Have fun planning your trip!
__________________
DS17 & DS11 on the Teacups at DL!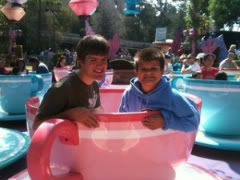 Port Orleans Nov 91 (Honeymoon!) • Dolphin Nov 99 • Dolphin & 7 day Magic cruise July 01 • HRH & Poly June 04 • HRH May 05 • West Coast Magic Cruise June 05 • HRH Sept 06 • Wilderness Lodge July 07 • West Coast Magic Cruise June 08 • HRH & Coronado Springs Dec 08 • HRH, Wilderness Lodge & 6 day Christmas Magic Cruise '11 • DL AP holder since 1989!!