Someone wanted to go with us! Here is a picture of our dog. As soon as I opened up my suitcase she jumped right in. I actually had to get her out so I could start packing!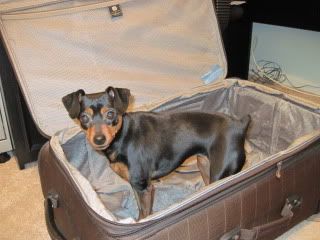 The night before we left we had to go to my company Christmas party. We finally got home around midnight and I realized that not all of the packing was finished!
Patrick had not even started packing!
I wanted to wake up (if I could even go to sleep from all of the excitement) and start getting ready around 4:15am. My mom was going to pick us up at 5 am for our 6:50am flight. We live about 20 minutes from the airport and I wanted to arrive with plenty of time to check-in and relax before the flight.
My mom is always late! Well, not this time; she actually arrived early! PV said that she is only on time for flights and anything related to Disney!
I was happy to see her...she helped get the morning going because Patrick was not feeling any of my excitment! He is not use to waking up early and could not understand why I was practically jumping off of the walls a 4:30am! hehe
We arrived at the airport with PLENTY of time! We ended up grabbing breakfast and waited for boarding to start. Once we got on the plane we ate our breakfast. The place ride was smooth and we arrived 10 minutes early! WOOHOOO! Here are some pics from the flight to MCO.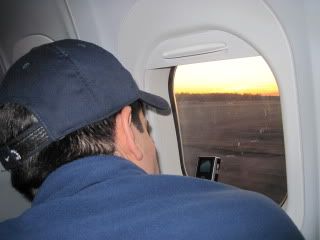 This was the first thing I noticed as we were getting on the "monorail" at MCO:
We were not sure where to go once we arrived at the main building. I had read on the boards that we would see signs and possibly people directing us with the big Mickey gloves. Well, no luck on the gloves but we did find signs to put us in the right direction. ME here we come!!!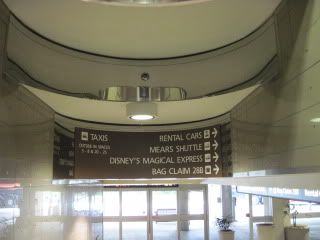 Checking in with ME and boarding the bus was fast and easy! As soon as we walked out the doors our bus was pulling up! YES! We were the first ones on and only had to wait about 5 minutes before we were on our way. Here we are waiting for the bus to leave.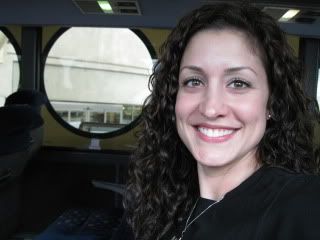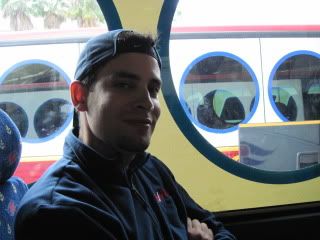 Before we knew it we were watching the video and driving under the arch. I told Patrick as we were riding under the entrance that he would no go back under the "arch" until we were leaving on Thursday afternoon.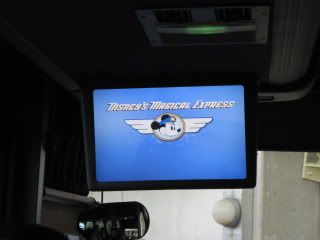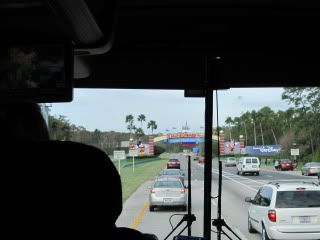 *Sorry the picture is blurry*