In less than 2 weeks, my husband and I will take our first trip as a couple to Disneyland! DH has never been to Disneyland before, although he has been to WDW appx. 3 times (at least once when he was younger, and we went for our honeymoon in 2006, and again in 2007). I'm excited to take him to DL, as DL has always had a special place in my heart!
Here we are at WDW last December: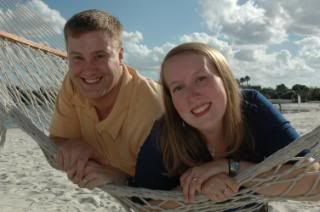 This was somewhat of a "last minute" trip--or, last minute considering our WDW trips have been planned as much in advance as WDW allowed us
We decided to go after Disney announced the Armed Forces Salute special. We just secured our hotel last week, as well as dining reservations (definitely last minute for me, as I usually book ASAP!)
We'll be staying at the Ramada Plaza Inn for 4 nights--arriving on a Tuesday afternoon, checking out on Saturday. Because the tickets we get through the military discount are only for 3 days, we won't be heading into the parks until Wednesday. Here's what our plans are looking like so far:
Tuesday:
Arrive at LAX, and drive to Anaheim. Take care of some unrelated errands, and check into the hotel.
Head to DTD--check out the shops, walk around and enjoy the ambiance for a bit.
Dinner--hopefully the Jazz Cafe (I'm a music nut, so live jazz would be awesome!). This we just decided, so I will call for ADRs tomorrow. We didn't really have a problem getting any of our other ADRs, which surprised me considering how fast restaurants at WDW fill up, so I don't expect too much of an issue with this.
The rest of hte night will likely just happen as we decide when we're there.
Wednesday:
Hit DL as soon as possible. My cousins are meeting us on this day, so we'll be in a party of 4 instead of 2.
Lunch--Blue Bayou (I can't wait! Dh and I both want the Cookie Boat!)
Dinner--likely counter service, since we anticipate my cousins to still be with us.
I'm sure there will be park hopping with DCA today too, since I know my cousins will want to ride there also.
Thursday:
It's back to being just the two of us.
Lunch will probably be counter service.
Dinner-Napa Rose (we're slightly hesitant about the menu, as neither of us really likes seafood, but we feel like we can't leave without trying it!)
We'll spend more time at DL today also. We have a DSLR with us for the first time on a Disney vacation, so we will spend some time taking pictures and such.
Friday:
Nothing is really planned for this day. We wanted to try out Yamabuki, but it's only open on Wednesday and Thursday of our trip, so we'll have to save that for later. Any recommendations for an amazing restaurant (for lunch) would be great. We're meeting my cousins for a bon fire Friday night!
More picture taking will happen here, both at DL and DCA. We want to get as much out of the rides as we can!
Saturday:
Head to DTD in the morning to pick up any last minute souvenirs, and then head back out to LAX. DH is heading home, and I'll be heading to spend some more time with my cousins.
We're both really excited about this trip! It's a little weird for me, b/c I feel like I should have a little more planned. But I also feel like I know DL/DCA a bit better...and that it's not quite as overwhelming as WDW, so I'm not as anxious about it. I'm pretty sure we'll get to see everything we want to see in those 3 days!