Welcome to my first ever pre-trip report! I'm going back to the World in a little more than a week (!!!!), so I decided to do a trip report & pre-trip report, for fun, and also to help me stay organized after the trip, for scrap booking and other stuff. Anyway, let me give you the main factoids:

WHO:
Me, the BF & his parents, the three BFFS & 2 friends of one BFF. Confused yet? One of the BFFs is also a CP, to add to the confusion.
WHEN:
Different dates for everyone, but the BF and I are there from 10/17 - 10/21. We're flying Southwest. 6:50am on the 17th, 5:40pm on the 21st - I'm one of those people who tried to squeeze as much extra time in as possible what with only 2 days off of school.
WHERE:
Again, different hotels for everyone, but the BF & I are at the Boardwalk.
ADRS:
10/17 9:10pm: California Grill (me & BF - we plan on getting there early to have a drink and watch Wishes at 8:00)
10/18 12:35pm: Le Cellier (me & BF)
10/18 5:30pm: Biergarten (me, BF, & parents - it's a surprise for them)
10/20 8:25am: 1900's Park Fare Breakfast (everyone!)
MNSSHP 10/19:
My first time going to MNSSHP! (though I have been to P&P)
Alrighty, lets get to the main characters: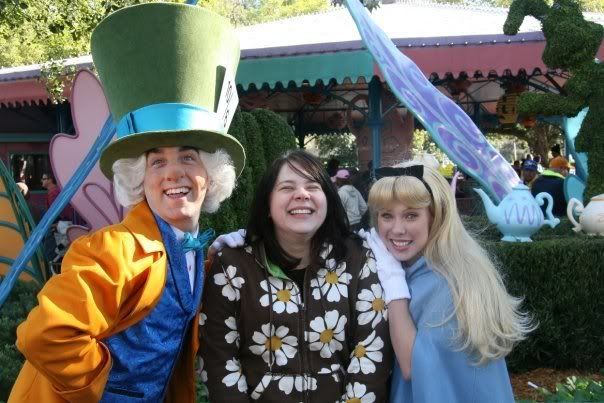 Me, with my favorite people in the World!
Me!
I'm
Emily
, 21 (oh yeah, this is also my first trip to WDW since I've turned 21!), a senior in college. I'm an absolute Disney fanatic, just like the rest of you, and I've been going to the World since I was a little kid.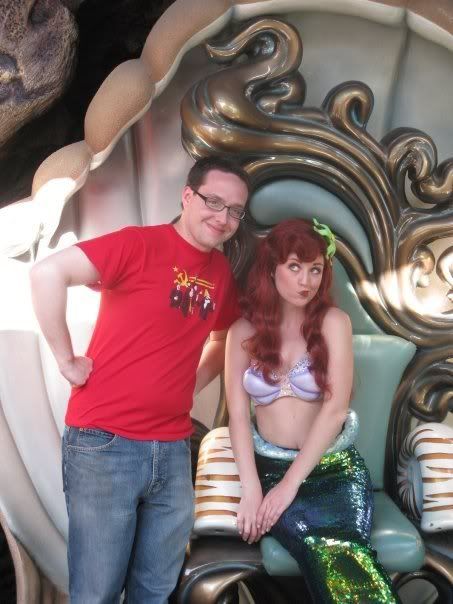 Nick with Ariel in DL...she was totally flirting.
The BF,
Nick
.
Also 21, also a college senior (as are all of the other non-parents, so I'm going to stop mentioning it, lol). He went to WDW once before he met and didn't have a very good time - their family went with neighbors who had been there before and were picky about rides (he didn't even know Pirates was based off of a ride!). They also stayed off property, so they didn't get to see any fireworks, parades, etc. We went together three years ago, and he's become a certified WDW fan. We've since been to WDW a second time and Disneyland once. I'll tell you about his parents a bit here too: they're like my adoptive parents, and I love them a ton. When we started planning this trip, they decided to come along, and I know they're going to have tons more fun this time than they did the last time.
Now for the three BFFS...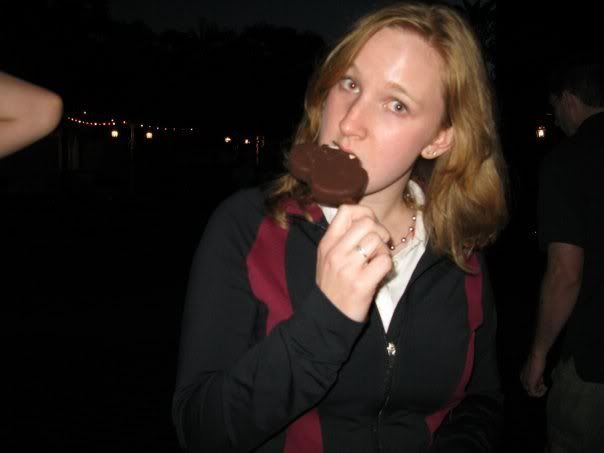 Sam, with one of her beloved Mickey Bars.
Samantha
.
My best friend since first grade, she took me on my first non-childhood trip to WDW when we were 16. She's almost a bigger Disney fanatic than I am - almost. Two of her friends from school are also coming on the trip, and they seem like really cool girls, so I'm excited to meet them. One of them is a vegetarian, so I'm interested to see how her dining experience will be. She came to DLR with me and Nick this summer.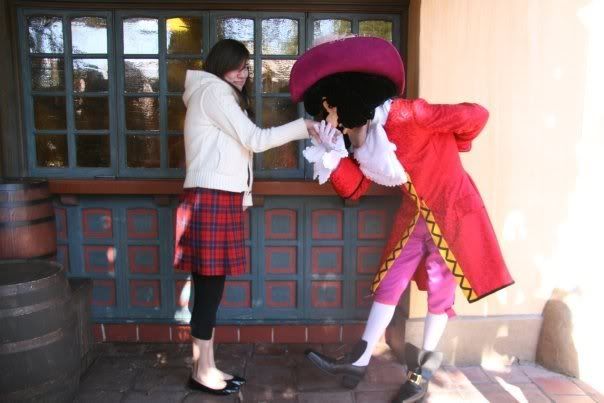 Amanda, with her boyfriend Hook.
Amanda
.
She's in Orlando on her second CP - she extended last time through and went into fur entertainment, but had to terminate early due to a leg injury. This time around she's in attractions (Fantasyland! Yay!), and will be extending again to go back into entertainment. Also came to DLR with us this summer, as well as coming with me and Nick to WDW for last New Years (I really, really enjoy Disney trips, as you can tell).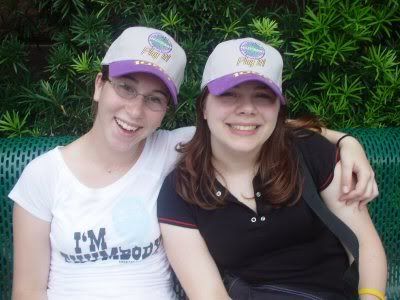 Me & Jac in 2005, after both getting to the Hot Seat at Millionaire.
Jacque
.
She took me on my second non-childhood trip to the World when we graduated highschool, along with Sam. We met up with Amanda there as well (can you tell how obsessed we all are yet?) that trip, though she was with some other friends on vacay.
So, that's everyone, and we're all unbelievably excited for the trip. I'm especially excited for MNSSHP - I've been slaving over my costume. I'm being a Mad Hatter-ess this year, with Sam being my Alice (I did the Alice-for-Halloween thing two years ago). Nick is being Indy, Amanda is being Belle (if she's off work that night), and Jacque finally decided on Tiger Lily. I think this is it for the pre-trip report, but I'm sure I'll think of other stuff to talk about and come back to post more.