I am going back!!!! Even if Dh doesn't want to, even though this was supposed to be a Disney cruise, and even though the entire family thinks I'm too obsessed with WDW and that I'm crazy for spending so much money for another Disney vacation. Oh well….I love Disney world and I will always be back.
Before I move on, I should probably mention that this is my first Pre trip report. I have written trip reports in the past, but have never done a pre trip report so I hope I do okay and don't bore you all to death. I love pictures, so I promise to post lots of pictures in this pre trip report and tons of pics in my trip report when I get back.
So, I guess we'll get started. Here is the cast of characters…myself and the people who will be joining me on my next adventure to the world.
Me: 24 year old Mom, WDW obsessed, planner of all WDW trips and actually all vacations and trips in our family for that matter, studying to be a professional event planner. I love everything Disney including Disney classic movies, figurines, clothing, etc, (yeah, basically everything with the Disney name on it). If the event planning thing doesn't work out, I want to move to Orlando and work at…yeah, you guessed it, Disney! I'm not into thrill rides at all. The most thrill I'll do is Big thunder mountain or the Barnstormer. I'm constantly trying to plan "the perfect vacation" and I must plan every single detail of every single day in advance. My favorite attraction is Fantasmic. I also love Wishes, and Mickey's Phillharmagic. My DD is the most important thing to me though and she is about to start school in just a few days so I'm freaking out a little but everyone keeps saying she'll be okay. I've been with DH for 10 years this December. We met when we were very young, but we're still going strong. Here is a picture of me…..
DH: Wants to go anywhere on earth except for MK (I'll explain why later). Tired of WDW (Is that even possible?) Works in a bank call center. Deals with mortgages and stuff that I'm clueless about. He loves to eat, sleep and play video games. He also loves movies and cartoons. He loved our first Disney trip together in 2006, but has since wanted to try other places. He puts up with my Disney obsessions, and basically makes me happy by mostly paying for our Disney trips. He does not plan at all and likes to be spontaneous. He just goes along with what I've planned every time. He loves roller coasters and big thrills. Tower of Terror, Mission space and Rock n' roller coaster are his favorites. At times, he can be very stubborn and cranky but I know how to deal with him and usually get my way. Lol.
Here is a pic of DH:
LOL. Just Kidding. (Sorry to my Real DH if he ever reads this)
OK....here is my real DH: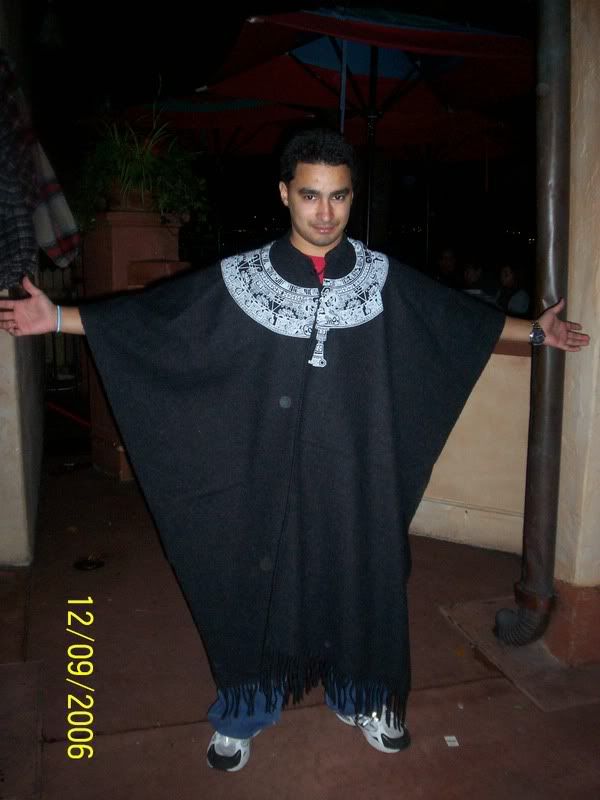 DD5: Loves Disney World as much as I do. Loves rides, not so much shows. Favorites are Peter Pan's flight, Dumbo, the carousel, Pirates of the Caribbean, the Indy speedway, and Barnstormer. She gets scared on new rides and doesn't know what to expect especially when they have loud noises, but after the 1st time around, she does very well. She loves princesses. Her favorite is Sleeping Beauty. I believe when I'm too old to keep up with planning for Disney vacations, she will take over for me. She loves all the Disney classic movies and some newer ones too. She can be bossy at home but she is pretty shy out in public. She doesn't like walking much either so we have to bring her stroller with us to the parks because she tends to get lazy easily. Overall, she is a great kid and does really well on vacations.
Now on to the basics for this upcoming trip:
Trip dates
: Saturday, December 6th to Sunday, December 14th, 2008. (8 nights, 9 days)
Resort
: Pop Century. I requested a bottom floor room in the 50's section. We have stayed at Pop before and we're in the 50's section and we loved it because it was very close to the main hall.
Package:
Magic your way plus deluxe dining plan
Tickets
: 9 day Magic Your Way base tickets.
Extras:
Mvmcp, Cirque du soleil, parasailing, Disneyquest and the Wonderland tea party.
By the way, I need a better catchy title. So, if anyone has one based on my info, I'm open for suggestions. I will also post the contents here as the posts form.
Contents:
Who's going and the trip dates
Up Next: Our history of WDW (with tons and tons of pics)....stay tuned.
Thanks for reading!