Who eats at a restaurant for a special dish?
---
For me it used to be Brown Derby for the lamb chops and they were removed sometime in the last 2 years, and it was also made into a signature place too. I used to get the lobster at Rainforest, but now that isn't even on the plan.

The other day I came accross some old menus from a site that doesn't update them that often, they were only a few years old, and it is unbelievable on how much the choices have changed.

I think that they made the dinner plan seem affordable or like we were getting a deal, but smart also because it pretty much guarteed that we would be eating all our meals at Disney and staying only in Disney also which leads to big bucks for them.
__________________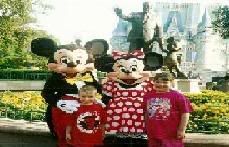 1st family Disney trip 2002
1st Christmas trip 2007
Royal Pacific Dec 14
AKL club level
Dec 15-22