Well, hello and thanks for finding me! This has been a trip report long in the making - a year to be precise. Unfortunately, the reason for each delay (2 failed attempts, to be accurate) is from multiple poor life events. But, I am ready now to devote time and energy to finishing this trip report. Finally!
Before I explain the events that led to the delay in this TR, let's introduce the cast for those who may not know us (and who are not into checking the PTR).
Cast of Characters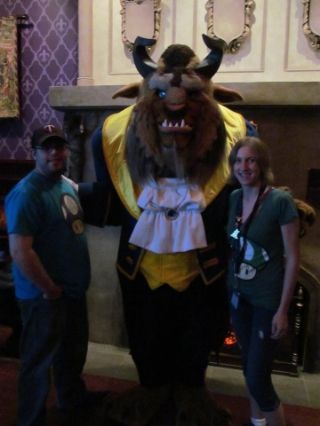 This was a trip just for DH and myself like it usually is. Our fourth time traveling to the World together and unfortunately a break is going to happen between this one and the next - DH claims he is Disney-ed out
. We will try to change that.
Me: Meagan, or Lifer on the DIS. I'm a 26 year old English Language Arts teacher for an online charter high school. I'm also currently working on my Masters in teaching and a certification for postsecondary adjunct professorship.
DH: Matt, 25 year old who works as an overnight baker for Panera Bread and will shorty be the reason I become very fat. I just can't say no to those pastries that come home!
The Details
January 19th - 26th, 2013 (Saturday to Saturday)
We stayed at the Pop Century Resort in the 60's with park hopper tickets and the dining plan. I do not have food pictures, however I will review each place we visited!
ADR reviews:
- in order of appearance, look for the GREEN text within the daily post-
Earl of Sandwich (dinner)
Flame Tree BBQ (lunch)
Le Cellier Steakhouse (dinner)
Backlot Express (lunch)
50's PrimeTime Cafe (dinner)
Yorkshire County Fish Stand (lunch)
La Cantina de San Angel (lunch)
Coral Reef (dinner)
Casey's Corner (lunch)
'Ohana (dinner)
Cosmic Rays Starlight Cafe (lunch)
Be Our Guest (dinner)
Kouzzina (dinner)
Coming up I shall explain how we came to be a year late on a TR that almost never was.