Mouseketeer
Join Date: Jan 2012
Location: New York, NY
Posts: 455
A Big Blue World at AoA with the Fab Four - Nov. 24-28, 2012 TR *Updated 5/17/14
---
Hi everyone! I've been wanting to do this TR ever since we returned from WDW. I'm finally getting to it!


The seeds of this trip were planted on New Year's Eve 2011. I was very sad after my sweet 13-year old dog died just before Christmas. I was spending NYE with 2 friends, one of which (J, you'll meet him in a moment) is a huge Disney buff, to the point that his friends & family surprised him at WDW for his 30th birthday. As we waited to ring in 2012, I told J that I hadn't been to WDW since 2000, and I really wanted to go. That's all it took, the planning started right then! We decided to go in mid-October so we could enjoy the Food & Wine Festival, and to celebrate both our birthdays, which are both around that time.

I registered on the DISboards on January 7, 2012, and started getting serious on my planning! By January 11th, we were booked at POFQ in a Royal Room, just the 2 of us. We made a few ADRs, and we were all set... until August, when we both had work conflicts come up for mid-October!
So we decided to go right after Thanksgiving, hoping for smaller crowds. POFQ didn't have any rooms, so we booked at CBR instead. Cut to September, and 2 of our friends, G and S, wanted to come with us - the more, the merrier, right?
With 4 adults, we decided that we'd like some more room to spread out. AoA was brand-new and looked beautiful. We lucked out and were able to get a Finding Nemo suite there - best decision we could've made, having that bedroom and 2 full baths! We tried to make new ADRs, but choices were limited with less than 60 days til our trip. The countdown was reset, and it wasn't long before it was time to go to WDW!


A quick intro to our Fab Four:



That's me. I'm single, mid-30s, and I love all things Disney (especially the Muppets!). I'm originally from Indiana, but I've lived and worked in NYC for 10 years now. I'm a big planner, I had a massive spreadsheet for this trip! I resolved after this trip to not let another 13 years pass before I return to WDW!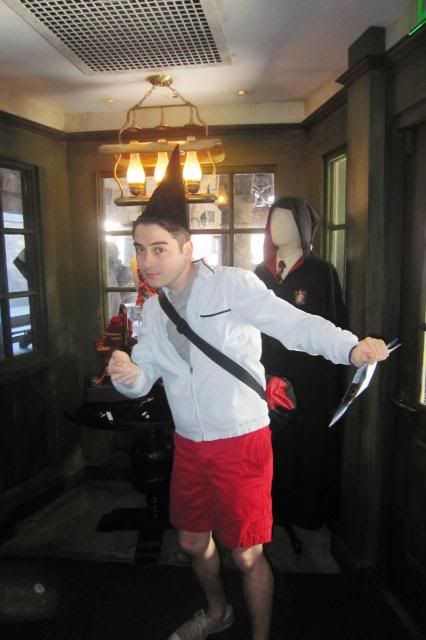 My most excellent friend and fellow Disney buff, J (seen here at IOA at the WWOHP). He's like a brother to me, I've known him for many years. You'll see that he loves to ham it up. J grew up in Florida, so he was a WDW regular (lucky!). He's in his early 30s, married, works in NYC, and lives in NJ.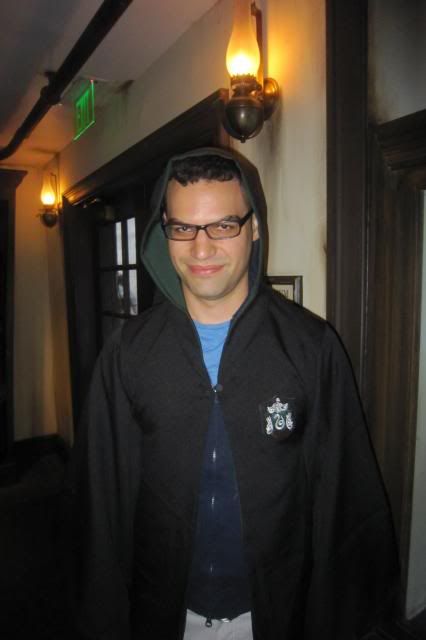 My wonderful friend, G - he took a liking to this Slytherin robe at WWOHP. Despite that, he has one of the kindest hearts of anyone I know. He grew up spending summers at WDW and also spent his honeymoon at WDW. He lives and works in NYC.

And finally...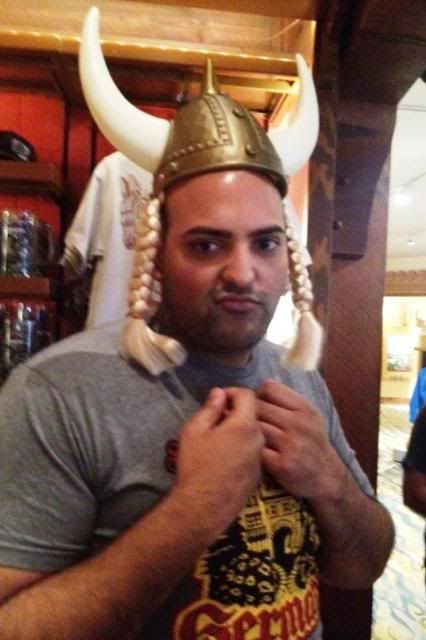 Meet S! He gives the best bear hugs, and he's a goof, I love him. S is single, early 30s, lives and works in NJ.

So that's the cast of characters... and trust me, they are characters!
I hope you'll stick around for the updates. Enjoy!

Trip Reports by Day (a work in progress)

Day 1 - Saturday, November 24, 2012
Part 1 - Magical Express, take me away to the AoA!

Part 2 - "How have I never tasted this before?"

Part 3 - Mountains and Mansions and Castles, oh my!

Part 4 - "It's a Great Big Beautiful Tomorrow"

Part 5 - Almost as bad as rush hour in NYC

Day 2 - Sunday, November 25, 2012
Part 1 - Did everyone disapparate or what?

Part 2 - Poolside Plunge at The Drop Off? Don't mind if I do!

Part 3 - When we accidentally stumbled upon the Osborn Lights!

Day 3 - Monday, November 26, 2012
Part 1 - The Captain EO Comeback!

Part 2 - Tequila makes you try on goofy souvenirs!

Part 3 - A Grand Marnier Slushie makes it all better!

Day 4 - Tuesday, November 27, 2012

Day 5 - Wednesday, November 28, 2012
__________________

---
Last edited by dreamseeker9; 05-17-2014 at

07:29 AM

. Reason: Updated