The basics:
September 26-October 7th
Beach Club Review: Post #3
Bay Lake Tower
The Polynesian
Epcot: Post #4, #9, #13
Disney Hollywood Studios Post #5, #14
Magic Kingdom Post #6
Animal Kingdom Post #7
Pre Trip Report
Starring Erika (Loweschevy), Deb (Mom) & Steve (dad)
On Thursday afternoon we left Fairview, PA and hopped on I-90 West. The weather was beautiful and the traffic was light.
We made good time and parked at Beachwood Place to walk around and shop. I found some goodies at Dillards and treated myself to a new pair of jeans, a couple tops and a pair of shorts that were on sale. Our mall in Erie is pretty limited to teenagers and skinny mini women and of course endless amounts of clothing for men, that most of them never wear ha ha. So whenever we are out of town, I love to shop--especially when we visit my brother and sister in law in Minneapolis. A latte from Starbucks and a stroll through the mall and it was time to have some dinner at Cheesecake Factory down the street at Legacy Village.
After dinner it was back onto the thruway to 480. We hit a bit of a jam near the split off to the south and west, but after 10-12 minutes we were on our way again. We arrived at the Sheraton and got settled into the room. I got on the iPad and Tweeted my Follow Fridays because I knew I wouldnt have a chance to do it the next day. Then my dad and I went down to the lobby bar for a drink. My only problem with staying overnight is that I never sleep well that evening! I think my brain wont relax enough because subconsciously you are worried about sleeping in too late. Five o clock came pretty early, but after 50 minutes the 3 of us were dressed, packed up and ready to get on the airport shuttle.
United has totally redone the check in lines at CLE and it seems like more of a free for all, but I think it works better than dragging your bags through a queue to be honest. Stickered and tagged, its time for the security line. Dunkin Donuts was the next stop for a coffee and a donut. Our gate was the furthest away from the security check, with the exception of the D gates. Thats okay, we are poised for walking this trip.
The flight from Cleveland was pleasant, but not for a few customers. A woman passed out before the plane was set to push off from the gate and paramedics had to be called in to check her out. They ended up pulling her off the flight as her vitals were okay, but they didnt want to take any chances. The woman must have been fine because we saw her at Epcot a few days afterwards. What are the chances of that right?! Its scary, but it happens. I know of a couple of cases where they landed the plane in a different airport because guests had consciousness from illness. Luckily she was okay and we got our flight underway.
I charged my credit card and watched the Golden Girls till we landed. After a smooth flight, we waited forever for the luggage! Continental never had a problem with baggage, but when they merged with United the wait time surged.
Walked across the street to Alamo and picked out a red Impala. We went with something other than white or silver because some people tend to forget which color or make the car was in large, hot, sun parched parking lots. Red just made sense. We packed up the bags and were on our way.
Our first stop was lunch! I suggested House of Blues because the menu was rather large and had plenty of fan favorites. My dad opted for the pulled pork, I went with shrimp tacos and my mother had kiddy grilled cheese. The cornbread is a must have and the other dishes very good. Our server was very attentive and friendly as well. This will definitely be a stop next year!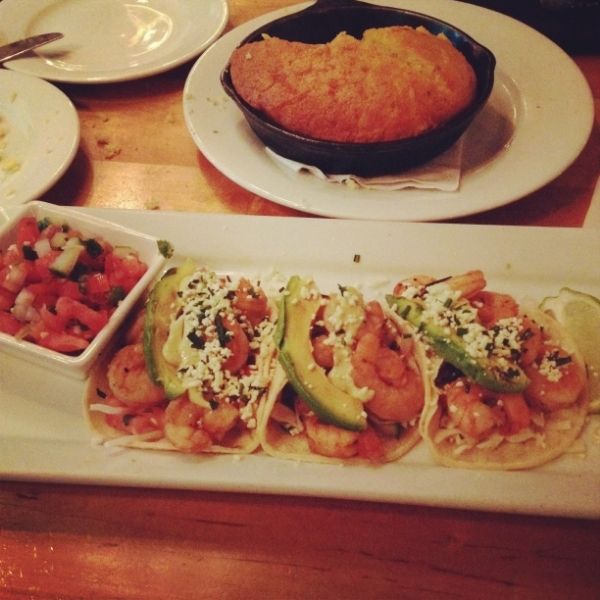 Afterwards we moved the car around the big dig at DTD to get to Guest Relations. I figured this would be easier than going to the resort, parking and walking over to Epcot. Cory helped us purchase our Annual Passes and Tables in Wonderland card with ease. Unfortunately the computers there were not functioning properly, but I figured concierge could assist us.
Coming up the Beach Club!!