We are heading to the World for our annual trip. It will be my wife Renee and my 2 girls Ashley and Maddie.
We will be there in October for the Food & Wine Festival where I do intend to drink around the World! We will be staying at the Boardwalk Villas which is going to be awesome since it's so close to EPCOT and DHS. While we are there, we will be attending MNSSHP which the entire family is excited about! And to make it all more magical, my youngest will turn 6 while we are there. So we are celebrating her Bday at CRT and we are celebrating my oldest DD's Bday (which was September) at BOG.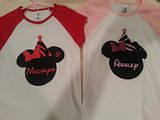 While we are there, we have a few friends whose trips will overlap with ours. We are hoping for good weather and great times!