DIS Veteran
Join Date: Sep 2011
Location: Seattle, WA
Posts: 1,618
Touring the Tower of Terror and other Ghoulish Delights! Sept 13 TR | FINALx2 4/17!!!
---
BOO TO YOU, AND YOU, AND YOU, AND YOU!

I listened to Mini Leota, because I did indeed hurry back (wokka wokka, I'm here all day) to the DISboards... and I'm here with another long-winded and super fun Trip Report!

I have to say, it feels kind of weird to be writing another Trip Report (number 4 here on the DISboards to be exact!) so quickly, considering the last one just ended only a few weeks ago! But I am very happy to be here again, writing about what I would say is BY FAR our most adventurous and different trip to Disney World that we have ever embarked on.

If you're new to my TRs and want to get to know me better before reading this beast of a Trip Report, please feel free to check out my previous ones!

"I'M JUST SHOWBOATIN' AROUND THE WORLD! & getting pooped on. Jan 13 TR!" - My last TR, January 2013
The Wettest, Merriest, and Happiest Birthday/First Visit Nov/Dec. 2012 TR! - TR for my first trip to Disneyland ever, November 2012
"Norway? More like No Way!" Seattle Goobers' Jan 2012 TR! - My first DISboards TR, January 2012

Oh, and I've also started getting into making trip videos, as well! If you haven't seen our January 2013 video, you can watch it here:

"Adults are only kids grown up, anyway." Our January 2013 Disney World Trip Video!

And yes, there will be another Trip Video to accompany this lovely Trip Report, so stay tuned on that front.

Now that we've got all that out of the way...

Assuming you have no idea who I am/you're brand spankin' new to my TR, my name is Danielle, but most people around here call me Dani. I'd also like to say that I'm happy to have you here! I really hope you enjoy reading about our adventures, and please, don't hesitate to leave a comment and let me know that you are here. Lurkers are cool with me, too, so no worries if commenting isn't really your thing, either.

And for those of you who know me and enjoyed my previous TRs enough to join in again, well HELLOOOOOOO (said in a Seinfeld voice). I'm genuinely excited to have you back in action, reading and commenting as I re-tell the events of our ridiculously fabulous vacation. You guys have made writing TRs so much fun, so thank you so much for joining in again.

In case you have no idea who I am, forgot who I am, or just feel like reading some silly fun facts about me, here is a quick little rundown about me (with a photo of me and my best friend, School Bread, to boot).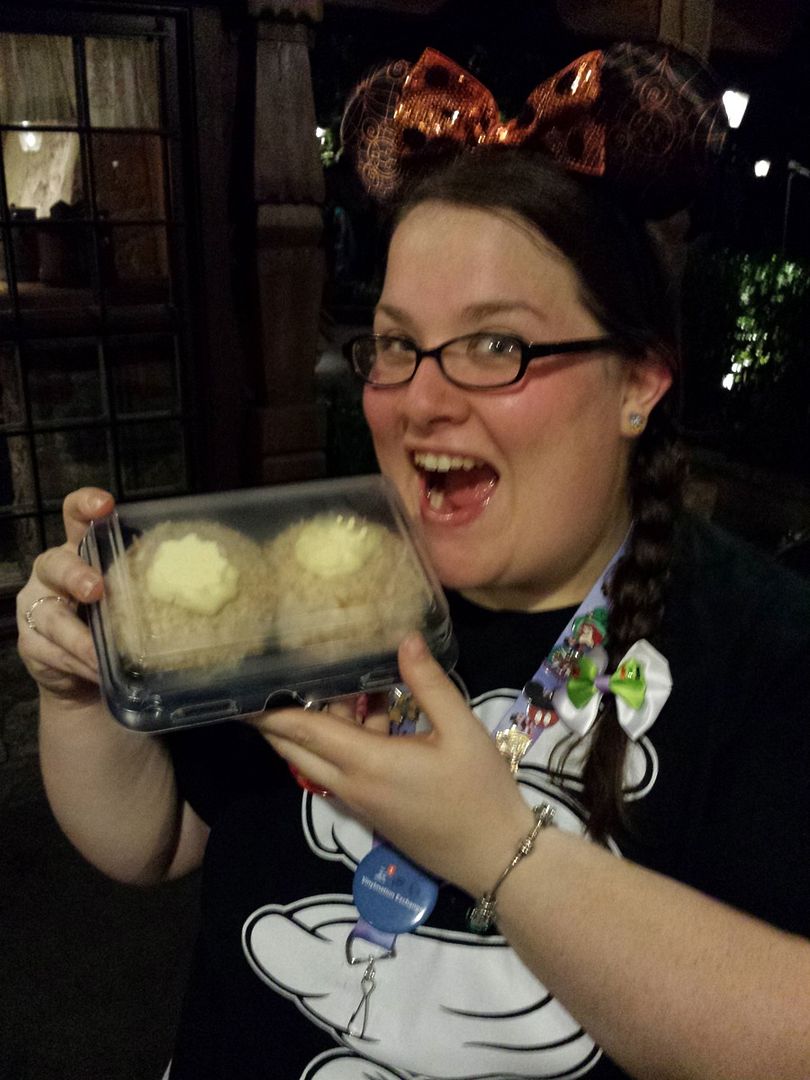 Fun facts about me, Dani:

1. Up until this trip, I had never seen the opening show at Magic Kingdom, ever.

2. I get a kick out of making absurd faces on attractions. Making random families' ride photos even better, one ridiculous face at a time.

3. I now have around 388 Vinylmation figures in my collection... You will get to hear all about the big trading event I went to during this trip.

4. I love to laugh and joke around (total shocker, right?). In high school, I was voted as Class Clown and Most School Spirit, so more often than not, you'll find me acting like a dork, and I am totally okay with that.

5. One of our dogs, Milo, looks like a little bean. Jelly bean, kidney bean, black bean, whatever bean you want to choose, he is a little bean. Here is proof that he is a bean (a chubby bean, but that's okay):




He can sometimes even be a happy Disney bean: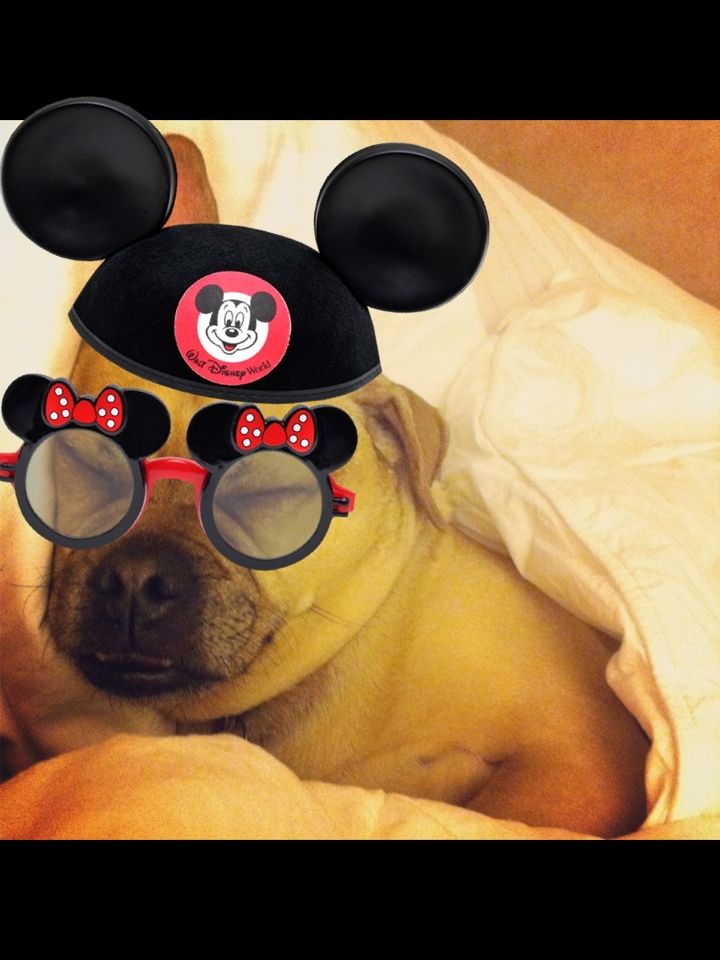 Our big dog, Anya, is essentially Chewbacca, and enjoys telling us all about her day when we get home from work. It usually consists of nap time, sometimes trying to eat Vinylmation, and licking the couch (because that makes total sense). This is her with some super cool Fantasia sunglasses we made her wear (does that make us terrible puppy parents? maybe.):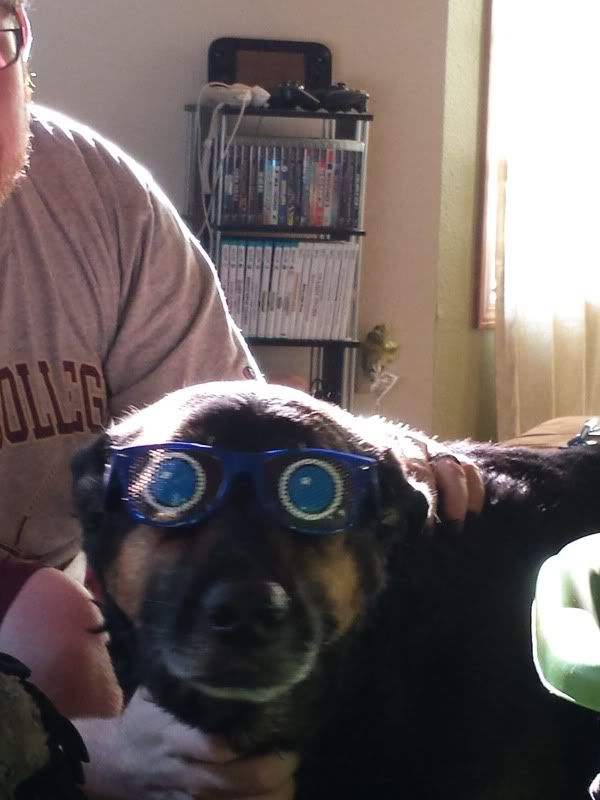 My partner in fun, husband, best friend, cool dude, and biggest Haunted Mansion fan I know, Matt, was obviously with me for this trip! I can't imagine doing Disney World without him by my side. We are two huge goobers, big Disney fans, and just love laughing and living life together. We celebrated being together for 10 years this past June, and celebrated our third wedding anniversary during this trip, on September 17th!

Some fun facts about Matt (with an adorable photo, too!):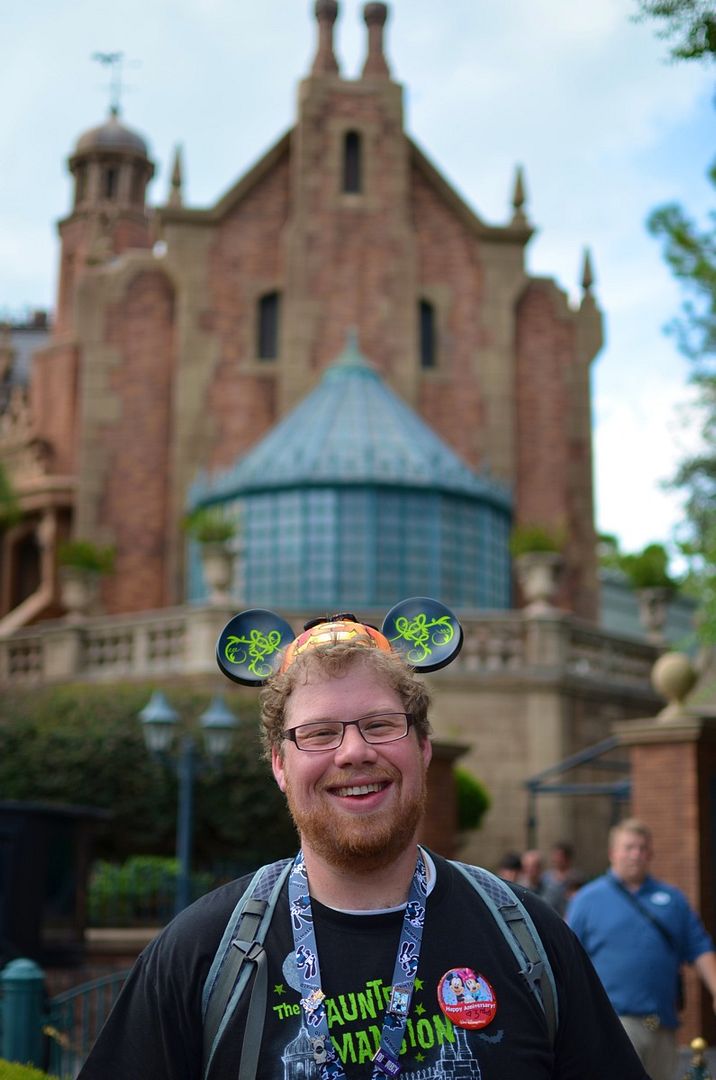 1. Matt is a huge Disney Parks history buff. He's my go-to when I'm curious about older attractions or historical fun facts about Disney World.

2. Matt has been told he looks like Seth Rogen no less than 30 times. It's happened here on the DIS, on twitter, in elevators at work, and even at Petco.

3. While Matt loves nighttime parades/shows, he discovered this trip that he is not a huge fan of afternoon parades (which you will eventually see in our future trip video).

This trip was different for us for a variety of reasons. It was our:

+First time doing a split stay since our honeymoon in 2011
+First time staying some place new since 2011
+First time going in September/not going in January
+First time doing Mickey's Not So Scary Halloween Party
+First time not doing the DIning Plan
+(My) first time doing an official Disney trading event
+First time going as Disney Vacation Club members

...and some other first-time surprises in there that you'll just have to wait to hear about... which maaaay or may not explain the Trip Report title.


There were a few reasons we went on this trip.

1. We thought it'd be fun to celebrate our wedding anniversary in Disney World. Even though in the past we celebrated it later in January during our trips, we wanted to be in Disney World on our actual anniversary this year.
2. With our Premier Annual Passes still active through November, we thought if there was any year to go to Disney World twice, it was this year!
3. We recently became DVC members, so we thought this would be a great way to celebrate!
4. We wanted to try out a different month to visit Disney World, and heard that September had the lowest crowds during the year, so we decided to give it a whirl.

Our dates for this trip were September 11th - September 22nd.

We stayed at the Villas at Wilderness Lodge from September 11th - September 15th...




Then switched over to Beach Club Villas from September 15th - September 22nd.




We decided to NOT do the Disney Dining Plan on this trip. We wanted more freedom to eat wherever we wanted, whenever we wanted, and not be stuck to a schedule every day. We did still have some ADRs, but we were excited to see if we liked not having the Dining Plan this trip!

I can't WAIT to tell you guys all about what we did on this trip! So hang on tight, as you're in for the adventure of a lifetime.

Continued in next post
---
Last edited by danimaroo; 04-17-2014 at

11:49 AM

.