Welcome aboard. At this time, I'd like to ask everybody to please remain seated throughout the report, and keep your hands and arms within the trip at all times. Also, for the safety of our cast, and the comfort of those around you, please no excessive booing or use of the phrase my toddler could write a better report. Alright, now that weve taken care of business, lets talk about me.
My name is Allie and Ill be your guide during this magical journey into food reporting. Its the perfect job for me because I love eating and talking! Im a college freshman with aspirations to either be an emergency medicine Physician Assistant or a well-dressed circus clown. I have many food allergies but the most complicating one is glutenthe Big G. The filet mignon at Le Cellier haunts my dreams and the Sci-Fi Dine-In Theatre still gives me nightmares (food poisoning tends to tinge fond memories). I have a tendency to pass out in high temperatures so, of course Florida is the best place for me to be in July/August. Hollywood Studios and Epcot are my favourite parks, but Im not exactly miserable at the other two.
But, I would be nothing without my travelling companions; literally nothing, because they pay for everything. Here they are pictured below, with me. Were at a lovely little Cajun place in DC thats not quite Café du Monde, but their beignets are pretty dang close! This picture is two years old, it's the most recent/decent one of us all together. This was before I learned how to apply eyeliner properly and Christine cut her hair, but my hair is back to that length so we at least have some continuity.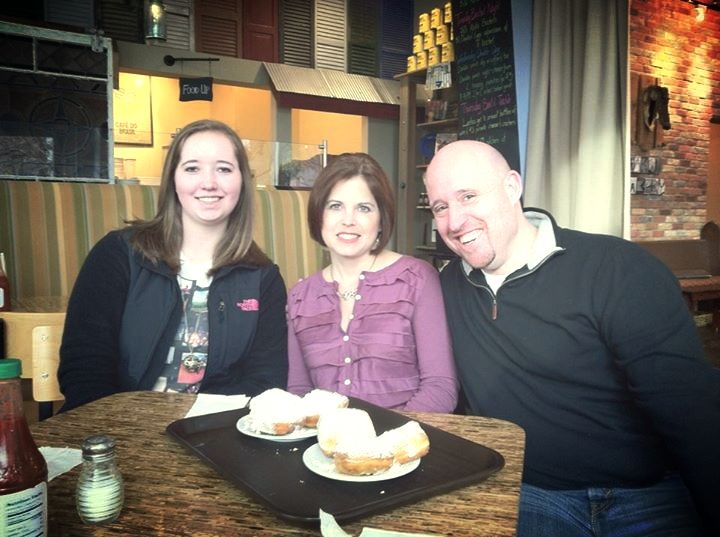 First (second?) up in the middle we have my wonderful stepmother, Christine. Shes a Magic Kingdom junkie and, like me, still dreams about the filet mignon at Le Cellier. Shes a former pre-school teacher turned substitute teacher in elementary school classrooms across the county, including my mothers; the kids get a real kick out of having the other Mrs. Muppet sub for them. She, luckily, does not have any food allergies but shes not a huge fan of spicy foods. Its a really good thing that she married a Cajun man from the swamps of Louisiana*. Shes still considered a rookie among us Disney experts but shes stopped calling it Disneyland so were making progress.
*Hes actually from Thibodaux which, to my knowledge, is not a town overrun by swamps but its been a few years since Ive been back there.
Then on the right theres my lovely father, John. To be honest, Im not actually sure what he does. Ive heard words like software engineer and computer programmer thrown around but, for all I know, he works for the CIA; a real possibility considering where we live. He did something geeky for NASA to launch rockets back in the nineties so thats pretty cool. He loves Epcot and steaks cooked medium-well, so he tolerates our insistence on going to Le Cellier every trip. Our first day in Disney will be his birthday and, true to form, he decided that we ought to try something newIm sure Ill be glad that he did.
So, now that weve covered our cast and crew, is everyone ready?
(I can hear you screaming yes at your computer screens)
Great, because its show time. Ready when you are, C.B.
http://www.youtube.com/watch?v=8PxhcK2xmZE
While Im still talking (once I get started, I never stop) Ill explain the title to you. Im sure that youre all sitting there scratching your heads wondering what iPhones and Muppets have to do with this trip. Maybe were not actually going to Disney but, instead, watching Disney videos on our iPhones to make it feel like we were there. You would be incorrect, but nice try. Maybe you think that our last name actually is Muppet and that were really obsessed with our iPhones. Again, incorrect but 10 points to Hufflepuff for playing.
Alas, the title of this TR is derived from two words. Muppet is English for I just really like the Muppets, ok? and iPhone is English for I wrote this whole thing on/took pictures with my iPhone and I felt it deserved some recognition for its valiant efforts.
Now that weve cleared the air with our title confusion, Ill return to our regularly scheduled programming of Disney plans.
Below youll find listed our dining plan and rating system. Ill add links to each post as they are written so that you can skip any/all chit chat. Well be staying at the Coronado Springs Resort (fun fact: it was the first resort we stayed at on-property when I was a child. It was like our training wheels resort before we moved on to fancy DVC resorts.) from day one to day four. Then, we shall move over to Kidani Village at the Animal Kingdom Lodge until we return home. Id be happy to tell you more like flight numbers, arrival times, and car rental confirmation codes (did I mention were renting a car?) but I dont want to take away the fun for any stalkers out there reading this.
Happy Disney-ing!
The Dancing Maids:
This was delicious and amazing, I could die directly after eating this and die a happy woman.
The Dancing "Cool" Guy:
This was really good, definitely worth a try to anyone curious.
The Blasé Coffee Drinker:
I could take it or leave it.
The Depressed Blue Man:
This was really disappointing, I wish I'd ordered something else/gone elsewhere.
The Puker:
This was really bad, possibly gross. I get nauseous just thinking about it.
Day One
Planned Park: Epcot
Breakfast: ??
Lunch: ??
Dinner: Flying Fish Café
Day Two
Planned Park: Magic Kingdom
Breakfast: ??
Lunch: ??
Dinner: Artist Point (it is at this point we will join our relatives also from the swamp lands of Louisiana who will be in Disney at this time. This is the only time we will all be in Disney before they return so we figured, hey, why not enjoy a nice meal together?)
Day Three
Planned Park: Hollywood Studios
Breakfast: ??
Lunch: ??
Dinner: ??
Day Four
Planned Park: Epcot
Breakfast: ??
Lunch: Le Cellier
Dinner: ??
Day Five
Planned Park: Magic Kingdom
Breakfast: ??
Lunch: ??
Dinner: ??
Day Six
Planned Park: Animal Kingdom
Breakfast: ??
Lunch: ??
Dinner: Il Mulino
Day Seven
Planned Park: Hollywood Studios
Breakfast: ??
Lunch: Brown Derby
Dinner: ??
Day Eight
Planned Park: Epcot
Breakfast: ??
Lunch: ??
Dinner: ??
Day Nine
Planned Park: Animal Kingdom
Breakfast: ??
Lunch: ??
Dinner: Monsieur Pauls
Day Ten
Planned Park: Magic Kingdom
Breakfast: Kona Café
Lunch: ??
Dinner: ??
Day Eleven
Planned Park: Epcot
Breakfast: ??
Lunch: Coral Reef
Dinner: ??

Table of Contents
Pre-Trip: Introduction (you are here!)
Pre-Trip: iPhone Apps for Disney