Quote:
Originally Posted by
MickeyMomTo2
My name is Lauren, and I am a 39yo married mom of an 11yo son and an 8yo daughter. I am an obsessive compulsive planner, particularly when it comes to Disney vacations. In 2011, we went to Disney World 6 times (thanks to my wonderful husband who gave us annual passes as a gift). As amazing as that was, we decided we needed to work in some other travel experiences for the kids. In 2012, we visited the Grand Canyon and went on a Bahamian Disney cruise. This year, we are going back to WDW in November, and we planned to go to San Francisco/Yosemite in July. We considered a Disney Alaskan cruise, but the price seemed steep. We put that idea on the back burner.
For an OCD planner, putting it on the back burner means that even though I didn't think we were going to go to Alaska, I still spent lots of time reading about the trip on the Disboards (this info is now going to be very handy). My husband and I also stalked the Disney website, paying attention to prices. Last Wednesday (6/5/2013), my husband called me to tell me that DCL website showed a VGT rate for the 7/8/13 Alaskan cruise. Our San Fran/Yosemite plans were flexible and able to be cancelled, so we were seriously considering the cruise. By the next morning, however, the VGT rate for 4 people was gone. Okay, no big deal...we had a great vacation to California planned anyway, but we were a little disappointed to miss out. Friday morning, I checked again, and the deal was back! We decided to jump on it! We are sailing to Alaska on 7/8/2013.
With only 31 days to plan, make reservations, pack, get passports, etc..., my OCD planning mind is on overdrive. I hope to use this thread to document the next four weeks, and I plan to include a trip report when I return. All are welcome to join our journey to the land of the midnight sun!
Here's my crew: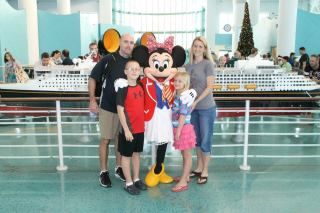 Not to worry. I cannot tell you how many time I looked at the website before deciding on a cruise to Alaska. I took my mother (82 years old) and my 14 year old son on the Wonder last year to Alaska. I cannot begin to tell you what a fabulous time we had. The weather was perfect, the excursions were amazing, and the scenery was breathtaking. We did an excursion in every port (except Victoria).
In Skagway it was the Yukon Expedition which included a delicious lunch and the train down the White Pass.
In Juneau our excursion was The Best of Juneau (and let me tell you - it was). Mendenhall Glacier, Whale watching, and a amazing lunch at Orca Point Lodge on Colt Island
Ketchikan was City Highlights, Totems, and Creek Street by Trolley - the totems were very interesting. Had I known this tour was going to end so quickly, I would have booked the lumberjack show as well.
Because Victoria was our last night on board and we had to get our luggage packed and out by 11:00 we just took the free shuttle bus into town and walked around. I was thinking about Butchart Gardens but I'm glad we didn't. By the time we arrived in port it was starting to get dark. Don't know how many flowers you can see in the dark. Not too much to do in town. We walked around on the main street (most of the stores were closed) and then took the bus back to the ship. We were back in time for dinner.
Loved Alaska so much - we are doing it again (this time with Carnival - long story).
Hope you have just as an amazing time as we did.
__________________
March 2014 - Disney Magic to Bahamas
October 2013 - Disney Dream to Bahamas
August 2013 - Carnival Miracle to Alaska
August 2012 - Disney Wonder to Alaska
September 2011 - Disney Dream to Bahamas
July 2010 - Carnival Legend to Caribbean
August 2009 - Disney Wonder to Bahamas