This is our second weekend home since our first WDW trip and the magic hasn't faded. My husband and I are spending our free time rewatching videos and looking at pictures from our trip (oh and planning next year's trip). The little bottles of Mickey shampoo we had left over the last day are almost empty, but the memories are still fresh. This has been our first vacation in 5 years and it has done so much to strengthen our family.
A quick intro: our family is composed of: me, a SAHM formally finance director at a non-profit, DH engineering supervisor, (do you see where the ocd comes in?) and DS lovable and tough two year old who has brought so much joy to our life. He has had a rough start for a two year old with 3 surgeries in his first 18 months, but really is the most easy going and cheerful 2 year old boy I have ever been around. (I might be biased)
This is my first trip report so bare with me. I am hoping that writing everything down will keep the magic alive a little longer.
The when: May 6-11
The Why: W3 haven't ever taken a vacation! Not even a honeymoon and we will have been married 5 years this year. Every time I planned one something bad would happen. I mean like really bad. Honeymoon was canceled because my dad fell ill, next vacation was canceled because my dad got worse and passed. (I said it was bad). After some grieving we planned a trip to Hawaii. Well surprise I was pregnant (that was a good thing). Vacation pushed back. We started talking about finally taking a little vacation with our new family when my son was about 6 months old. I started to book it, and that is when we found out he had cataracts. 3 surgeries later and here we are. I am not very superstitious, but I was a little apprehensive something bad would happen. But we did it. We went on vacation and no one died! (maybe that should have been the title of this TR). Now we plan to make this an annual thing.
First a look at my trip prep. This is where the OCD comes in. I was very excited about our trip, and I am a big fan of pintrist so I may have gone a bit over board on pre-Disney crafting, but it sure did help build the excitement. Here are my favorite projects. If you haven't been to Shannon Albert's blog
www.wdwprepschool.com
I highly recommend it. I got the license plate template from her site. I was also armed with my Disney binder complete with various budgets, maps, itineraries, and menus. Nothing turns around a bad day quicker than pulling out the Disney binder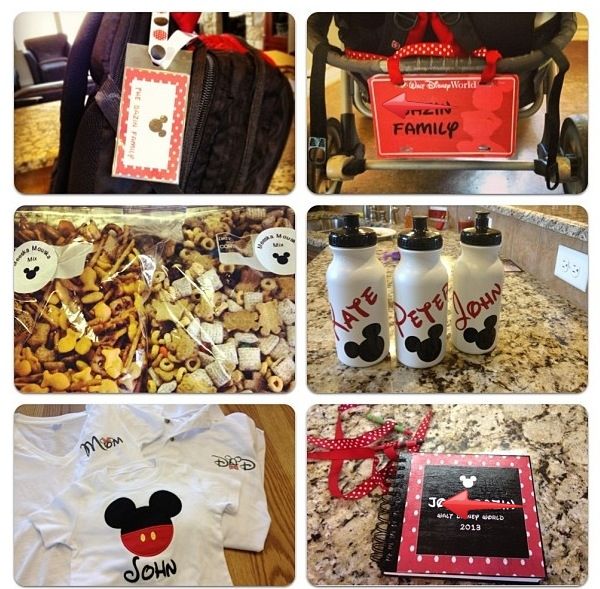 I also put my OCD powers to work and had our suitcases packed in a fun and organized way. I am probably overly proud of this. The ribbon I had left over from my crafts was a pretty way to bundle together outfits.
We left on Monday May 6. Unfortunately we live kind of in the middle of nowhere so we had a grueling day of air travel ahead complete with a 2 hour lay over. Traveling with a two year old can be tricky, but sometimes things fall into place, and boy did they fall in place on our layover. It occurred right during DS's nap time, so I was really nervous, because the last thing I expected was for him to fall asleep at the airport. Then DH noticed a quiet restaurant tucked away, we set up camp there, ordered a nice meal and after DS ate he started looking sleepy. I remembered his bedtime paraphernalia was in DH's carryon so we set DS up in the stroller with blanket, dog and glow worm, and low and behold he fell asleep! This allowed DH and I a relaxing lunch and time to sip on a margarita. It was really starting to feel like a vacation.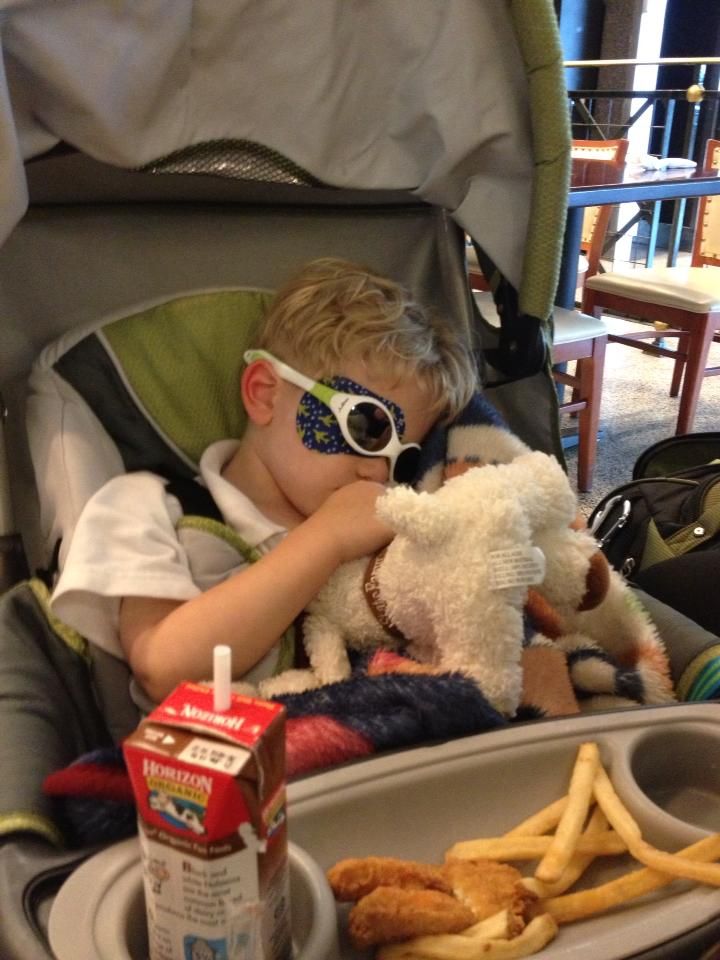 DS flys a lot for his eye appointments (he was born with cataracts, which is rare and like I said we live in the middle in a rural area) so the flights were uneventful. If you are nervous about flying with a toddler I have 4 suggestions:
1) tablet or laptop with movies
2) suckers
3)sticker book!
4) sticker book!!!
We landed in Orlando at 7 pm, and boy were we grateful for the luggage service and Magic Express. It was so well organized, the bus was clean, we didn't have to wait at all and DS was supper excited to see "ickey" on the screen. It was like we hit Disney as soon as we got to the airport.
We arrived at AoA around 8 pm. I checked us in, and DH chased DS as he ran to get an up close view of Lighting.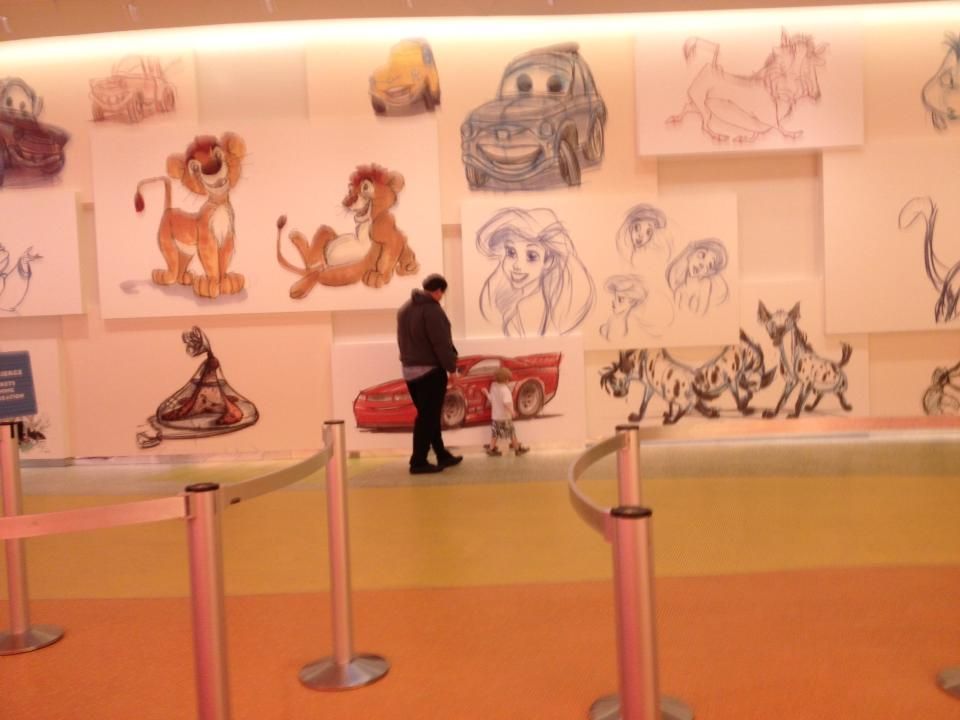 We were past DS's dinner time and bedtime so I knew a melt down was coming but he did surprisingly well as we explored the cars area and our cars room. Our mistake was trying to brave Landscapes of Flavor with DS, or as we later came to call it "Landscapes of Despair, where sanity goes to die" more on that later. As soon as we hit LoF the long over due meltdown hit. Solution, I returned to the room with DS and DH stayed to take care of the grub. He returned to the room beat down but with pizza in hand. With food in our bellies our vacation buzz returned. We had an exciting night exploring the room and taking in all the little Disney touches.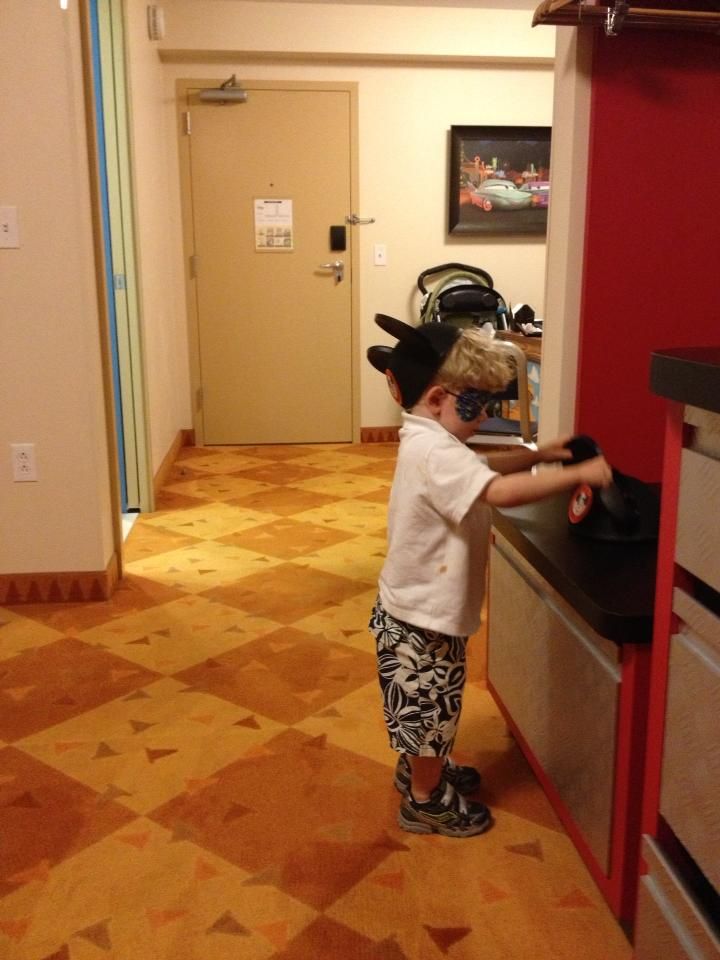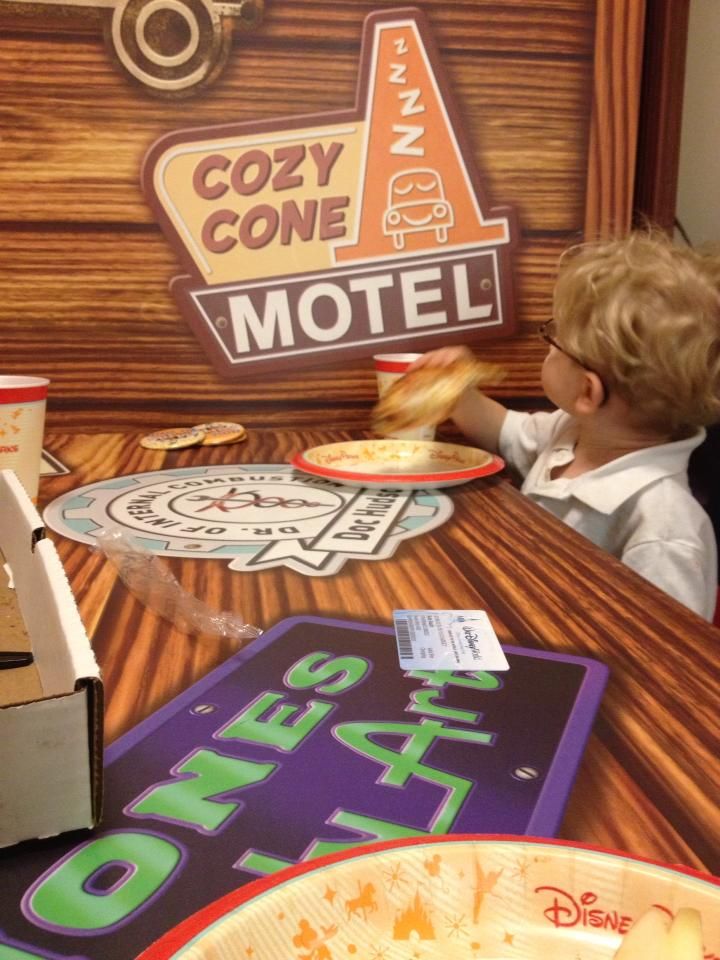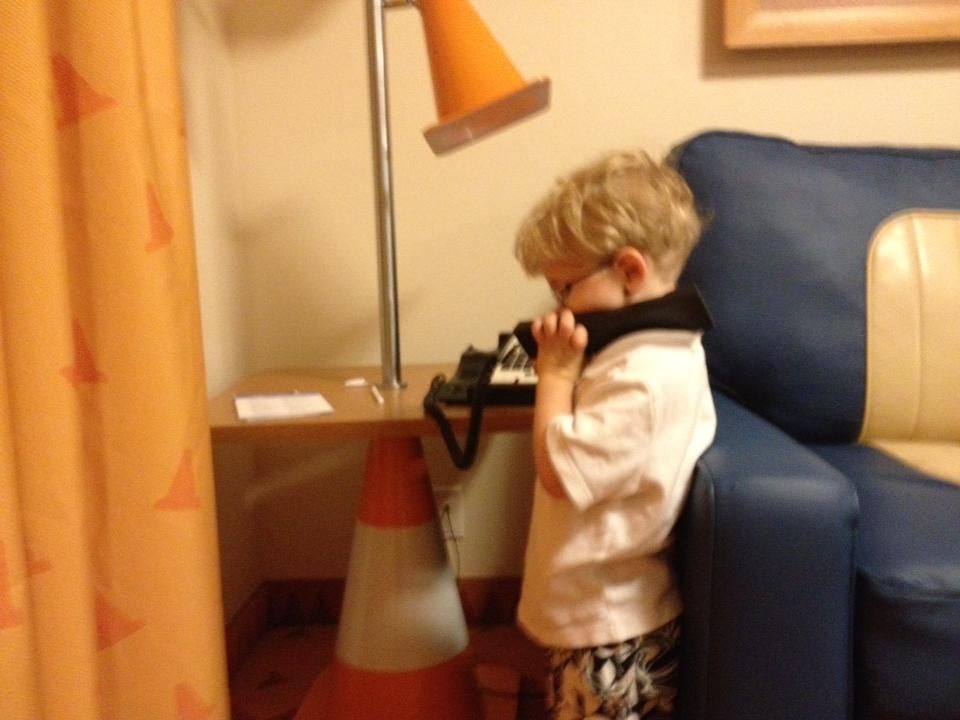 Such a tired guy!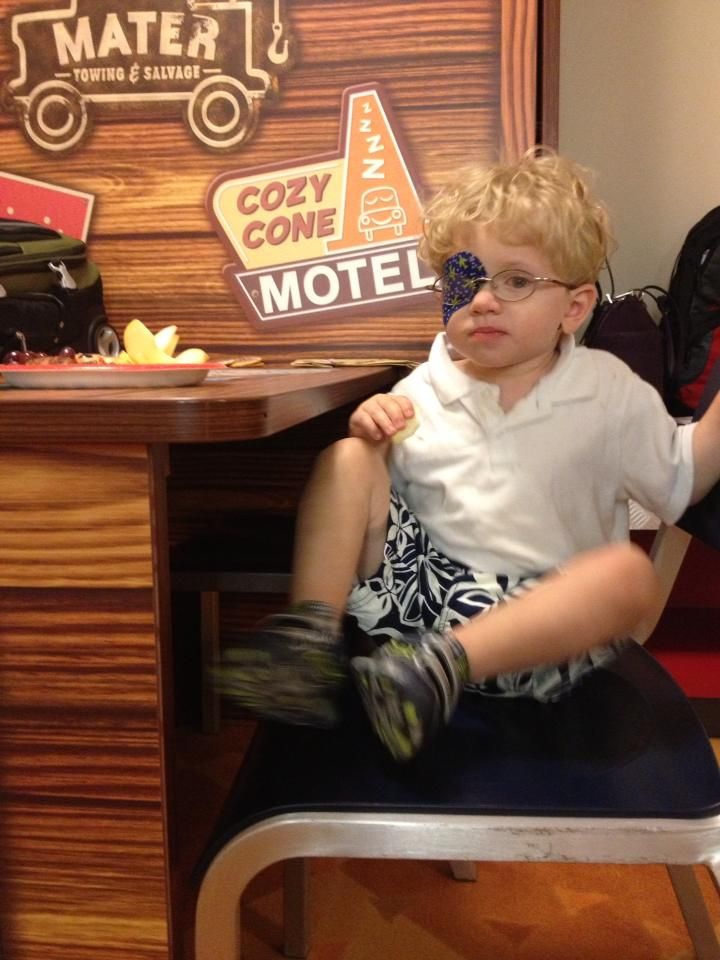 That concludes the Pre trip and travel day tale. I will return with our Magic Kingdom adventures and more photos!

Magic Kingdom - Part 1
Magic Kingdom - Part 2
Epcot
Animal Kingdom
Pool Time!
Downtown Disney
A quick note about aphakia
Spreadsheet fun!
AoA Part 1
AoA part 2 - finding Nemo
Cozy Cone
Lion King
Last Evening
Bye Disney!
Disney Surprise