Over the last 20 years most of our stays have been onsite, BUT, over the last 5 years most have been offsite. The allure of some fabulous resorts offsite, and the much lower cost (for us) has led to those offsite stays plus we tend to stay 2-4 weeks now which is prohibitively expensive onsite. As for amenities and losing the magic --- no way. It's still just as magical.
__________________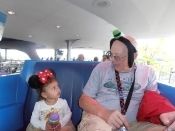 We've stayed at every resort on site except CS (Just stayed at AoA).
December trip upcoming. We've stayed 7 weeks already this year.