This is my first trip report but there were some awesome experiences so wanted share :
2 adults only trip - no kids
4/6 : Left Bay area by 6am - arrived at DL gates by 11:45am.
It seemed quote busy that day as we were parked on the roof of the Minnie portion of the garage..great view though.
We hit up POTC , Haunted Mansion and Indy all within about an hour and a half.
We then headed to Trader Sam's to wait for our local friends to join us.
BEST SPOT EVER. We had missed Trader Sam's on several trips and had regretted it so wanted to make sure we had ample time to relax and enjoy it. We arrived there around 3pm and walked into the indoor bar area. The ambiance was fantastic. Low light but festive - I really felt like I was in another world , it was great. I especially loved their drinks and their BBQ Pulled Pork Flat bread was fantastic ! DH and I devoured that along with about 4 drinks each before our friends arrived fashionably late as usual..lol. All in all - about $120.00 after tip for DH and me..we were VERY happy with our drinks , definitely not watered down and DH is not a fruity drinker and he loved them here !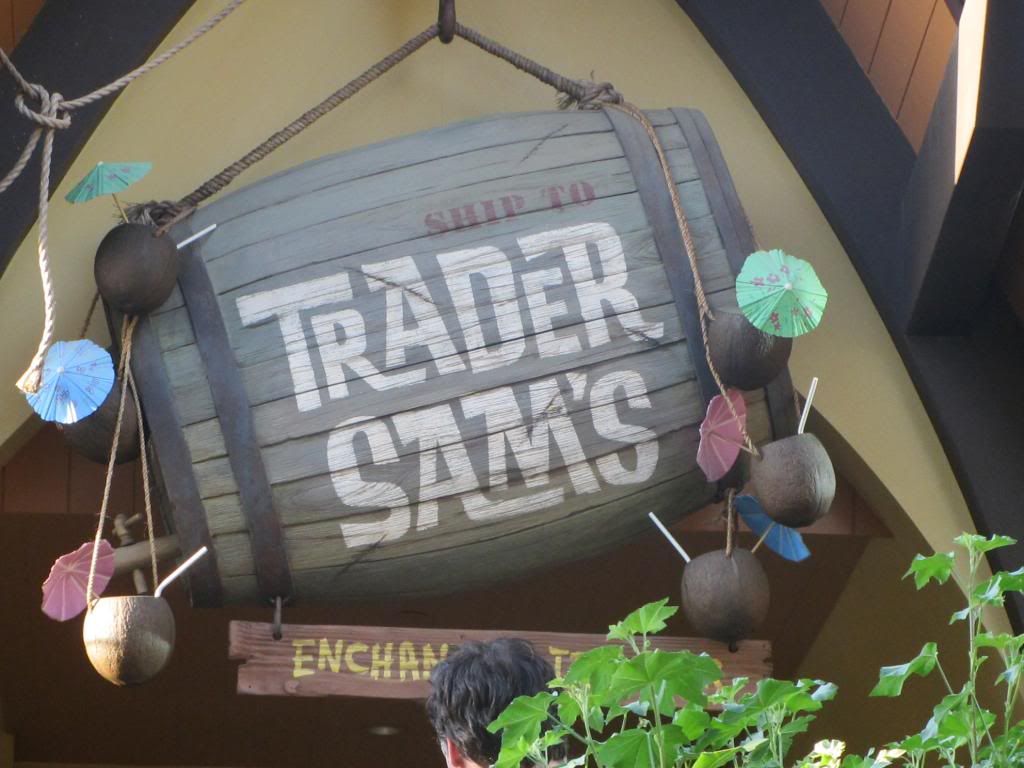 That night we headed over to Knott's Berry Farm and headed to the Chicken restaurant. Now a little bit of nostalgia here because my late mother grew up around Knott's and though it saddens me it isn't the same now..just knowing I was there experiencing some of the sights , smells and sounds she did..brought me peace and tears even.
The wait wasn't long and I enjoyed reading about the history of Knott's as we waited to be seated. The prices are fantastic - for 16.99 you get a fried chicken dinner with soup and salad - lots of fresh biscuits AND dessert..which the Boysenberry pie was out of this world.
The chicken was hot and fresh , some of the best friend chicken Ive ever had. Not greasy..just juicy and delicious. The mashed potatoes were creamy and the gravy was light and generous and flavorful. We will be back.
We then checked into our hotel at Anaheim Plaza Suites and Hotel. Hearing mixed reviews I was a little nervous but for the rate and little time we planned to be there , I was sure it would be fine. Check in was a breeze and the gentleman helping us was very pleasant. They acknowledged my request for a 2nd floor room facing the fireworks - sadly they were cancelled the nights we were there but it was nice regardless.
The room was clean and simple. Bed was firm but comfy , pillows a little small but nothing worth complaining about. TV is older and not flat screen but had a good choice of channels. AC unit was quiet and had a remote control which I loved ! Blackout curtains were great and kept all light out. There was a nice size balcony with chairs also and we had a great view of Tower of Terror from our room. It was quiet and peaceful and we never heard any outside noise.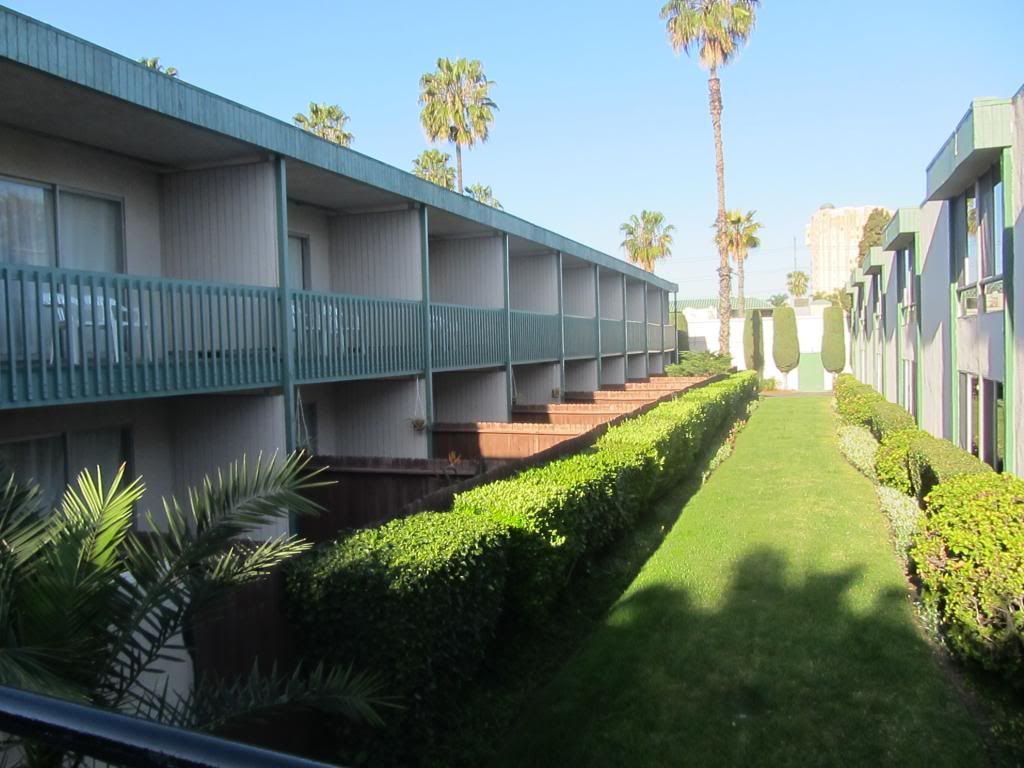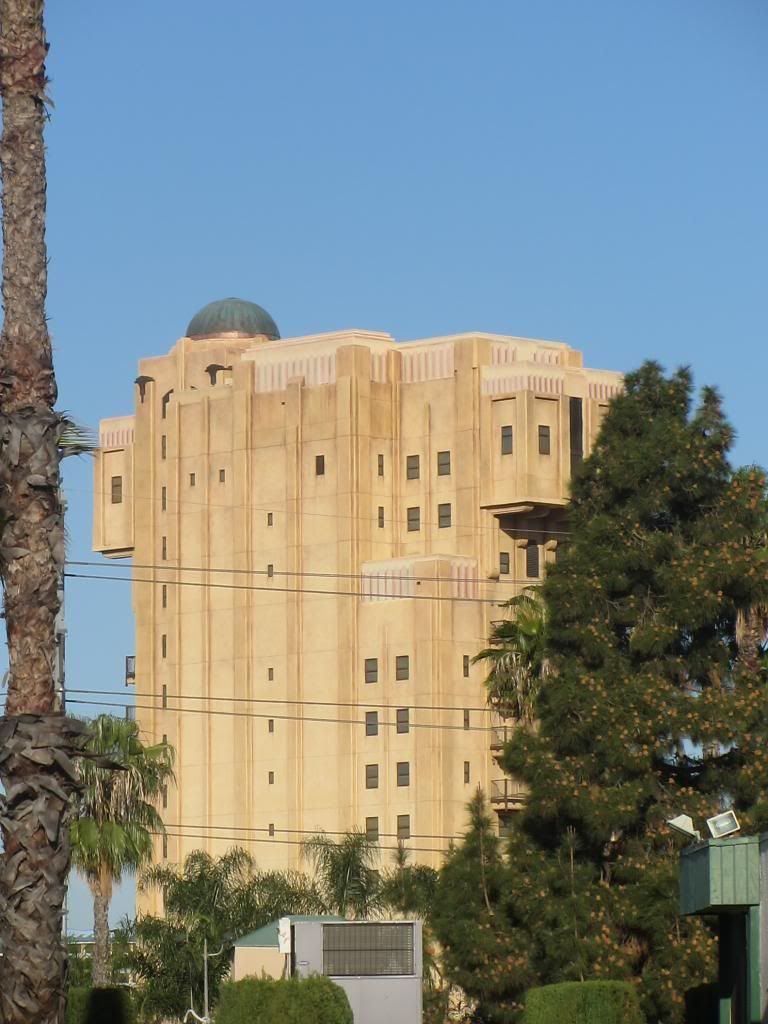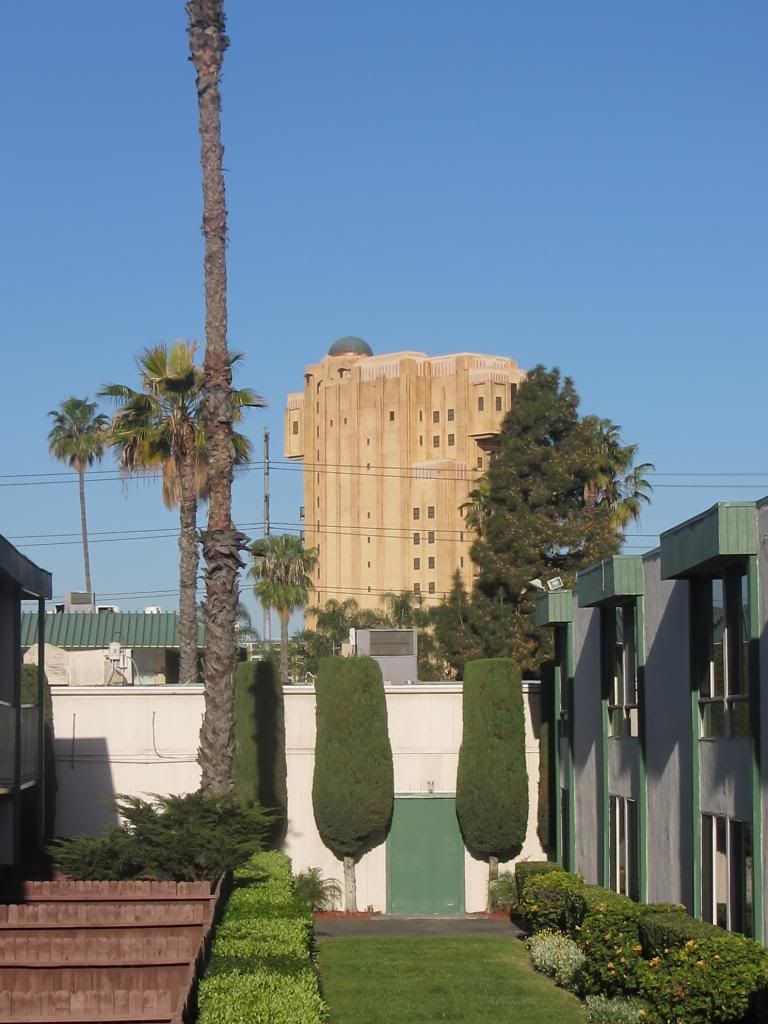 It was noticeable busy- busiest day of the trip.
Sunday 4/7
We did AP Early Entry and were in line at the gates bright and early by 6:30am and second in line at our gate. Our friends who are also AP holders joined us and we did all of Fantasy land in about 30 minutes !
Walked onto Peter Pan , Pinocchio , Snow White , Mr. Toad's Wild Ride and Dumbo. Dumbo was actually a longer ride because they were waiting for MORE people to line up..
We grabbed Fast Passes for Space Mountain and then headed over to Adventureland for Indy , POTC , HM and the like. We got a call from another AP friend they were here just as we got off Indy and we just walked around , caught up from the last months and bounced between DCA and DL until the afternoon when we had a large group meeting us for dinner at ESPN zone. Food never fails me and the drinks were especially yummy that night. I had way too many ESPY II's..
After the natives parted ways since they had to work Monday we enjoyed the rest of our night in DL and DTD alone exhausted but determined to stay as long as possible.
Crowds were definitely medium-high. Mostly at midday.
Monday 4/8
This was our first "alone" day for me and DH and we enjoyed this by sleeping in until about 10:30am and just taking our sweet time through the park until our dinner at Steakhouse 55.
We walked into the Disneyland Hotel area where Steakhouse 55 is located and checked in for dinner and sat in the lounge while we waited for our seating. My husband had an Ultimate Long Island which was delicious and packed a punch and I had the Forever Young martini that had hints of blueberry and acai. Both were refreshing and soon we were sat at an intimate table near the back just for two.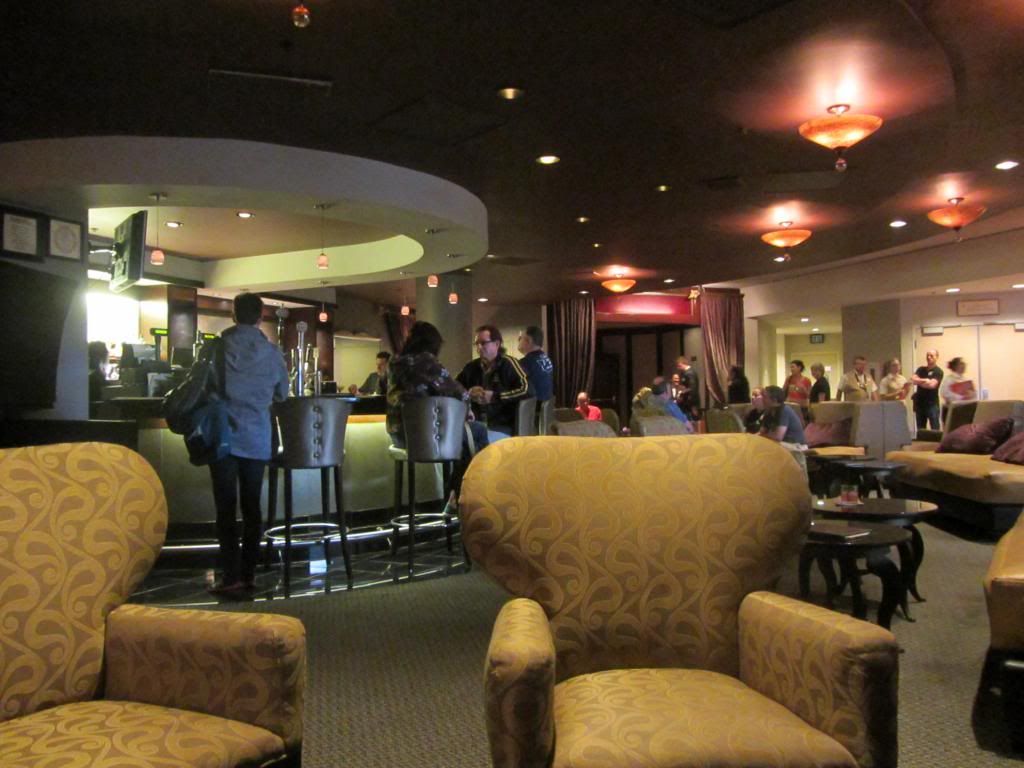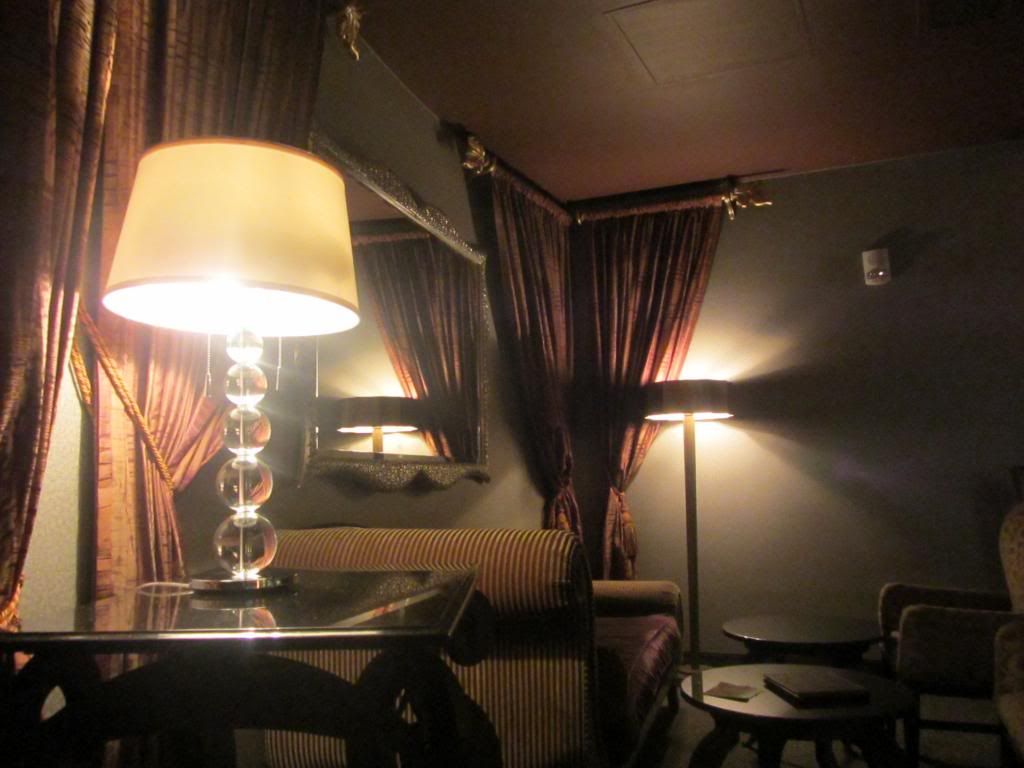 We were greeted promptly but not in a rushed manner by a wonderful gentleman by the name of Al who really took great care of us. I ordered a sparkling red wine and my DH enjoyed some beer with his meal.
We were greeted with fresh warm sourdough bread which my DH absolutely loves and felt this was some of the best he had and we live outside of San Fransisco.
DH ordered the prime rib with mashed potatoes and had the 7 onion soup which was finished table side and I the filet Mignon with the au gratin potato stack. The soup was so smooth and savory if we had not been in the restaurant I think DH would have licked the bowl clean.
Our entrees arrived in good timing with the appetizer and our server always maintained contact to ensure our ice water was filled as well as our wine and beer/cocktails replenished.
Both of our meals prepared medium rare were done PERFECTLY. The filet cut through like butter and I had the Steakhouse 55 butter added which added an extra level of creaminess to the cut , the wine paired perfectly also. The sides were much larger than expected in their own "boats" and we could have easily shared the mashed. The mashed were creamy and light and the au gratin stack was cheesy , creamy , flaky and just fantastic.
We had come in with the expectation to must try the 24 layer chocolate cake..we knew by the meal end this was not happening..so I ordered the creme bruelle. I even got my DH to try it..and he hates it usually..he was eating more than me ! Since DH let them know at the reservation we were celebrating an anniversary we did get a taste of the 24 layer chocolate cake in the form of a small portion with Happy Anniversary chocolate added on. It was perfect.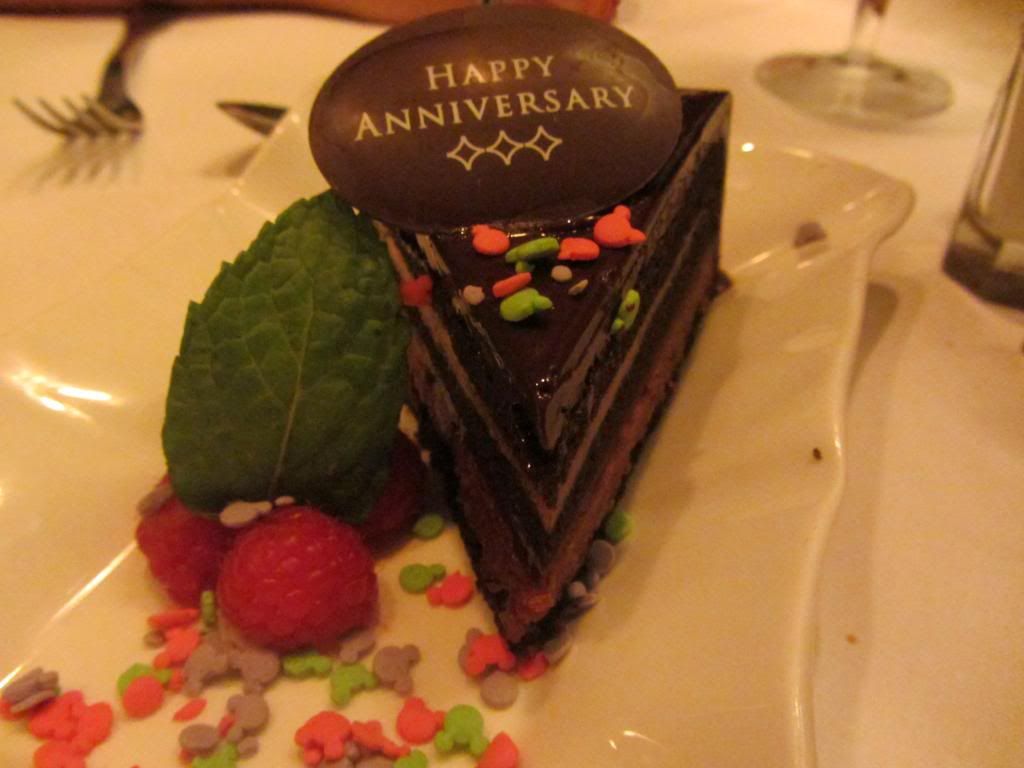 After we basically rolled ourselves out of our seats we stopped in front of the Trader Sams area with the large fireplace and sat down..with a beautiful clear night above and enjoyed the warmth of the fire while listening to some live relaxing music from the Trader Sam's outdoor area.
We then realized our next trip..no matter what..we would be staying at the DLH..and began planning our next trip !
Crowds seemed to be normal to high this day.
Tues 4/9
This was a day I had been long looking forward to : The walk in Walt's footsteps tour. It also happened to be the day a new Main St. window was being dedicated ! I was able to grab some photos and video of the reveal ceremony , talk about good luck !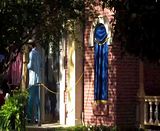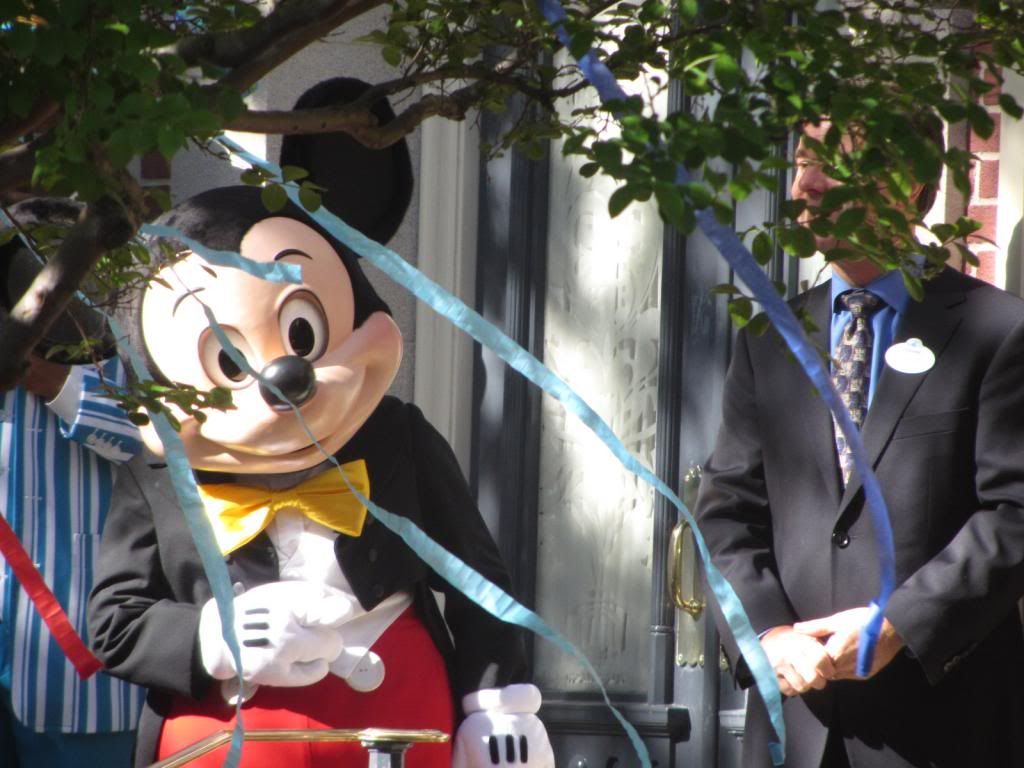 The tour was awesome and informative and I even got some of my questions answered. Being in Walt's apartment was very humbling and an emotional experience for one such as me who really grew up on the "classic" Disney. It was everything and more.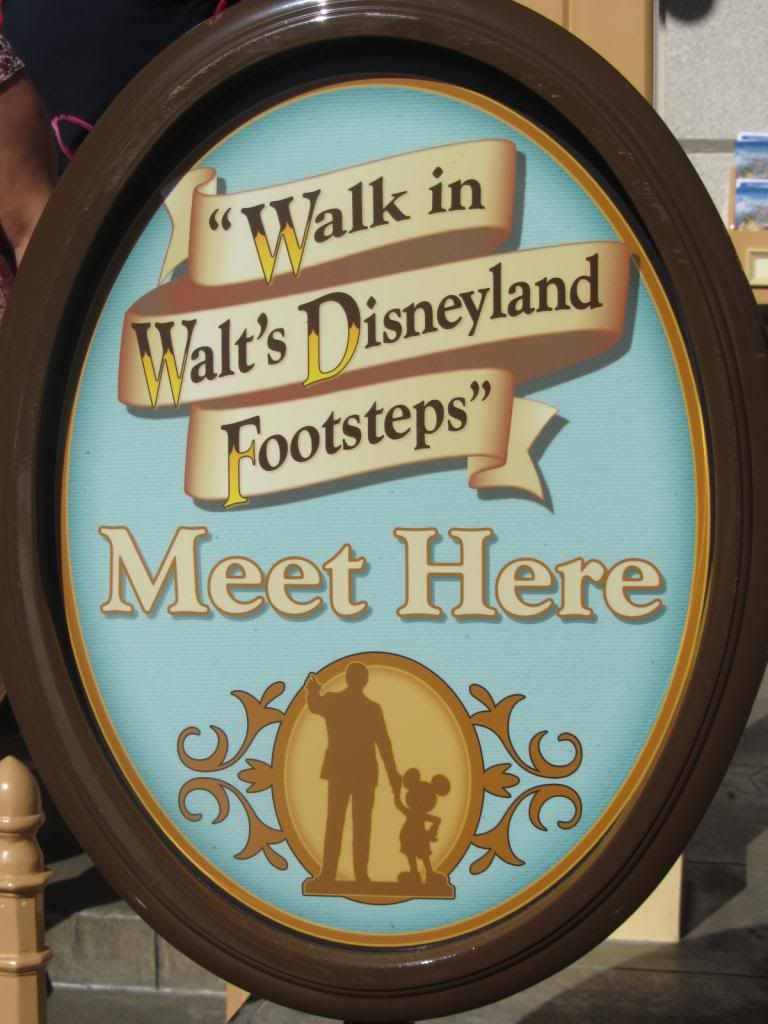 The rest of the day was spent at DCA until the evening when we headed back to do a few of the rides at night like Story Canal Boats..which was awesome. Our guide was hilarious and could have easily been a JUngle Cruise skipper. DH and I were seated closest to him and I was taking photos and I took one that didn't come out and he was like "Okay..now that was just a total fail..lol" It was hilarious and he kept giving me a hard time about me taking photos and teasing my DH..it was great.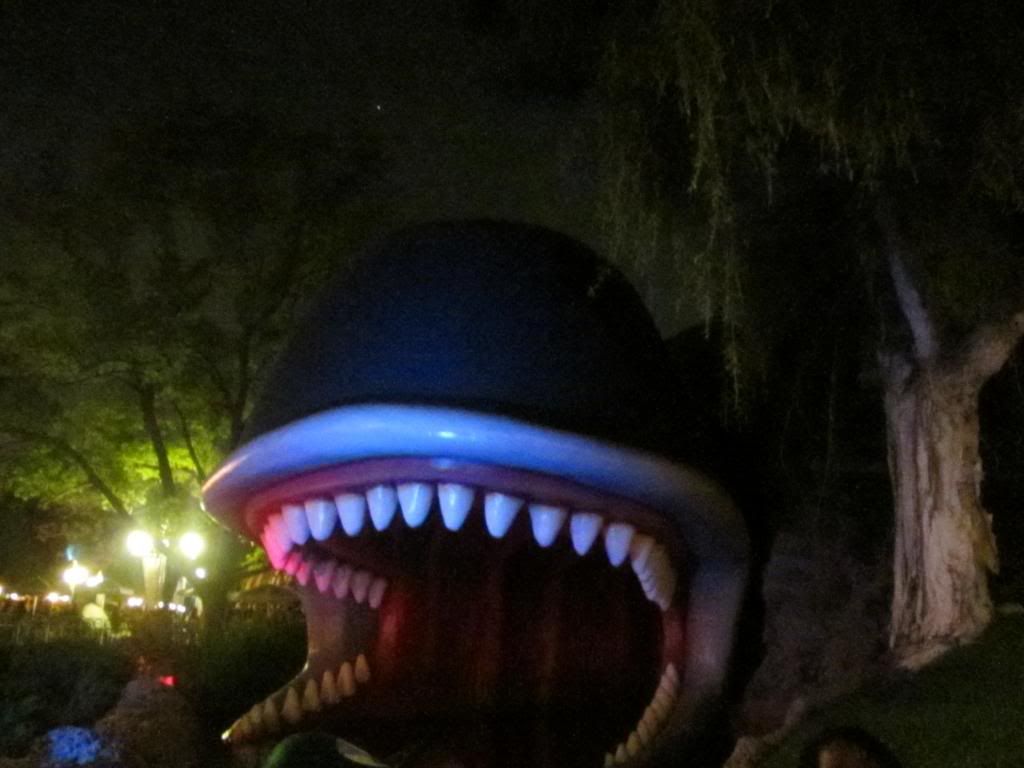 Crowds were much lighter this day.
Wed. 4/10
We started this day at DCA and went straight to RSR single rider..but noticed the normal wide right wasn't being effective so we ducked into Flo's and had breakfast there instead. The bana brioche french toast is AMAZING. We then went to single rider and waited about 20 minutes. I highly recommend it. RSR broke down on us for the first time ever ( we have been on 10 visits and never experienced it) but it was just after DH loaded into a car and I was waiting to board so we were texting to pass the time. It was about a 10 minute wait and we were back to normal.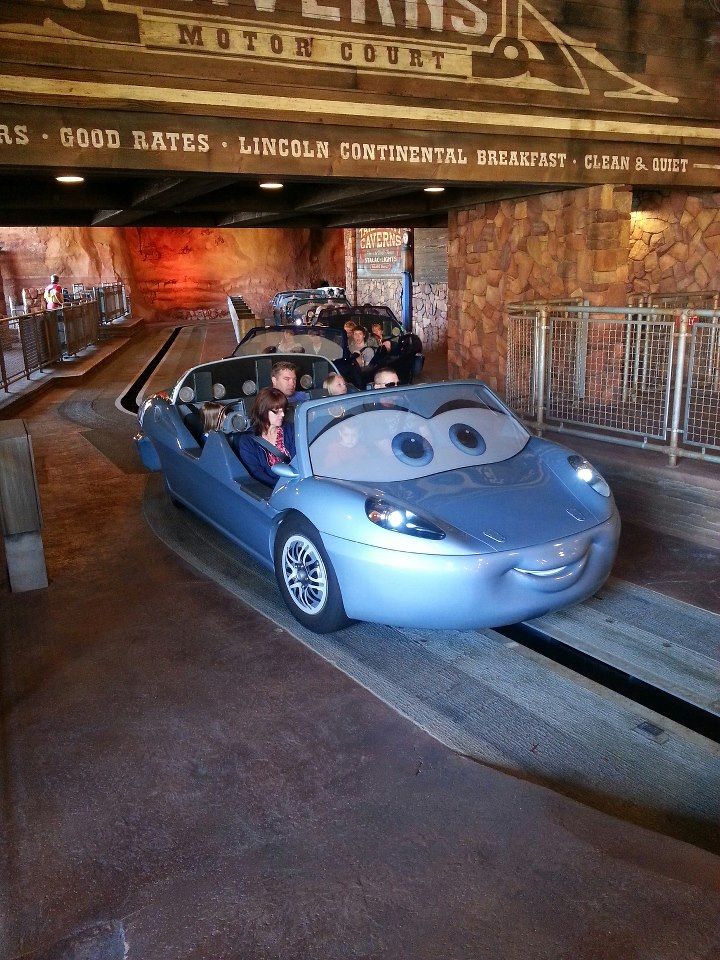 We did most of DCA/Backlot where we saw Sully ! Well this little girl just HAD to meet Sully so she was chasing after him and tugging at his leg..just like in the movie..It was hilarious..the poor mother was trying to catch her daughter lol..
We then hit up GRR and once on the ride going up I noticed Screamin was...stuck! There was a row of cars stuck on the second hill..at first I thought it was empty but after the ride and walking to LM I noticed people being evacuated off..I snapped a few photos of this..lol.
Ironically DH and I who are both PETRIFIED of heights were planning to ride right after..yeah needless to say we skipped it the rest of our trip lol.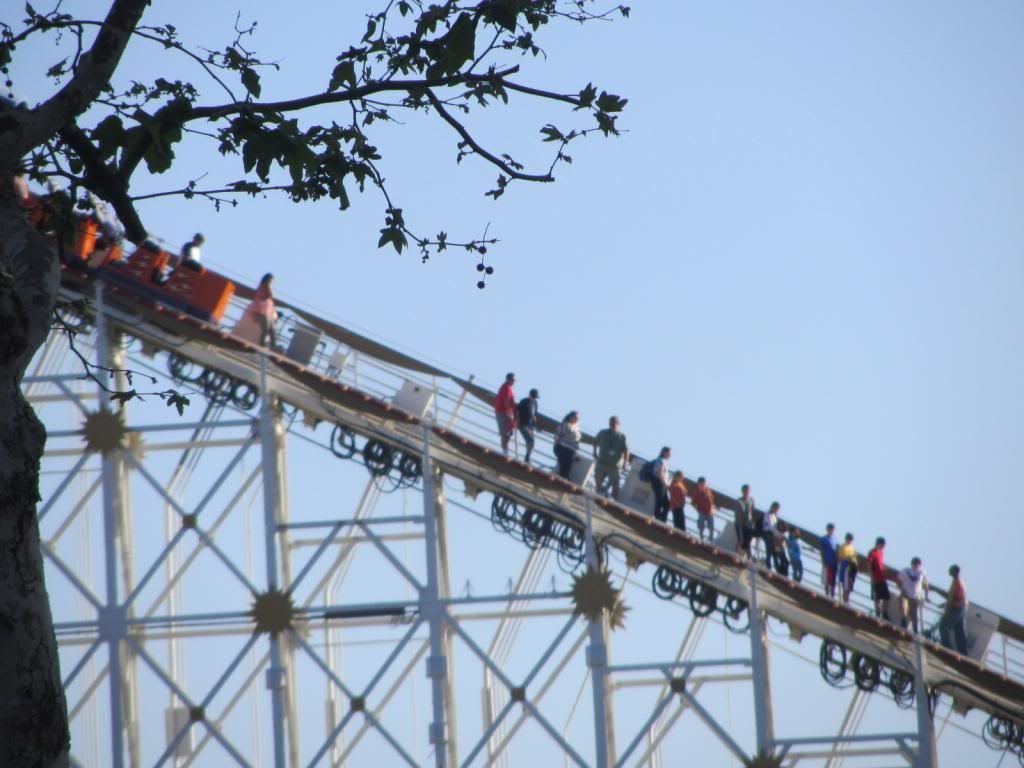 We decided to go back to DL early and spent the day doing Splash and the rest of our favorites. We tried Bengal BBQ for the first time and..I just say..what have we been missing ?? It was delicious.
Thursday we left for the drive back and spent the morning at DCA and grabbed lunch at Pacific Wharf cafe water side..just taking everything in.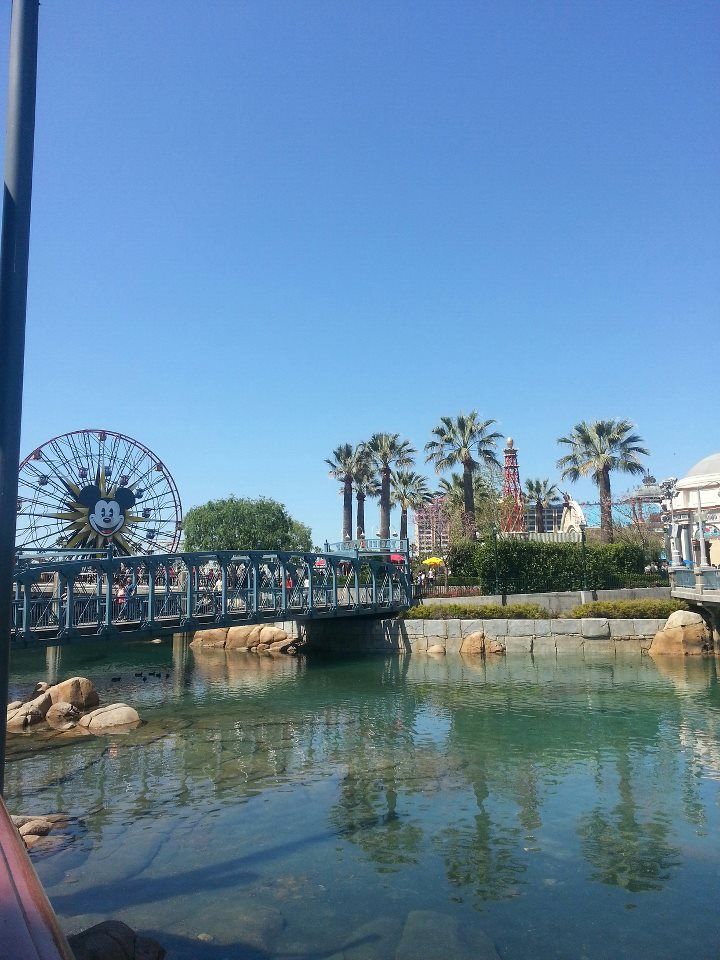 Then we did a few rides at DL and as always..doing POTC last.
It was a great trip - very jam packed but worth it.
Until December and Premier Passes..we shall meet again.