I am in need of some advice on what to wear to an upcoming wedding. Here are the details:
cousin's wedding
evening wedding, formal but not black-tie or even black-tie invited
groomsmen, including DH who is the best man and DS, will be in tuxes, as will both fathers
bridesmaids are wearing floor-length gowns
ETA - DD is a bridesmaid (not sure how this got left off - it was in my post when I first typed it, but must have gotten lost when I edited!)
mother of the bride is wearing floor-length
I am doing a reading but am not a bridesmaid
not sure what other women are wearing
Normally I would wear a formal, but not floor-length, dress if invited to an evening wedding. I found a floor-length dress formal dress that I love, but I'm not sure if it would be "too much." I know that often the bridal party is more dressed up than guests, so I'm just not sure what to do.
As for the dress I found, this is it, but in navy blue: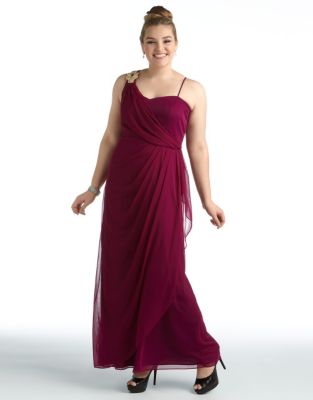 Thoughts, ideas, suggestions?