SO. When we last left off, it was our first morning waking up at the Art of Animation Resort.
Nothing makes me as early a bird as the promise of a Disney day, so I was up and about before the rest of the family.
I clambered over sleeping brothers to take a peek at the morning waiting for me. (what, I didn't wake them up!!)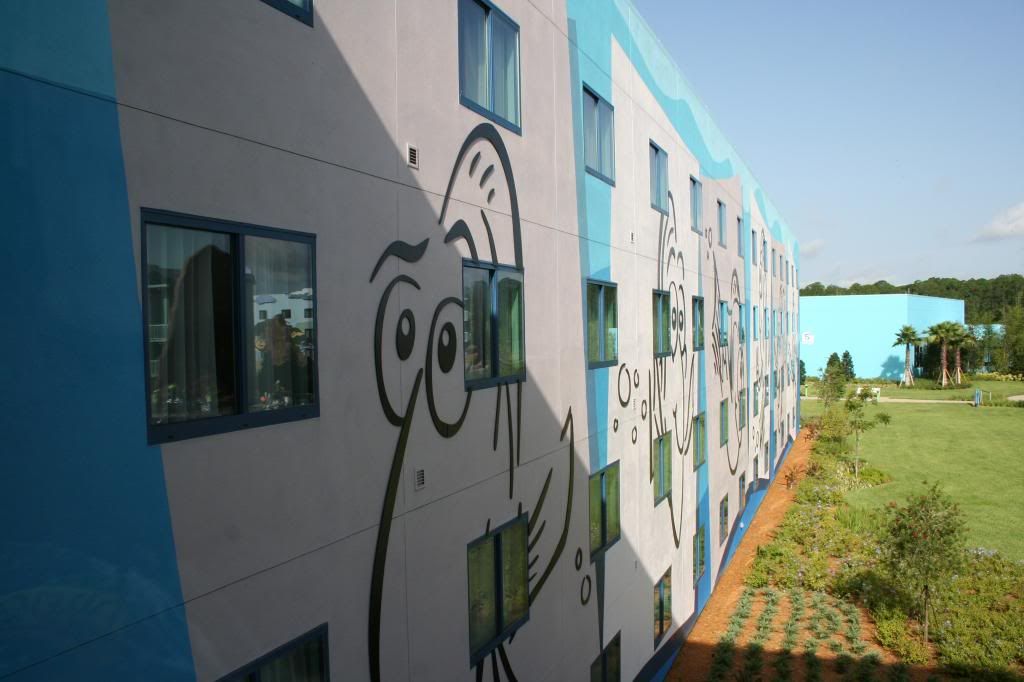 Just keep swimming, Dory! I loved how those sketches stretched away down the building.
Some imagineers were already hard at work on the Lion King section, which was set to open in a few weeks. The walkway towards it was close off, so it was fun that our room looked out towards it, and we could get a sneak peek.
I emerged into the Big Blue World outside our door, ready to find some more animated pixie dust!
But first, I had to stop and admire the palm treeeeeeeeeeeeeees!
You know, on my recent trip to Europe, there would sometimes be palm trees stuck at random in French and English cities – cities which clearly did not have a palm tree climate, and yet there the lovely fronds were. Why doesn't America have unexpected palm trees everywhere? I was a fan of the unexpected palm trees. But then I'm a fan of ANY palm tree.
ANYway, back to the Disney! My first stop was the food court to grab a morning beverage in my mug. It might have been coffee. It might have been a self-made mocha (coffee + hot chocolate). It might have been tea. Whatever it was, it was highly enjoyable, mostly because it came from a Disney food court and was consumed in a refillable mug.
Disney coffee is never really delicious for its own sake. It's delicious because it's Disney.
They were filming some sort of something (I'm really specific, aren't I?
) out by the pool. I didn't recognize either of the actors. And, to my mind, if it's not Stacy, Taylor Swift, or Kate Middleton, there's nothing much to get excited about. Those are the three celebrities that matter in my book. lol.
P. Sherman, 42 Wallaby Way, Sydney. Don't forget it!
Good Morning Nemo! How cute is he, swimming across that big building? But I tore myself away from the ocean adorableness to check out some motor action...
My steps were turned towards the CARS section of the resort!
Now I've read about and seen photos of Carsland at Disneyland – it sounds amazing. And if any of you readers have been there and/or to AoA, you'll have to tell me how they compare.
But, honestly, I can't imagine Carsland being much cooler than the Art of Animation area. I was totally blown away. Just like with the Finding Nemo section, it felt like you had stepped right into the movie.
Every few steps you seemed to run into a new, lifesize Cars character. Hey Doc! How's it going?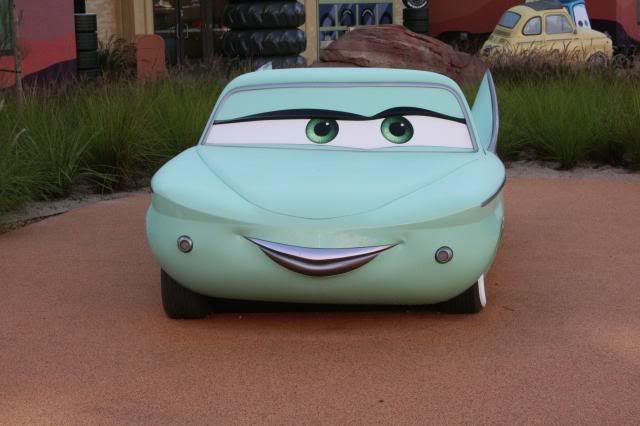 Flo, you lookin' good, girl!
Ramone is all ready to give you a whole new look, but he'll also point you towards the Cozy Cone Motel!
The windows of the Cozy Cone were so cute and typically Disney – chock full of perfectly themed details!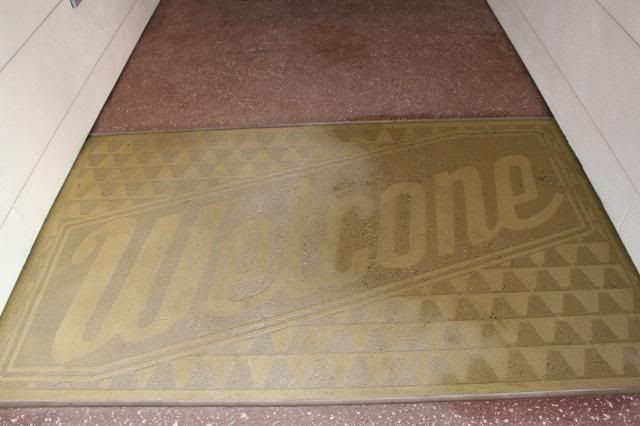 You can't actually go in the lobby building of the Cone (well, actually you can, but it's just the bathrooms. They were really nice bathrooms though.), but if you walk through it you'll find the Cozy Cone's pool!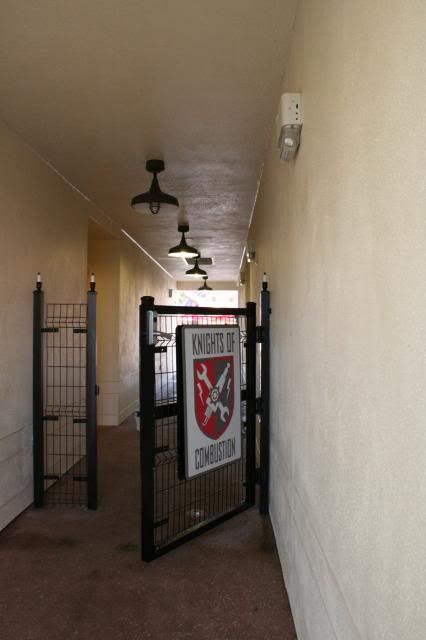 Let's check it out, shall we?
THOSE COLORS! And that morning sunshine! And that complete lack of any other human being to spoil my photo! lol.
Maybe partly why I enjoyed this part of the resort so much was because of how quiet it was – I had the Cozy Cone all to myself that morning. And in fact, all throughout our stay, the resort never seemed overly busy or crowded.
Still, the quiet of the morning is something you can't get at anytime of day. I simply adore Disney mornings.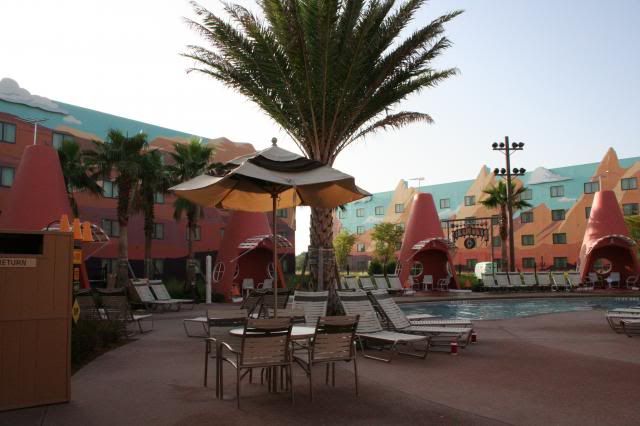 Ok, let's go over the amazing things about this pool.
1. YOU'RE AT THE COZY CONE MOTEL. How cool is that?
2. Each little cone is its own adorable little beach hut that you can actually go and sit in. Also it's nice that there were, I think, seven or eight of them, so you'd have a pretty good chance of finding one open!
3. Bright colors popping out all around you. Those facades on the buildings were just perfect. Notice how the ones directly behind the pool have the Cadillac mountain range!
4. PALM TREES.
I think we have now established the awesomeness of this pool.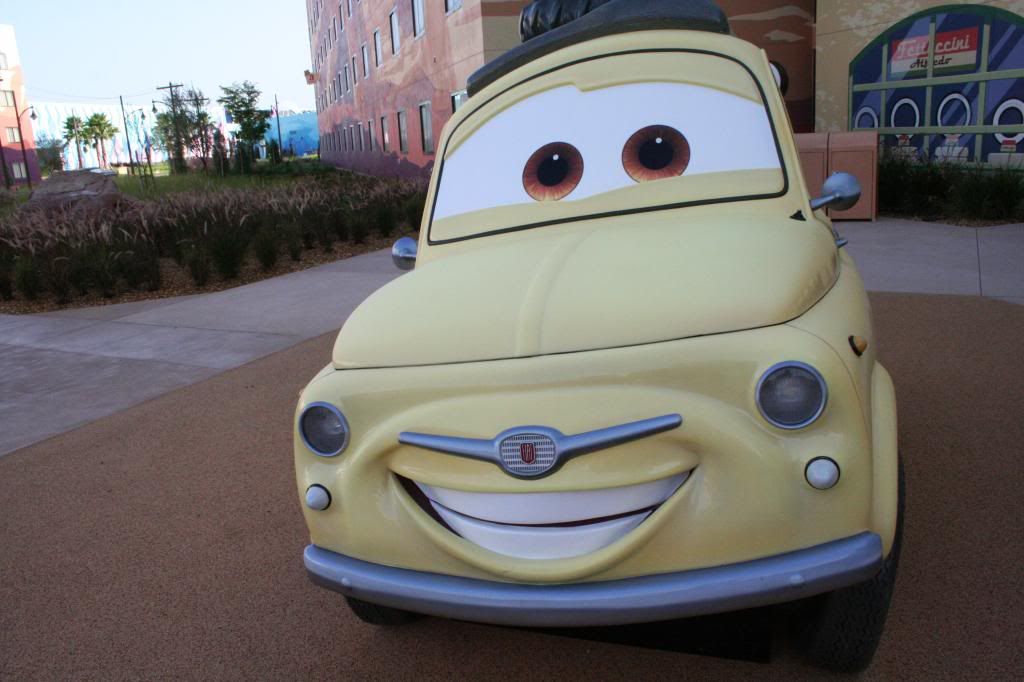 LUIGI, my friend!! How are you???
I love how absolutely delighted he looks to see you.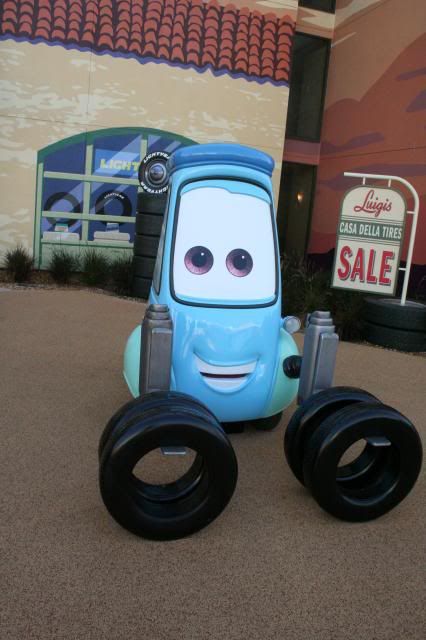 GUIDO!!! EEEEEeee! (Guido is my favorite character from Cars). He also looks so wonderfully happy. You can't help but smile looking at that blue face!
(That scene, where he totally pwns - yes, I just used the word pwn - the other jerky pit stop cars: FAVORITE.)
Of course, there's a Casa della Tires in town!
And right across the street is Mater's towing shop and the main Mater himself!
I didn't get pics of Lightning McQueen and Sally, they were over by the Wheel Well Motel, which is behind the Cozy Cone – I did get pics of that later in the evening, so those are coming! I believe that Sarge and Fillmore were also to be found, though not any of the characters from Cars II.
This whole area though was so complete in its theming. So many details, so many colors, such gorgeous landscaping. The hallways were really fun too (photos of those later as well!) – I would love to stay in this section someday. I've read that the Lion King and Little Mermaid sections maybe aren't quite as epic, but the Cars section definitely hit it out of the park for me.
It was still early when I finished exploring, so I got another drink in my mug (white citrus tea this time!) and took it to sit by the playground area.
I have a thing for benches, and there were some quite lovely benches there.
A brilliant Disney morning? Oh yeah. I'd say so.
And it wasn't even over! Up next, breakfast at Landscape of Flavors!