Just wanted to share my latest project with others who might appreciate it (other than the intended recipient
)!
Backstory: The lead teacher/manager at the daycare/preschool my youngest two kids go to is a big Disney fan. She picked up a large collection of vintage Disney records (yes, the vinyl kind) at a garage sale and has been adding to it. She plays the records at preschool and all the kids LOVE them. My middle DD has a special spot for It's a Small World largely from hearing the song and dancing to it at school. The record player has had some hard times lately and I came across a good deal on some vintage looking portable record players recently so I picked one up for her/the school.
But I wanted to make it special for this teacher so I got the idea to decorate it in a Small World/Mary Blair style theme. So here it is! This was done with adhesive vinyl using a Cricut with the Make the Cut! program and the Paper Doll Dress Up cartridge. I can hardly wait to give it to her tomorrow (the photo colors aren't great...the brownish-orange is actually metallic gold)!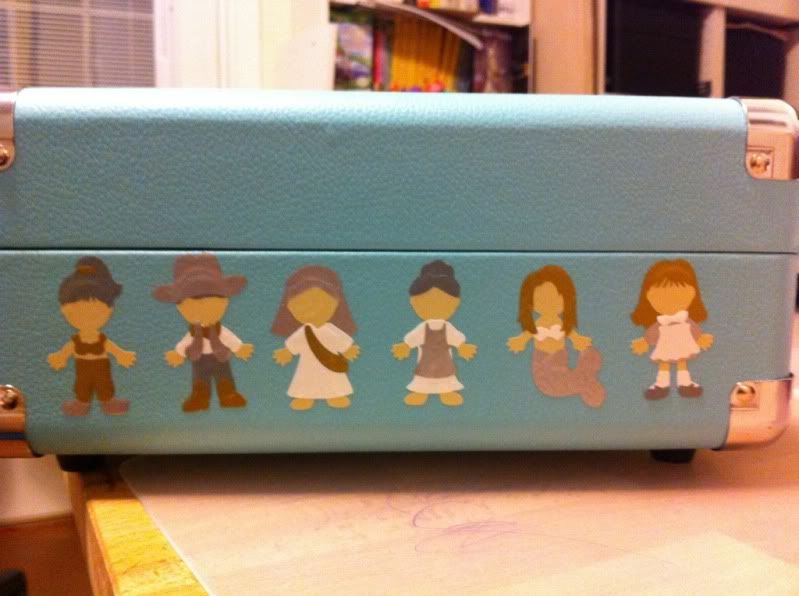 __________________
ME
DH
DD 9
DD 5
DD 3
Disneyland many times as a child, now sharing the magic with my children....
Disneyland 5K 2014 (as Lilo & DD9 as Stitch), Disneyland 10K 2014 (dressed as Jessie)
Disneyland 1/2 Marathon 2009 & 2010 (dressed as Jessie)
Disney Dream 5nt Double Dip, July 2012.