Hello & Happy St. Patrick's Day!
My name is Barb (and the "B" in jabead) and I confess that I am both a Disney food addict and also very much an enabler of others here that also suffer from this somewhat rare addiction. Evidence of this can be seen by viewing the pictures currently in the Camera Roll on my cell phone. Yes folks, 99% of them are of Disney food and oddly enough, I didn't take any of them.
But it's now time for me to "feed" my addiction and take some Disney food pictures of my own. And even better than that, I actually get to eat it too!
While I plan to do some live updates on that
"Coming to you Live from Disney World"
thread that I've heard about
, I've also decided to attempt to do a full dining report after our trip.
My last dining report was written last summer and concluded with a DISmeet with Linda (Linda67) & her DH on Labor Day here in my hometown of Lexington, Illinois. So I'm going to begin this dining report where I left off with my last, by introducing you to the whole jabead family with the pictures taken at that DISmeet.
Linda, Philip, and the whole jabead family (minus DH, who was taking the picture)
But DH did get to be in this picture...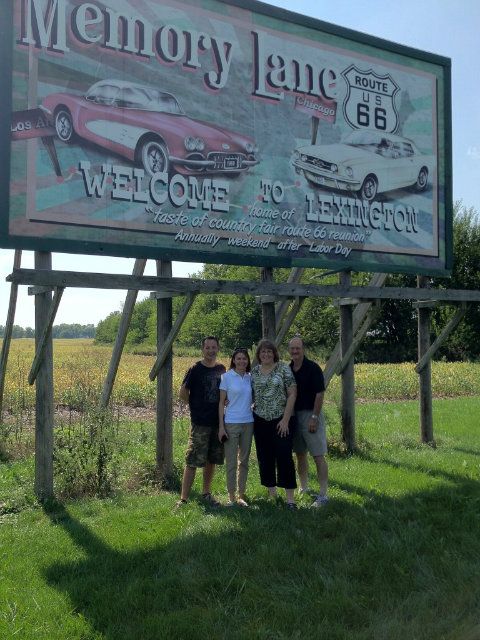 Philip, Linda, Barb, and Don
Sadly, Linda and Philip will not be joining us on our trip to Disney World and neither will our DD (Emily, the "E" in jabead). So for this trip, we will actually be the jabad family. This could be interesting!
While I have a DISmeet (or two?) pre-planned during our trip, if anyone should happen upon the jabad family at the World during the week of March 23 - 30, please take a minute to say hi. I'm sure the parks will be like ghost towns during the week before Easter, making it very easy to spot us, right?
So anyway, please join us in our dining adventures, starting with a "taste" on the live thread and then here for the "full meal deal".
ETA: I forgot to mention that I will not be sharing our dining plans with you before our trip, as I have something in mind for the live thread which requires that they remain a secret. {see the live thread for details -
LINK
}