Sunday 26th August – A DIS Meet, a DIS-appointment and a DIS-covery
Any DISers who hang out on the Restaurants board will understand why I was excited today to be meeting up with Emmysmommy (Brenda) and JustEm (Emily) and, of course, Brenda's lovely hubby Michael (who doesn't have a DIS name as far as I'm aware). I was also incredibly nervous as Brenda is so stunning and Em is just so cute, I was worried that I would feel old, fat and frumpy next to them both
We headed off to Epcot pretty early. After the usual early morning trip on Soarin', we stopped in at Sunshine Seasons for a spot of breakfast. We had a chocolate croissant, oatmeal and raisin cookie and a breakfast sandwich with a hot tea for Gary (obviously) and a diet coke for Daniel and I. The sandwich was absolutely disgusting. The pork was really salty and slimy and the cheese was really strong and congealed; I didn't like it at all. And, unfortunately, the breakfast potatoes had onions in so none of us liked those either.
Yuck, yuck, yuck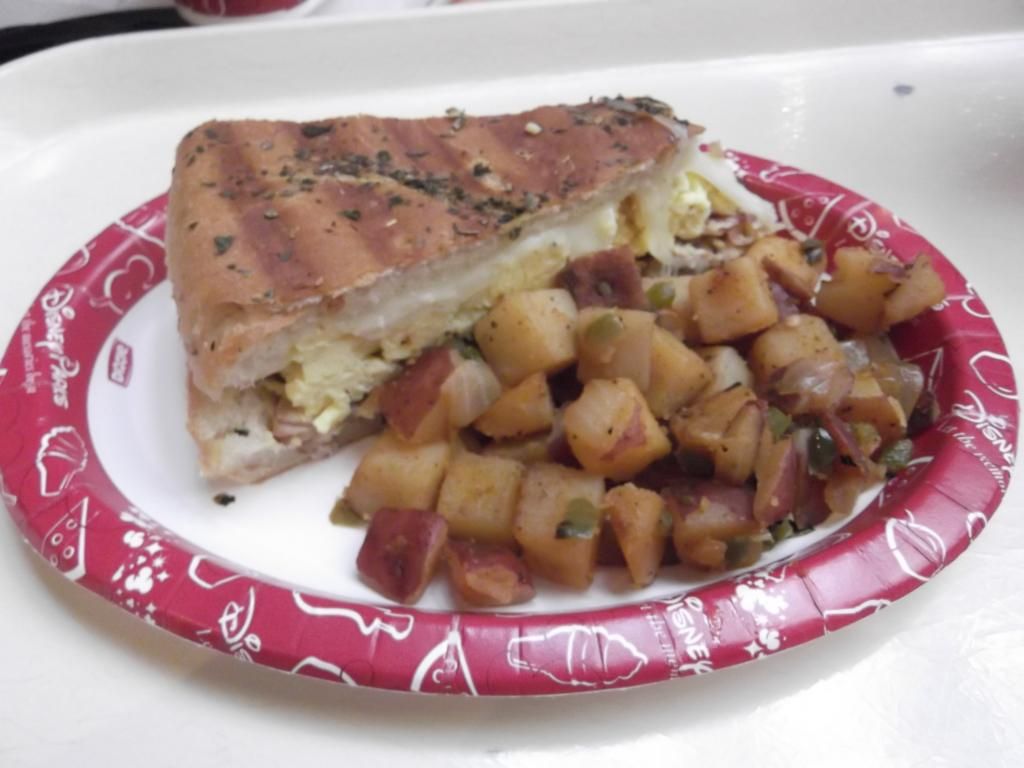 Gary and Daniel liked their respective items but I left still feeling pretty hungry.
It's got oats and fruit so it must be healthy, right?
After breakfast, we took a trip on Living with the Land as it had been a few years since we'd last done it. Daniel hardly remembered any of it (he last rode it on his first trip in 2008).
It was time then for our second trip on Soarin'. This remains one of my favourite rides at WDW (a close second to Tower of Terror).
We then debated whether to head over to Mission Space. On a previous trip, Daniel had ridden the green (less intensive) version but we were thinking that he might enjoy the orange now he was a little older. The wait time showing was pretty long (probably due to Test Track being closed) but we weren't in a hurry so in we went. Imagine our surprise when we walked straight through and into the holding area. Our mission was successful and we reached Mars with no problems, despite being a crew member short. Daniel loved it, he couldn't get over the feeling of something pushing down on your chest when you launch.
We wandered slowly over to World Showcase. It was starting to cloud over a little bit and I was worried that we might get some rain this afternoon. Gary had a bit of a headache so was talking about going back to the room for a little while. We decided we would go and meet up with Brenda and family as planned, then maybe head back to the Beach Club if Gary wasn't feeling any better.
Phineas and Ferb
We were a bit early so had a wander through Canada, then into the UK. Daniel decided he wanted to see Alice, who was hanging around. The photos we got of him with Alice are some of my favourites. They just sum up boys (maybe all children) of his age so much – desperately trying to be grown up, too cool for the characters but still a child deep down.
I'm not really holding her hand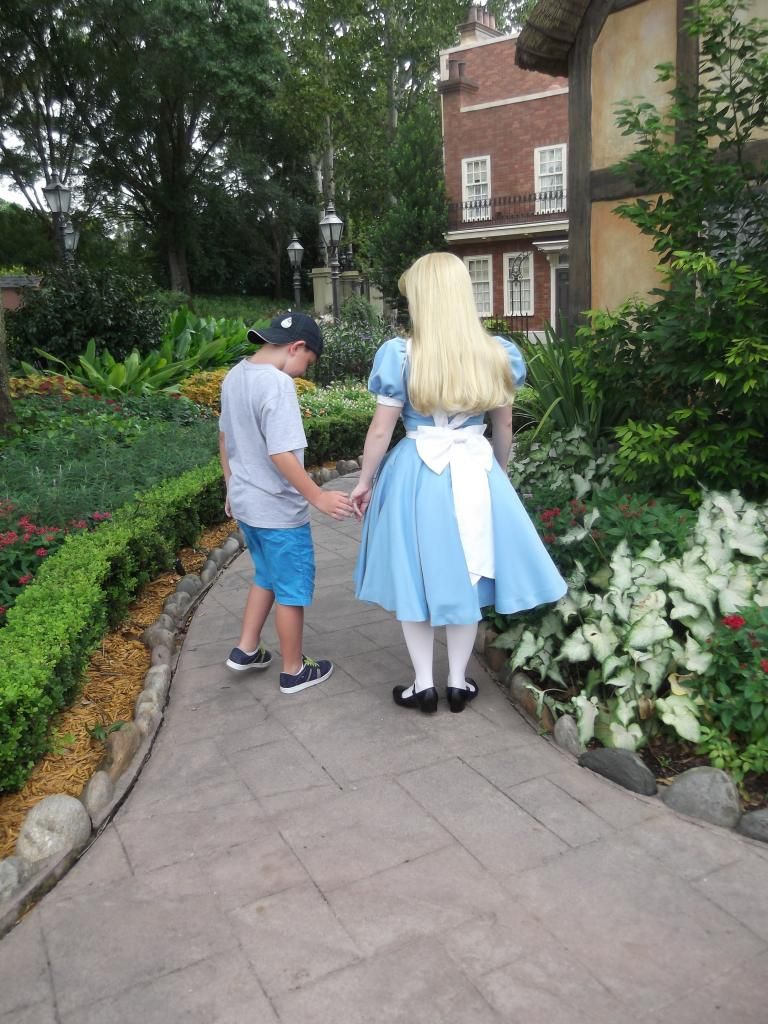 Do you know the 'I'm a little teapot' song?
Me and my mate Alice
We took a look in some of the shops and soon it was approaching 11.45 – time to meet Brenda, Em and Michael. As we walked past the Rose and Crown, I saw Brenda coming towards me, just as gorgeous in real life as she is in her pictures. We had a hug and she quickly introduced Em and Michael and we all had hugs and shook hands (the men). We decided to head into the Rose and Crown to get a drink and have a seat so we could chat. We got some drinks from the bar and grabbed some seats. The next hour or so passed by in a complete blur; we talked, we laughed, we hugged and it felt like we had known them all for years. Brenda is such a lovely lady, Michael is a great guy and Em is so mature, beautiful and a real credit to them both. All too soon it was time to say goodbye as they had a reservation at Chefs de France at 1.30. We were genuinely sorry to say goodbye and wished them an enjoyable meal and a great vacation.
No, Gary is not asleep!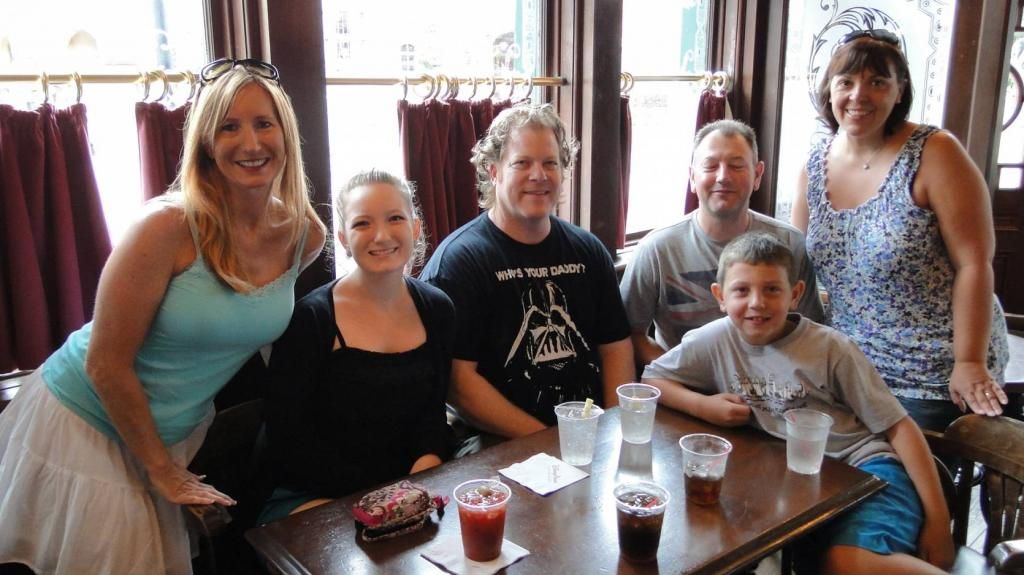 With thoughts of lunch in our heads, I realised that I actually hadn't eaten very much at all so far today, something which shouldn't be allowed on a Disney holiday. Surely there's an unwritten rule that says you need to eat every couple of hours or something? Anyway, we were very conveniently near the Yorkshire County Fish Shop so fish and chips it was. Gary was still suffering a bit so we just got one portion to share between the three of us. We sat down next to the lake to eat them and very delicious they were too.
Chish and Fips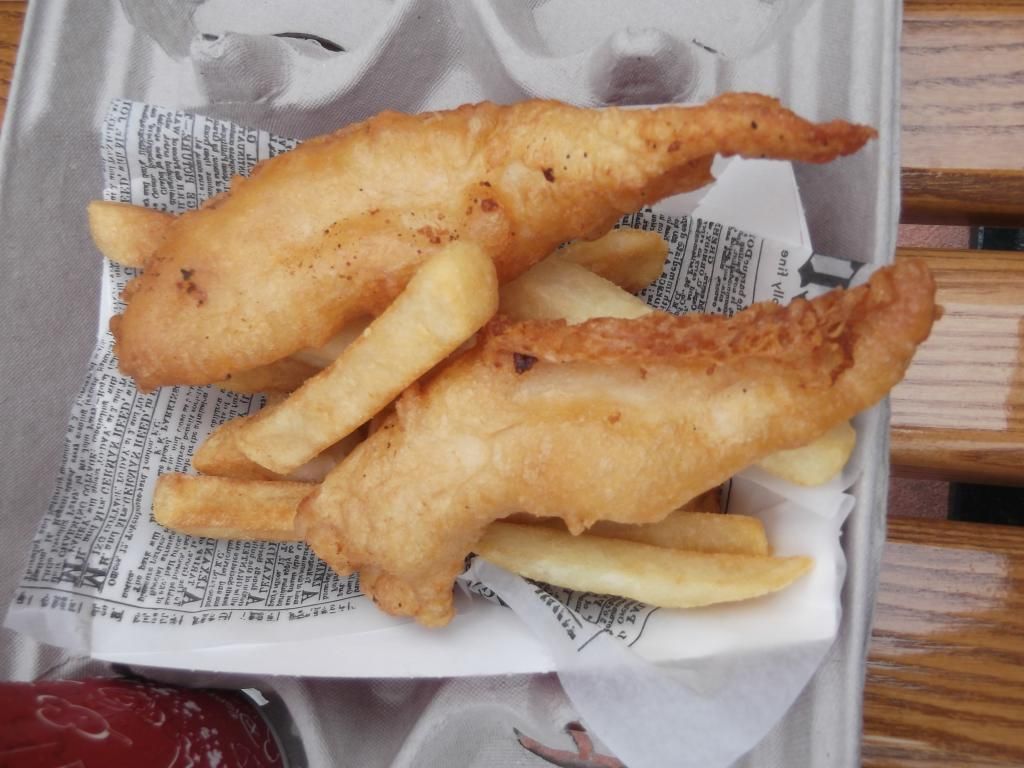 Gary still had a headache and had decided to go back to the room to get some tablets and have a lie down. As it didn't look much like pool weather, Daniel and I decided we would do an Agent P mission in World Showcase. Gary headed back, saying he would text us if he was feeling better and wanted to come back and join us. We walked over to International Gateway together and Daniel and I collected a F.O.N.E. Our first mission was in France, which was pretty handy, so we crossed the bridge.
France – Hey, has anyone seen Perry?
We wandered around the streets of France, carrying out our mission.
Watching the magic happen
Inside France, looking out
I bought myself a Grey Goose Citron Slush and did a pretty poor impression of a responsible parent, sipping it while following Daniel around on his mission.
It wasn't long before the rain which had been threatening for the last hour or so made an appearance. We took shelter under a canopy outside La Signature. A young couple arrived and took shelter next to us, both of them smoking, so we headed inside. We were given a funny look by a woman in the shop so I explained that we'd been sheltering outside but had no desire to be stuck next to two smokers. The lady told us they couldn't smoke there but she wasn't allowed to ask them to move since she wasn't a Disney employee. She went to fetch a Disney CM who did go outside and ask them to move or extinguish their cigarettes. Clearly the thought of smoking in the rain wasn't attractive as they both put their cigarettes out. The rain eased up a little bit so we continued on our mission, culminating in getting to see the elusive Perry.
Daniel wanted to do another mission but Gary had just texted to say he was coming back over so we waited for him to join us, handed in our F.O.N.E. and then headed on around World Showcase.
Poncho? I don't need no stinkin' poncho!
Our next mission of another kind was to cross a couple more snacks over our list. The next one was to be the one Daniel had been most looking forward to – the American Dream from the Fife and Drum Tavern at The American Adventure. Sadly, it was not to be – the slush machine was broken. Daniel was very disappointed.
Wot no American Dream!
We then spent some time messing about, trying to take 'trick' shots with the Epcot ball.
The best of a bad bunch
Our next stop was Karamell-Kuche and another attempt at crossing a snack off the list. Now, technically, the list stated 'Anything from Karamell-Kuche' but really we wanted a cupcake. Too bad, they were all out of cupcakes. We had to get something though so we settled on a small selection – Caramel Popcorn, choc covered marshmallows with caramel and choc covered pineapple spear with caramel.
Karamell-Kuche means 'Smells yummy'
Caramel Corn
Pineapple Spear
When we came out of the shop it was raining again so we found shelter under a little roof around the corner. Daniel settled under a wishing well to eat his pineapple. He was just taking a huge bite when a Photopass photographer came out of nowhere and caught him mid-bite.
Gotcha!
Continued in the next post....