As we walked past Olivia's Cafe, we realised that we were both pretty hungry. So we decided to go in. This was a different proposition from Thanksgiving. The place was almost empty. We got seated and our server came to introduce himself and brought the menu. Graham had the Onion Rings with various Dips followed by the Pot Roast. I went for the the Soup of the day. I was hoping for the Tortilla Soup or the Black Bean Soup, but they had a Beer and Cheddar Cheese Soup that day. I was a bit nervous as my track record with Cheese Soup that holiday was not wonderful. Still, there was nothing else that took my fancy so I decided to try my luck with this. This soup turned out to finally be the stuff of my dreams. It came with Pretzel Bread Croutons and had a beautifully rounded flavour. Sometimes the best things really are found close to "home". My main course was amazing, too. I had the Pork Chop, basted with a Jamaican Jerk BBQ sauce and served with Smoked Cheddar Macaroni and Cheese. This normally comes with Spinach, but I asked our server to leave this off. We were both stuffed once we had finished our main courses, but you cannot really go to Olivia's Cafe and not have their amazing Key Lime Tart. So we decided to share one. I took some photos of the Christmas decorations at Olivia's Cafe, too and had a look at their pin trading board. I found two more Figment pins that I had not seen before. After lunch, we headed back to Papa's Den. I took a few photos . I have been around there so many times, but I never really stopped to have a look. There is so much detail there. It really looks like somebody's living room. I particularly love the fireplace that they have in there. After I had enjoyed my surroundings for a bit, I settled down a bit with my iPad and worked on my trip report.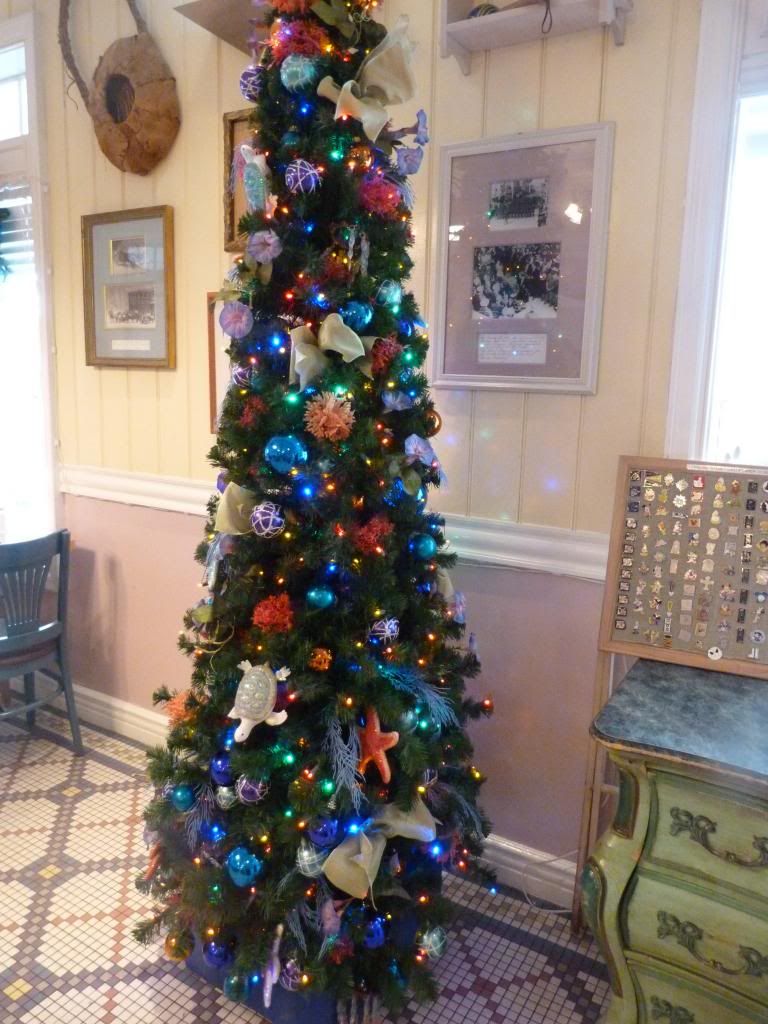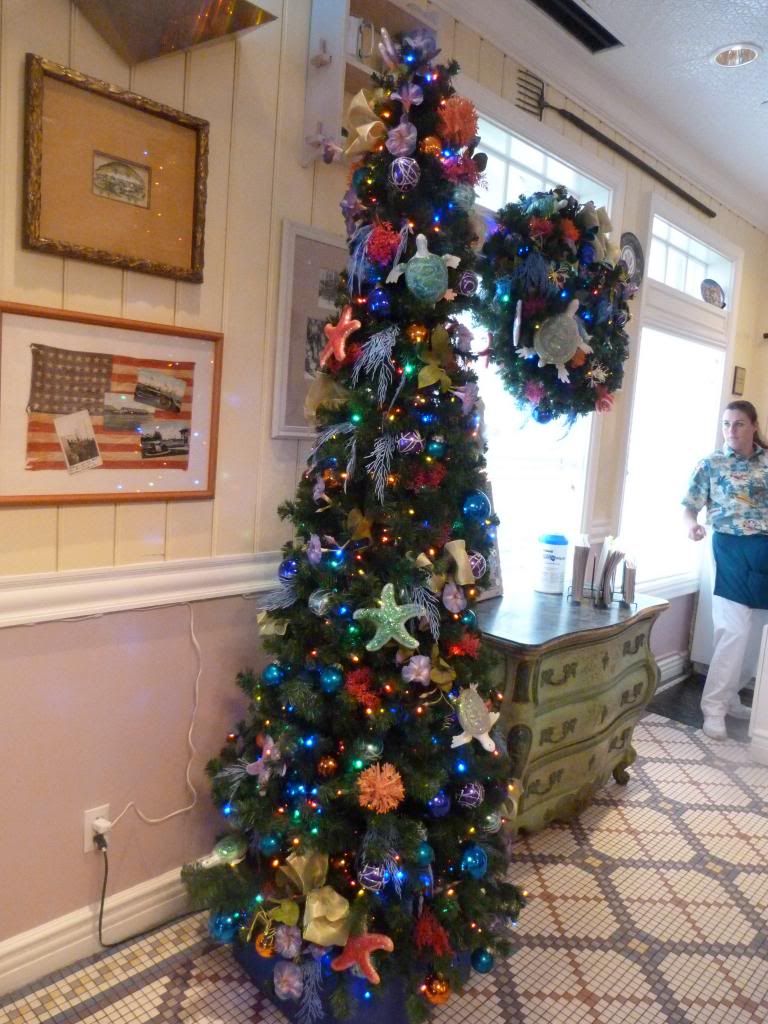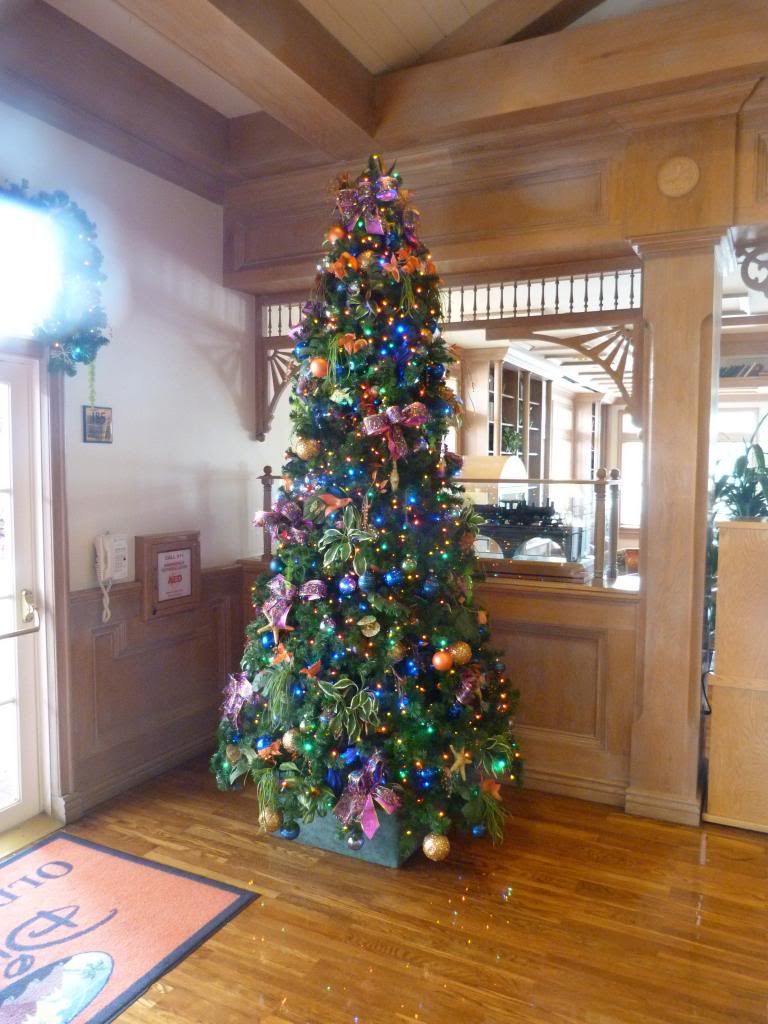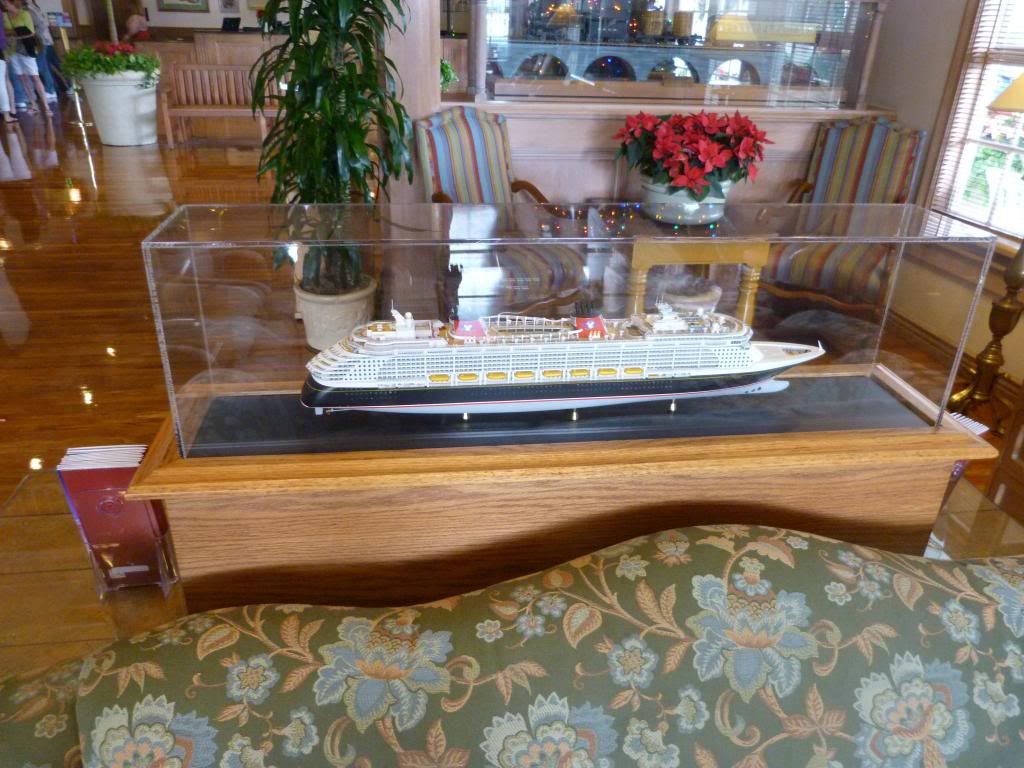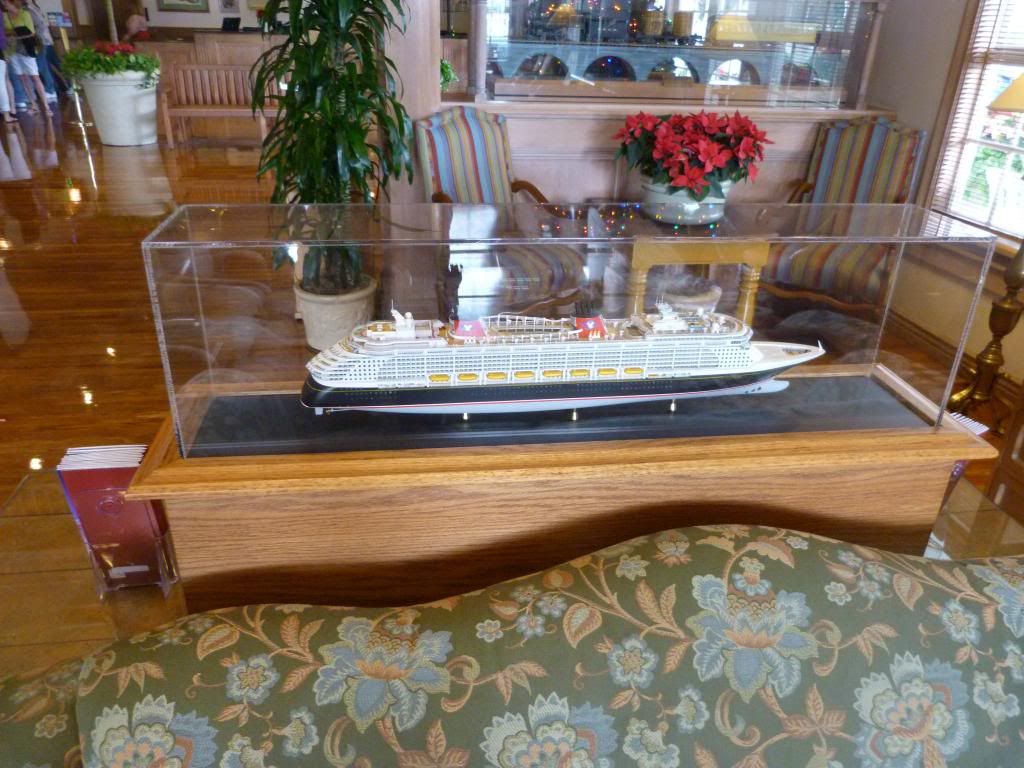 About 30 minutes before our scheduled pick up by Magical Express, we went to retrieve our luggage and then we enjoyed the last rays of sunshine. Magical Express arrived right on schedule. After we were picked up, we stopped at Saratoga Springs and then we were on our way to the airport. Some kids were essentially running riot on the bus. They were standing up in their seats and monkeying around and the parents did not say anything. I am surprised that the driver did not say anything either as this can't have been safe. I tried to ignore them as much as I could and enjoyed the little goodbye video that the show on the coach instead. When we arrived at the airport, there was virtually no line at the Lufthansa desk at all. We had one person in front of us. This must have been one of the smoothest check ins we ever encountered. We had a look around a few shops. I visited both the Disney World stores and the Sea World stores. I suddenly realised how strange it is to have been in Orlando and not have visited Seaworld. I also had a quick peek in Lush and took some photos of the airport's Christmas decorations and then we went through security. Again, this was a very smooth process. We walked up to the gate, but then we found some seats at an empty gate where I could plug in my iPad.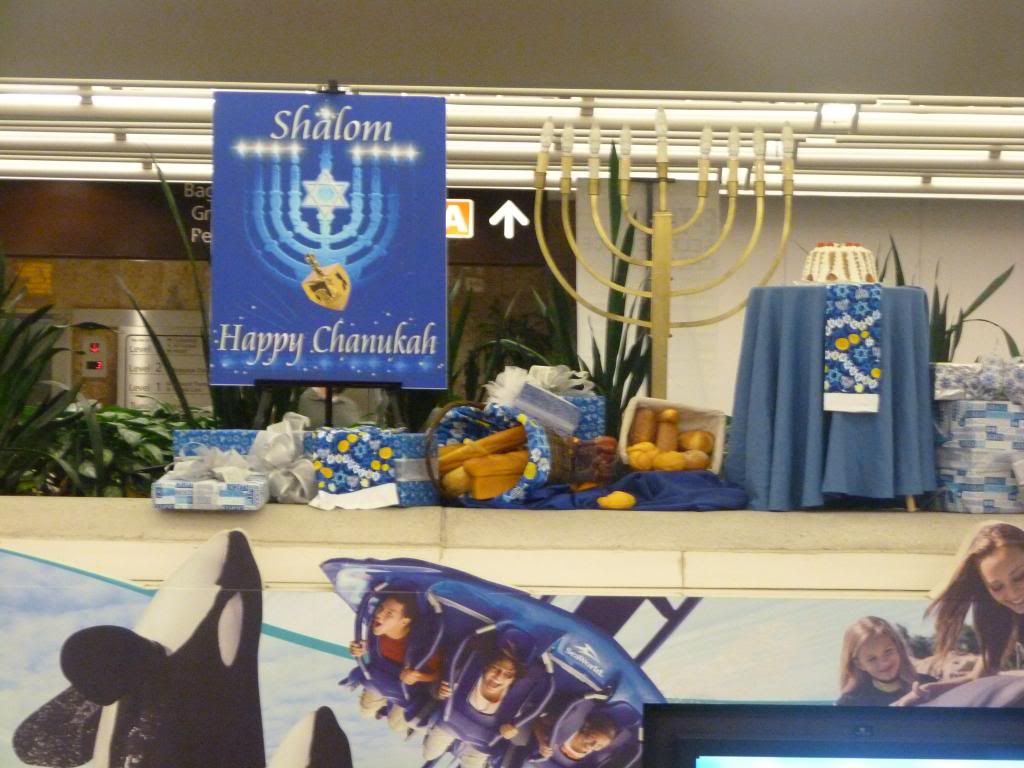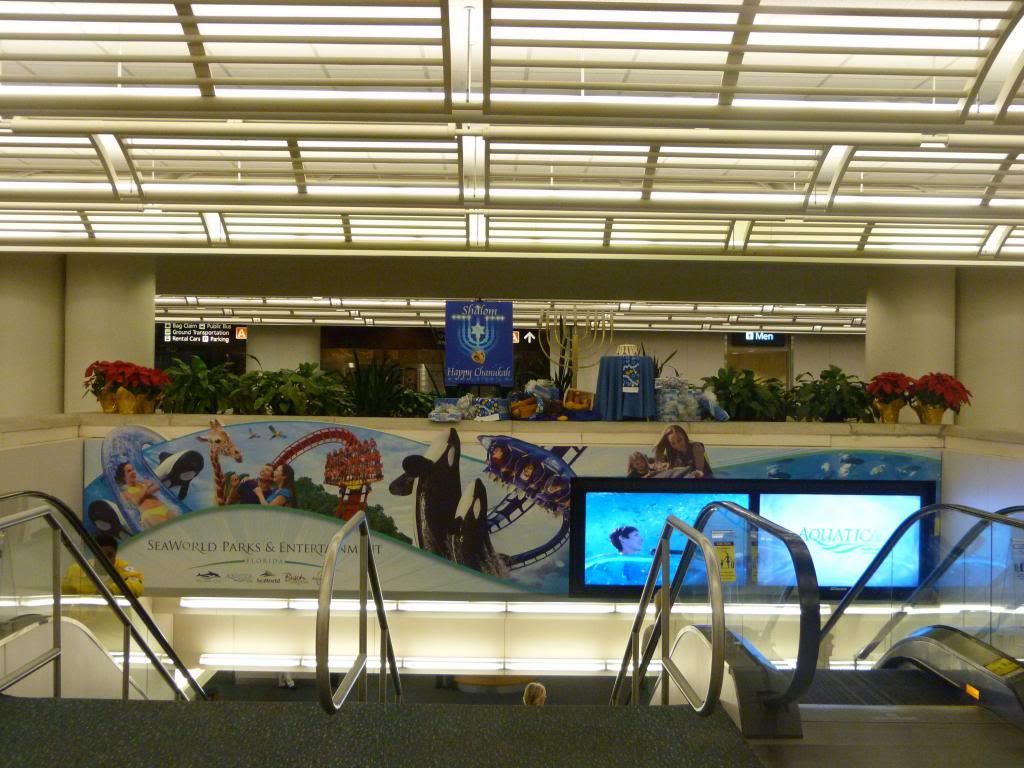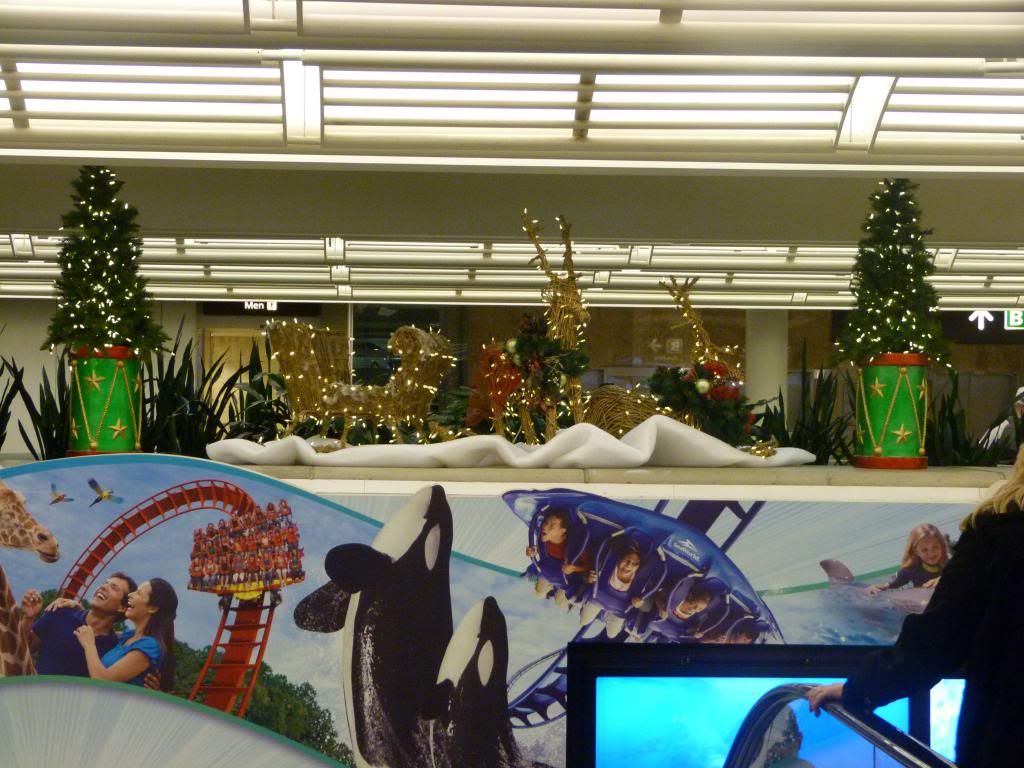 Soon it was time to board. I was quite surprised that they did not board by rows or zones, but once everybody who was pre-boarded for one reason or the other was on the plane, they called open boarding. It was actually not as big of a free for all as I had expected. The plane was an Airbus A340-600, which we have flown on before. This is a nice aircraft and we probably had the most comfortable flight I ever experienced. I had to laugh about the entertainment system though. Now, I have to admit that I am spoiled. As I work for an airline with a multi-award winning entertainment system, the offerings of other airlines often leave me a bit bemused. It looked very impressive, but only offered about 20 films and the most up to date one of this was The Odd Life of Timothy Green. I had already watched this on the outbound flight, but as I had really enjoyed this, I watched again. For a bit of variety, I watched it in German this time. Dinner was quite pleasant. We both had the vegetarian option, which was Cheese-filled Pasta with a creamy Pesto Sauce. This was very tasty.
Once the film had finished, I chose the soundtrack of Les Miserables from the entertainment system and settled down to sleep. I managed to sleep most of the flight. When I woke up at one point, I realized that I had gone down with a full-flown cold. What I had behaved like an allergic reaction for the previous two days showed what it really was. This was not a clever situation to be in. Working for an airline I know that it is not a good idea to travel with a heavy cold. Still, there was nothing that could be done now. With that realization, I went back to sleep. I woke up for good when they were serving breakfast. I passed any airline breakfast that I have ever tasted has been truly awful. Instead I watched an episode of Big Bang Theory in German. By the time they cleared away the breakfast stuff, we had started our descent into Frankfurt. At that point I got first hand experience why you should not fly with a cold. I thought my head and especially my ears were going to explode. I had never experienced such pain before.
I was glad when we were finally on the ground. The pain stopped straightaway, but my ears felt blocked and this affected my balance. It felt really disorientated. Graham suggested that I should try and blow my nose and that seemed to do the trick. One ear popped as soon as I blew my nose and the other did so shortly afterwards. We set off towards the gate for our connecting flight. We became very aware just how big Frankfurt airport is. After a ride on the Skytrain and walking for what felt like miles, we still were not even at the security check point. Graham spotted some rather comfortable looking loungers and settled down. Even though they looked very comfortable, I could not get comfortable at all. I played with my iPad for a bit and then I decided to push on. I left Graham with his boarding pass. In the end the walk to security was not much further and this time it was smooth sailing. When I got to the other side, I went in search of food. I had hoped for some more traditional German food, but there was none to be had in this part of the airport. So a McRib at McDonalds had to do. This was also a rare treat as we can't get them over here.
When I was fed and watered, I had a look around the shops for a bit and then I headed over to our departure gate. I had the best intentions to just sit and read, especially as I was reading a really good book. Still, my eyes started to feel really heavy. The seats were quite comfortable and as hardly anybody was in that area, I managed to lie down on a back of three seats and actually had a nap. I woke up when Graham was standing next to me. We decided that we were both thirsty. I had another Mezzo Mix and he had some water. When we walked back towards the gate, we spotted that the gate number had changed. So we headed over to the new gate. We sat down and soon they checked passports in preparation for boarding. Boarding was just about to start when they made an announcement that there would a delay as there was a technical fault on our aircraft and the engineer had been called. About 20 minutes later, there was another announcement saying that the fault could not be rectified in a timely manner, but the replacement aircraft had just landed. We had to change gates yet again, but about 30 minutes later we were on our way.
The flight back was short, sweet and eventless. We were served some drinks and a Cherry Crumble Cake that was rather tasting. Once they cleared away the rubbish, we were already in descent into Manchester. Fortunately my ears were not painful this time round, but the pressure made them block and they did not pop completely for the next 5 days. Things went very smoothly at the airport. There was hardly a line at passport control, we did not have to wait long for our luggage and when we stepped outside, there was a taxi right there. When we got home, we fell straight into bed and slept through straight until the following morning. A wonderful, magical holiday had come to an end.