This is a pre-trip planner/report for our Aug 31st to Sept 14th, 2013 Disney trip!
Our family...
Me (40) : Obsessed with most things Disney, especially planning trips to the parks. This affliction keeps getting worse! I must have several future trips planned or life just doesn't seem right. Our next trip after this will be November 2013 with our extended family too! Woohoo! Plenty to plan! Besides planning where we'll be each day with detailed touring plans and where we'll eat with ADRs at 180 days, I usually make special shirts for us and other special touches.
DH (43) : Fortunately also a big Disney fan! He'll turn 43 on labor day. Lucky man get's to celebrate his bday at Disney...again. DH is a stay-at-home dad who does most of the homeschooling for our kids. So he is an amazing hands on dad!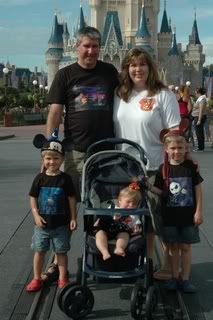 Here we are at a MNSSHP in 2009 (our family has expanded since then!)
Jacob (8) : A Disney planner in the making. He loves all the rides and can tell you all the differences between WDW parks and DL parks. He's tall enough and brave enough to ride everything and loves it all, especially rollercoasters.
This is Jacob before his second WDW trip at 3yrs old.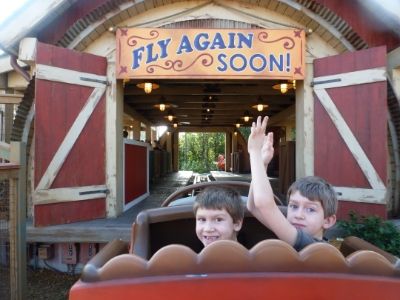 Max and Jake on Goofy's Barnstormer (Feb 2013)
Max (7) : He'll be 7 in June. He does NOT like rides very much at all. He flat out refuses many of them...even rides that babies can go on. This makes things a little difficult because it forces us to split up even more than we would otherwise. He doesn't complain about sitting around waiting though. He takes in the sights and the snacks!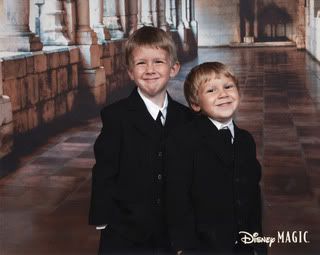 Jake and Max on our first Disney Cruise in 2009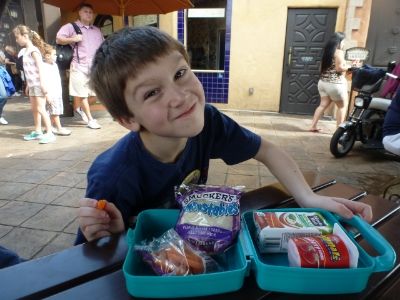 Max enjoing his Agent P power pack in Epcot (Feb 2013)
Ella (4) : She'll be so happy when she is tall enough for all the rides! She
wants
to go on everything. She's been a fan of Tower of Terror since she was tall enough at 3yrs old. A very girly girl, she can't get enough of the princesses and likes to shop for jewelry.
Ella (7mos.) on her first Disney Cruise
This is Ella at the age of her 2nd WDW trip. This was actually taken at Islands of Adventure. She's been a theme park baby from the start! Always loves it!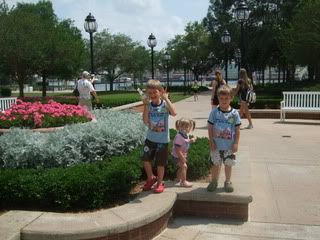 A 2011 WDW trip at the Beach Club
Ella in Epcot in Feb 2013
Zoe (2) : So far she is up for everything. She also gets mad when she's left out of anything. Hopefully she'll stay a ride lover too. She's a little bossy girl, but also sweet.
Zoe enjoying dessert at Trail's End in Feb 2013
Baby boy (3 months) : Our baby is expected to arrive in early to mid June. This will be his first trip!
To give you an idea of our Disney experience:
This will be my 11th trip to WDW; DH's 12th; Jacob's 10th; Max's 9th; Ella's 6th; Zoe's 3rd; and the baby's 1st.
We've got a good tally for DL too... me 4; DH 4; Jacob 3; Max 3; Ella 2; Zoe 2
And this will be our 3rd Disney cruise (except for Zoe and the new baby. It will be their first!)