Day 16 - Blizzard Beach – Garden Grill
Another water park planned for today, so in keeping with the norm we met up with Martin, Wendy and family. We left OKW at around 8:20 and headed to Blizzard Beach.
We easily made rope drop with plenty of time to spare and secured a few sun loungers near to the main pool Melt – Away Bay.
As it was quiet we decided to hit the rides, these included Toboggan Racers, Snow Stormers, Downhill Double Dipper and Run-off Rapids.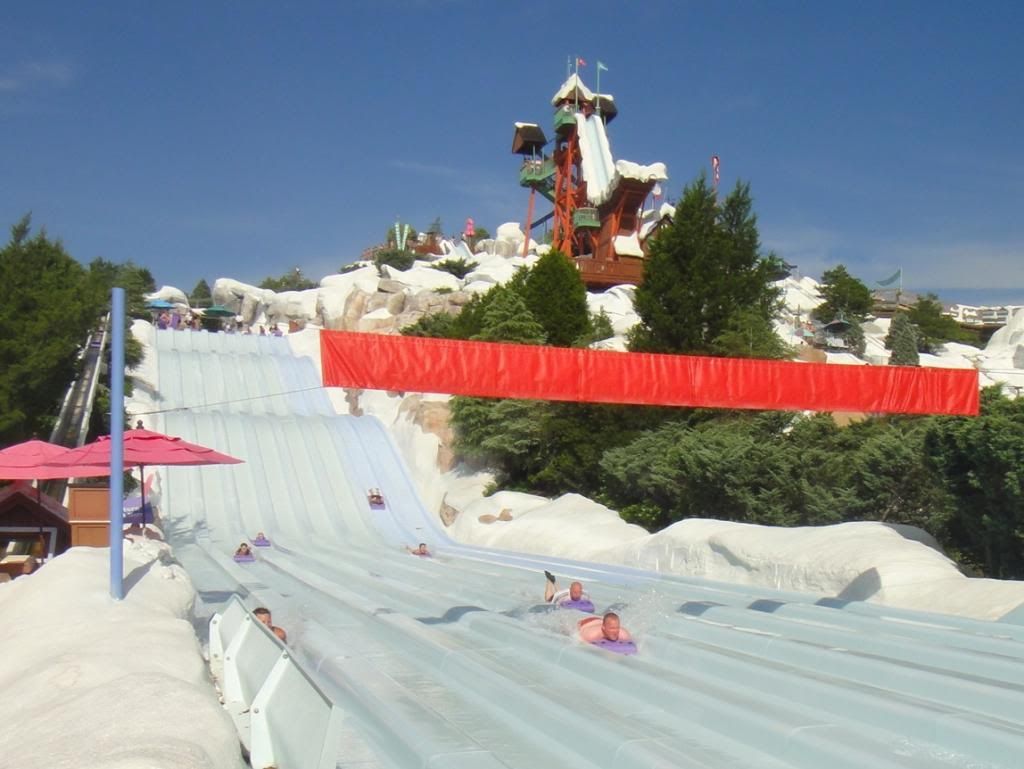 Next up were a few circuits of Cross Country Creek, although this didn't quite measure to my all time favourite at Typhoon Lagoon.
We all caught the chair lift up to Teamboat Springs, which is the world's longest family raft ride and then moved across to the Ski Patrol Training Camp.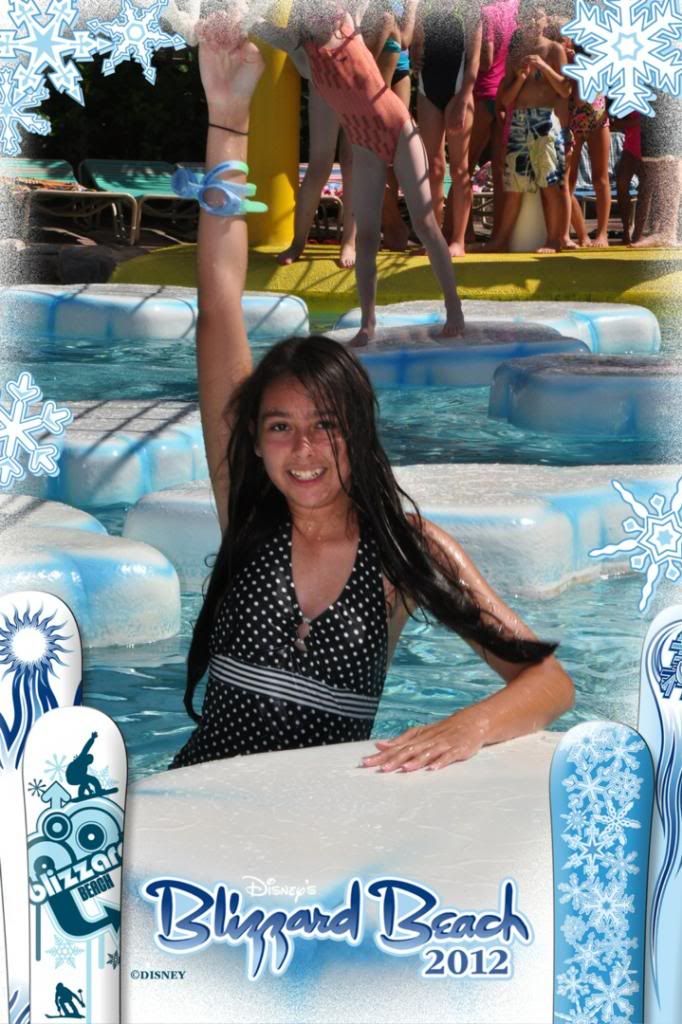 It was here that we saw another Dis'er for the second time this holiday – Muxton Miley and her family.
For lunch we made our way to Lottawatta Lodge.
Nigel: Chilli Dog with Fries – Cheesecake – Orange Juice.
Sue: Hot Dog with Fries – Cheesecake – Orange Juice.
Emma: Hot Dog with Fries – Cheesecake – Diet Coke.
Returning back to the loungers, we spent quite a while in the wave pool, however, this was way overcrowded and together with the many tubes on the water, it wasn't very enjoyable. I suppose I will always compare this to my favourite Typhoon Lagoon and unfortunately, it will always remain second best.
We decided to leave the park around 2:30 and on the way out, bumped into Goofy and had a few photographs.
Back at OKW, we all showered and changed in preparation for tonight's 17:50 ADR at Garden Grill. We arrived slightly early and so were given a buzzer once we had checked in, however within 5 minutes the flashing light was calling us. We were seated quickly on the outer rim; our server was soon on the scene to explain the menu. During the course of our stay, we were visited many times by Chip & Dale, Mickey and Pluto.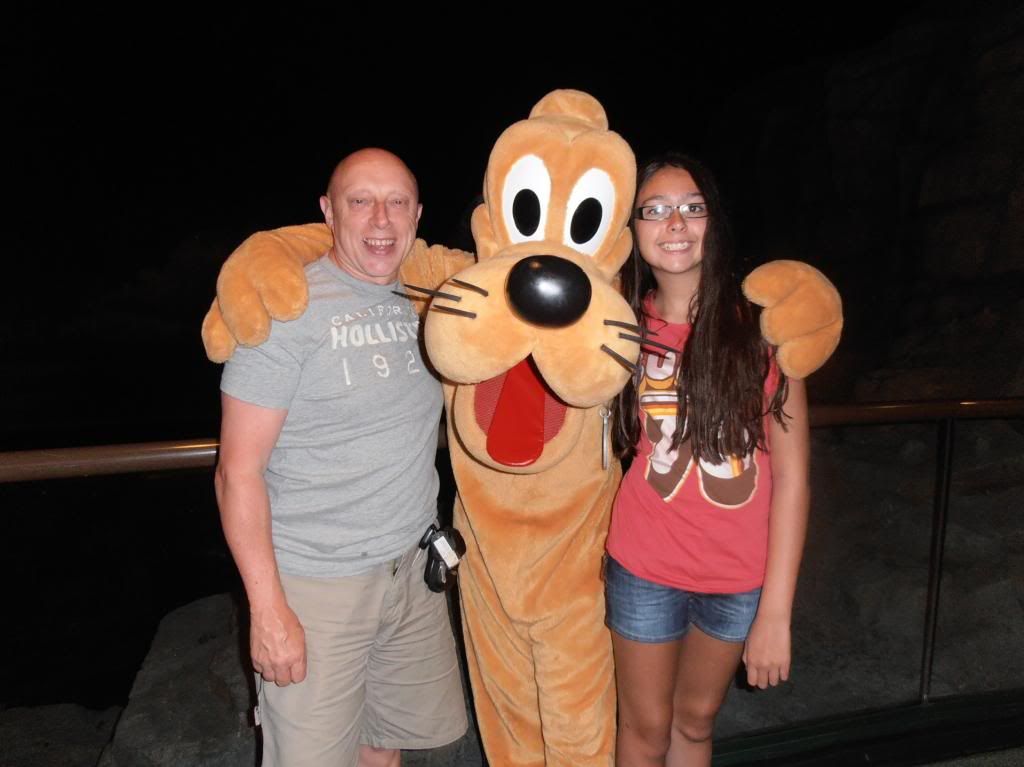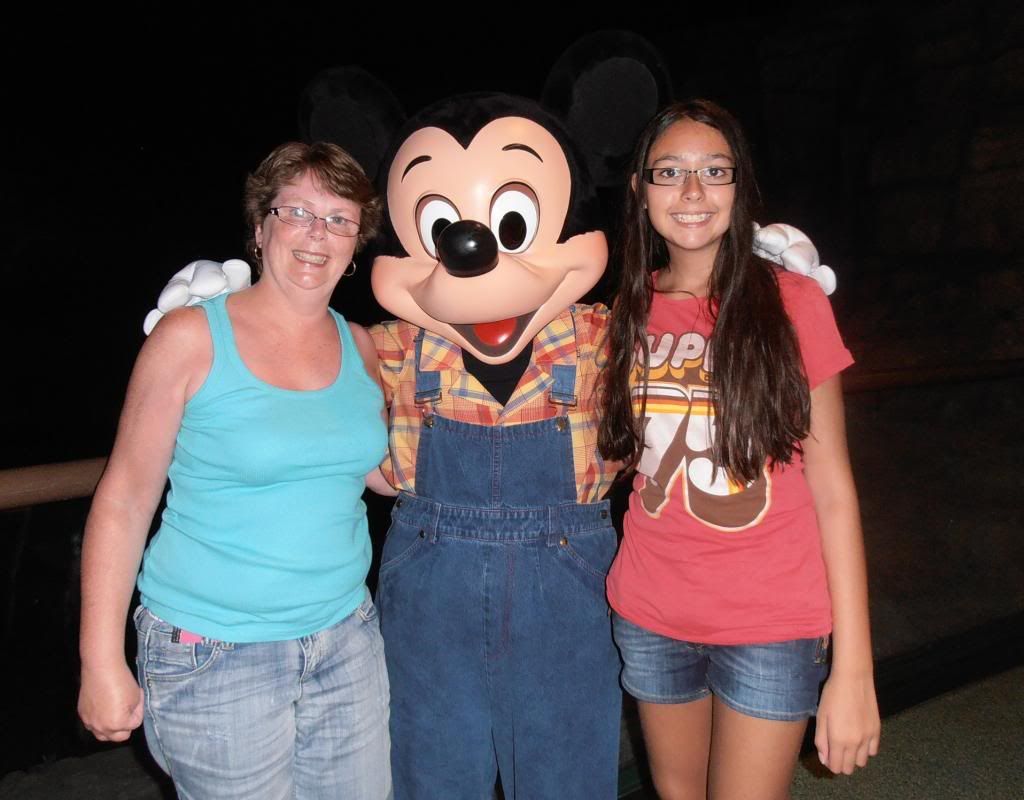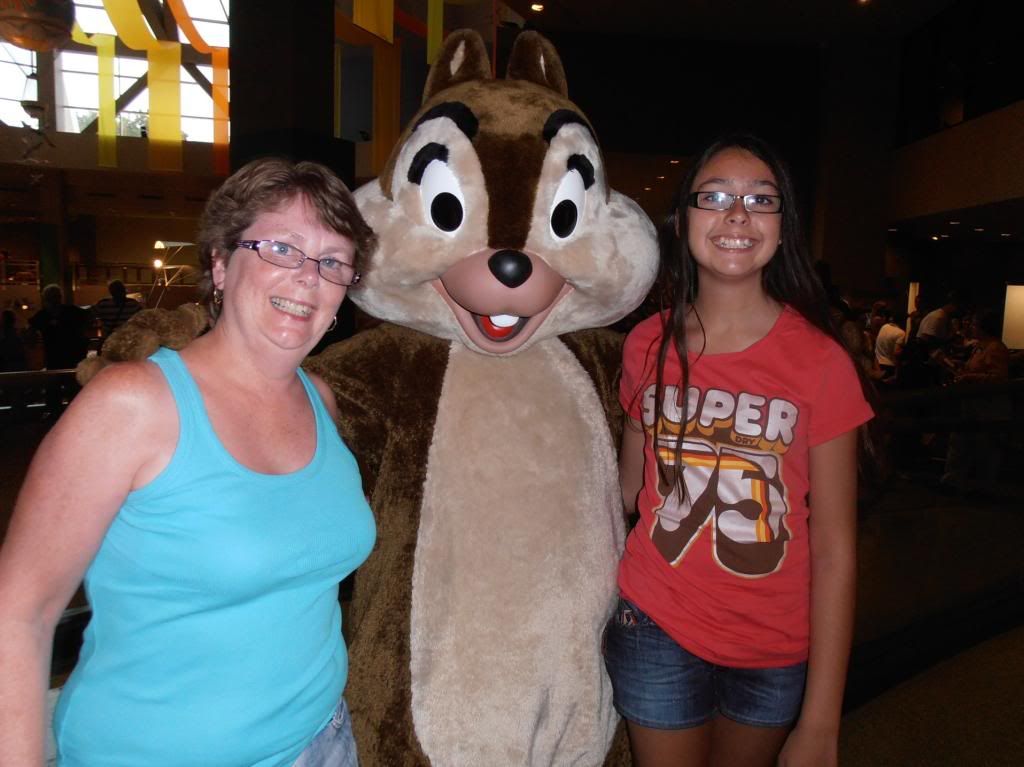 The character interaction was streets ahead of what we had previously encountered at Chef Mickeys, however it is sad to report this was undoubtedly the worst food that we had been served at any Disney restaurant ever! It resembled what I can only describe as offerings from the lowest grade of transport café, it was luke warm at best and presentation left a lot to be desired. The salad was fine, however the main course did not look or taste very appetising.
Our server was nowhere to be seen when our drinks required refilling but I think this was due to far too many tables to attend to. Unfortunately, this left a bad taste in our mouths in more ways than one and as a result, we will not be returning again.
Before we left the park, on the way to the exit we made a slight detour onto Spaceship Earth.
Returning back to the car, we headed to the new Super Target on 192, where we purchased a bottle of our favourite sparkling wine - Rose Regale. This is also available in World Showcase – Italy, however it is almost twice the price.
Back at OKW, we cracked open the wine and enjoyed a few glasses on our balcony, before retiring to bed.
Coming up next – Summerland Golf – Art of Animation – Teppan Edo (2)
RETURN TO INDEX