I think we left off with me accusing my DH of being a lightweight.... love him really
We finished up our highly traditional UK drinks and moved round through WS. Our next stop of course was France where the chair guys were. We've never seen them before and were suitably impressed and highly (no pun intended) amused.
I seriously don't think I'm this blase standing on one chair....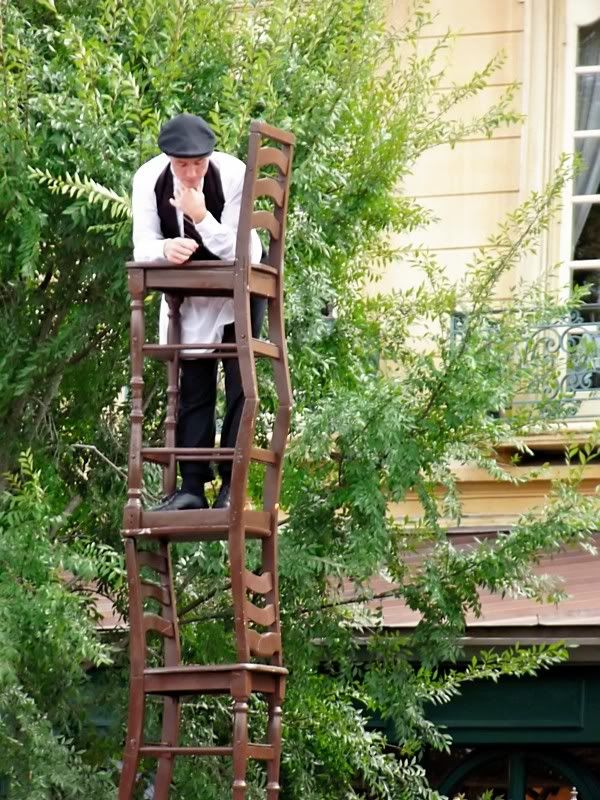 And I love this one just because it looks like he's absolutely tiny and standing on 'cap-guy's' head! (anyone else feel an episode of Father Ted coming on?
http://www.youtube.com/watch?v=vh5kZ4uIUC0
just incase you don't remember it!)
Strangely enough, that photo is saved as 'Manonhead' - I have such an inventive labelling system....
We have a tradition (I love that I've described it as a tradition - what I mean is that we did the same thing last time we came, and we're going to do it again
can that be classed as tradition???) in 'Epcot France' that we sit round by the Bakery and have a glass of fizz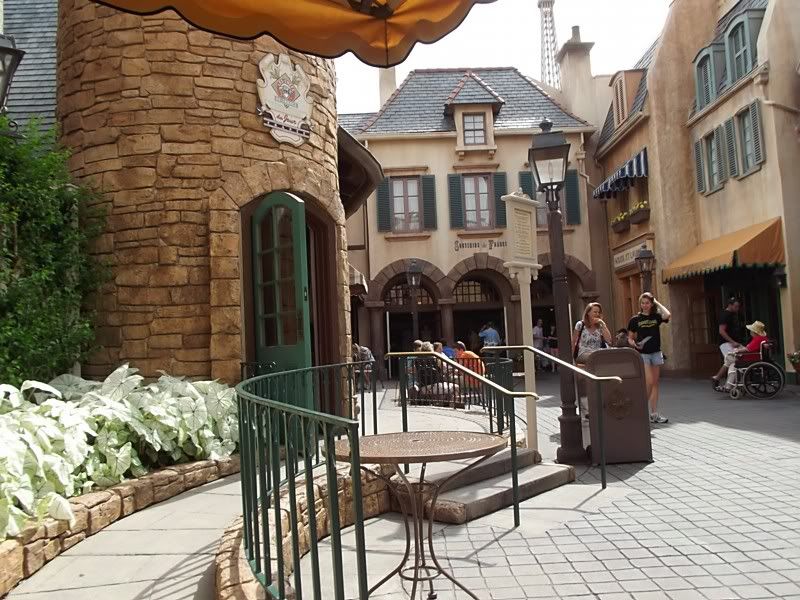 - now last time DD was sound asleep so we took our time and really enjoyed the moment, relaxing, watchin the world go by. This time...was DD asleep...erm....that'll be a big fat NO. She was appeased though by this....
Mmmm....messy much??
Now - whilst DD was inhaling cake, I went to get DH and I the 'traditional' fizz so popped into the wine shop. I am going to precursor this story with this statement
"AT NO POINT DID MONIES CHANGE HANDS DURING THIS DISCUSSION!"
(only afterwards to pay for the wine...I'm not a thief)
Up to the counter I walked -I perused the selection available before deciding on 2 glasses of the rose champagne.... I ordered and Samy from Nice looked at me then said the immortal words:
"Do you have ID?"
I could have kissed the man. I didn't - instead, I beamed from ear to ear, said "yes, yes I do!!!", dashed out of the shop to find DH to get said ID from, then veritably thrust it (the ID, just to clarify...) into Samy's face whilst positvely shouting "I'm 36!!!!" at him.
Then......then......he replied, totally unfazed by my dramatic, loud and fairly swift behaviour, "You look so young"
Give the man a pay rise -seriously!! I mean that's Pixie dust....right there!!!
He MADE. MY. DAY!!!
Never has pink fizz tasted sooooo good! Not since I was...oooh...UNDER 21!!!! (I made a typo in that sentence - originally said fish instead of fizz -don't want to ruin the illusion for you all but wanted to share my idiocy...)
I think it must have been shortly after this that we mooched around the shop because we got this taken by a Photopass guy: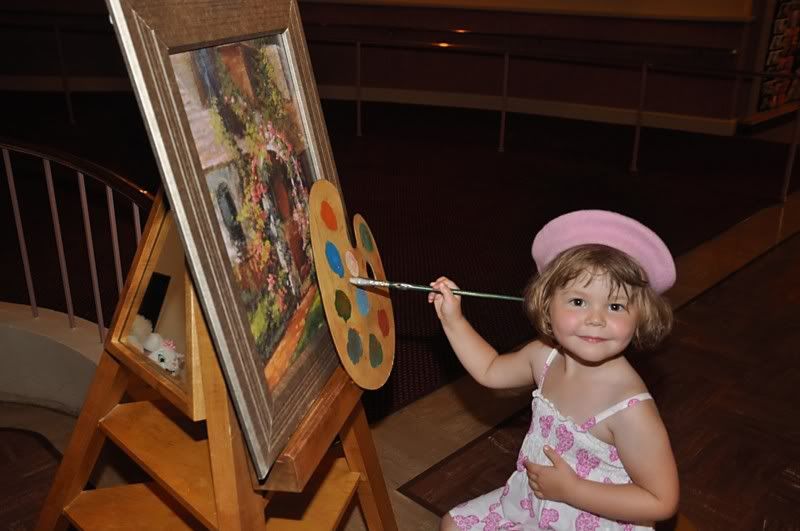 Bless!Of course we had the immensely long discussion about what colour her beret was going to be...
"Now, which beret colour.."
"Pink"
"Oh ok..."
Have I mentioned that DD lives in the land of pink and fluffy? It's nice I think....
I've just looked again at this photo and am now wondering whether it was pre-eclair...that face looks way too clean....
We carried on round WS and DD spotted Jasmine and Aladdin - she was desperate to see them - I mean more desperate than we've previously seen her - we explained that the queue was long, but it did not deter her - so we stood and waited....now what to pass the time with....oh yes!
A Casa beer for DH and a Habibi cocktail for me (rum, strawberry and orange blossom water) - seriously delicious -the first of many - not all that day though.... DD met the charming couple
before heading to our ADR for the evening. I'll put that in the next post and finish with a few random snaps of our WS tour:

And last but not least...Dangling but loved!!
Saved of course as....French Kiss!!