Well, hello, there!
My name is Sam, I'm seventeen years old, and I live in New Hampshire. This is my first PTR, but definitely not my first Disney trip! I think this is my fourth, but I don't really remember the others as I was quite young. I'm extremely excited to be returning to what has become my absolute favourite place on Earth, especially because I will be permanently moving to the Orlando area for college in August!
It's been my dream for quite a long time to work for Walt Disney World. I'm planning to major in technical theater with an emphasis on lighting design so I can help to design and operate the show lighting in the parks!
Anyway, this is my family's last trip together before I flee the nest.
THE CAST:
DMom is a Disney fanatic, school secretary, and travel agent. She's the reason I was introduced to the magic that is WDW.
DDad is a car salesman. Unfortunately, the Disney genes don't run in his family, but he happily tags along on our trips.
DB is twelve years old. He is obsessed with Skylanders, Pokémon, and any other video game that exists. Fortunately, he also loves Disney.
Finally, there's me. (I'm a natural blonde, but I decided I needed a change this year...)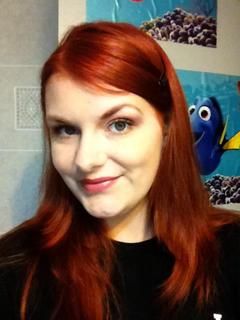 I'm a senior in high school, a theater geek, and a nerd in general. We are technically celebrating my graduation early on this trip. I am obsessed with the musical Cats, the video game Portal...and then there's Disney. For some strange reason, I became so attached to the parks that I had this crazy idea to move to Florida and WORK for the Mouse someday...and now it's finally starting to happen! I love everything about Disney, especially the atmosphere in the parks. All of the Cast Members are
happy
and
proud
to work there, and they radiate joy to every single Guest that visits. In a world where so many end up with a job that they dislike, I've decided to break the mold and work towards a career in the Happiest Place on Earth!
We will be staying in one of the Cars suites at the Art of Animation Resort from April 20th to the 26th. This is also our first time using the Dining Plan (just the regular one), so I'm excited to be trying new foods and restaurants!
I'm hoping that I can post fairly regularly until we leave in mid-April...unfortunately, even after college acceptances comes scholarship applications and challenging coursework, so we'll see how this works. Hope you'll all have fun tagging along!
Continued in Next Post