After that, they had scheduled only once a day the big animal show is the "Crocoseum". They had lots of different animals, but we were that close so I didn't take a lot of still pictures. (Again, a lot of the time I take more video than stills.) The most interesting part of the show was the crocodiles. They had a large narrow pond in which they released the croc. They described how in the wild he would be nearly invisible under the water, without a ripple to show. Of course the clear water you could see him approached the keeper. They used vibrations and a (dead) chicken to bait him to come to them.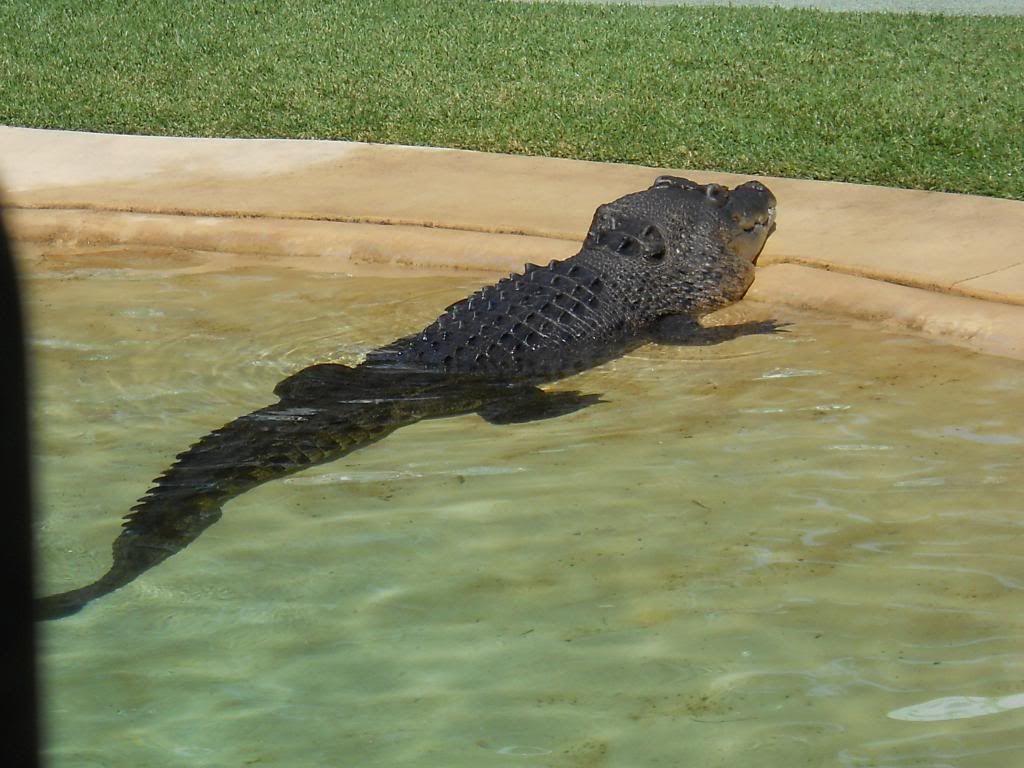 The park really wasn't that crowded. I suppose being winter time, mid-week, there were only the out-of-town level tourists around. It definitely made for an easy experience though!
Here's another Wombat: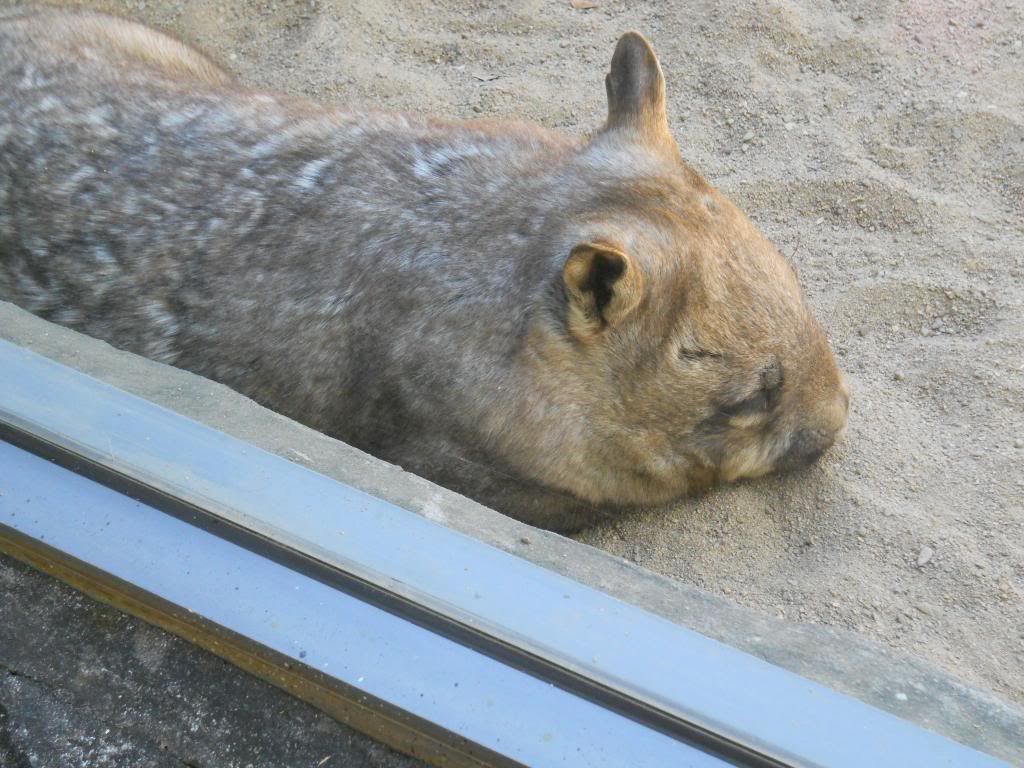 Camels: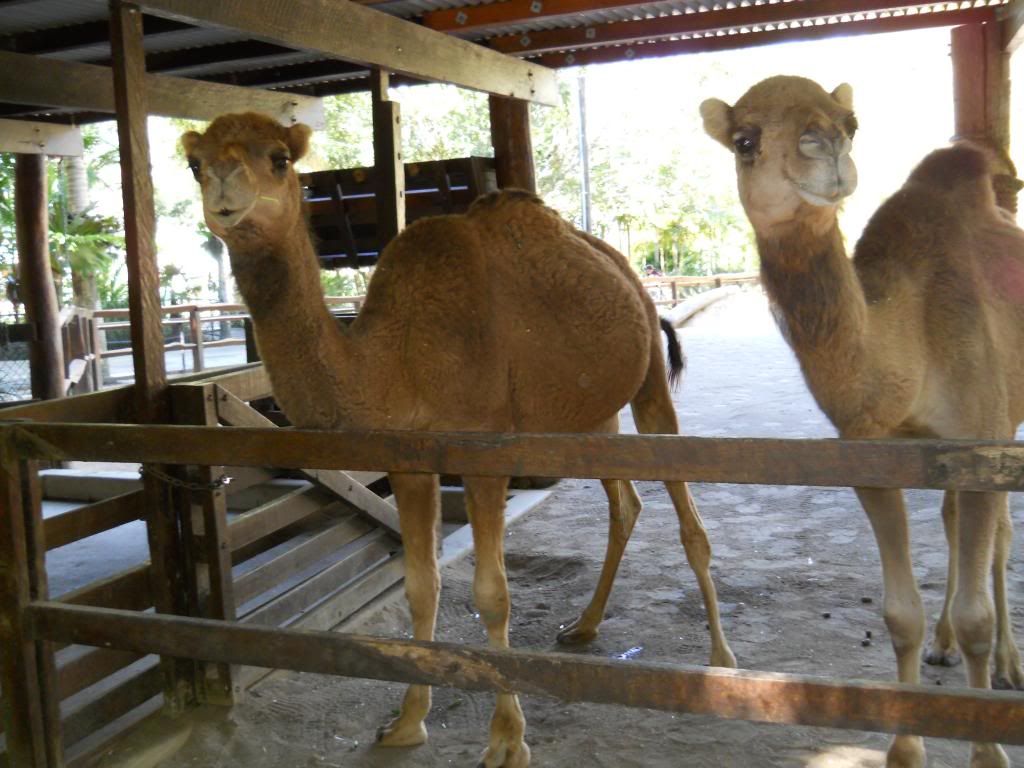 The Koala encounter I signed both DD and myself up for it. DW wasn't that interested. There was one other little girl that joined in, but we had close to a ½ hour total, so we all had our fill of holding this girl. Again there was a keeper/handler and a photographer. The koalas themselves are pretty easy to handle. They are sort of dim, so they instinctively treat you like a tree and grip right onto you. This one was very mellow and easy to handle. Sharp claws made it a little tricky, as DD got scratched up until she put her sweater on.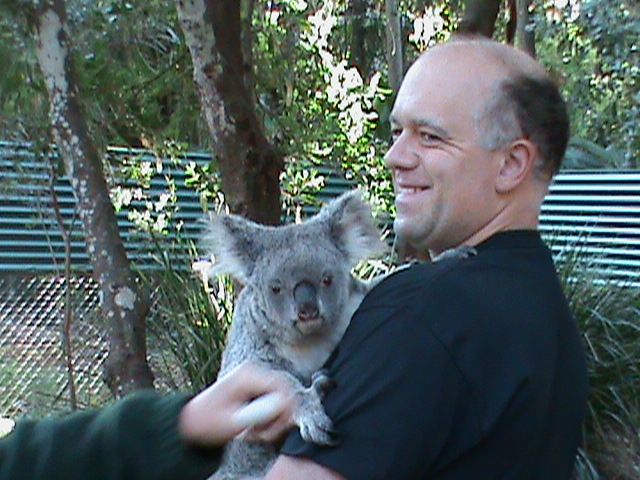 They had actually a large area for Koalas, where they did the Koala encounters but also where you could get up close with Koalas for no extra charge. They had a few Koalas in low-set branches that were close enough to pet.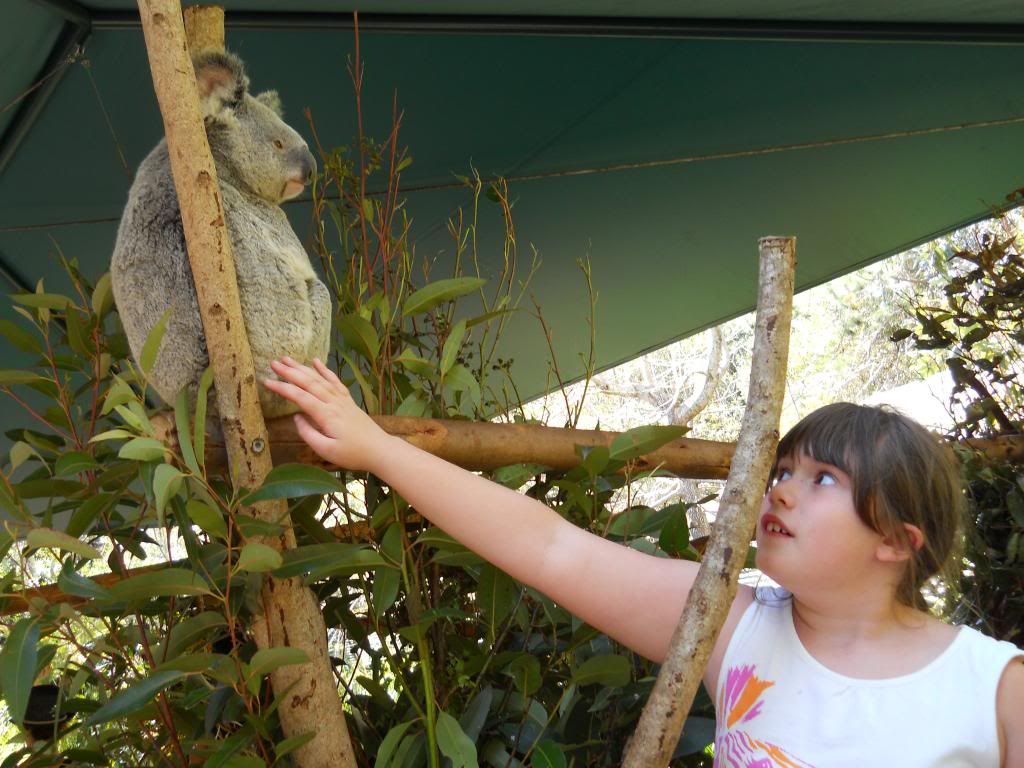 Finally, what happens when you take one of the cutest creatures in the animal kingdom, and then have a baby version of it. Well, you get cute squared, that's what you get. Notice baby nestled in mama's lap:
It was close to closing time by the time we left the zoo. We had decided to have dinner at the Beerwah Tavern in nearby Beerwah, but when we got there the dining room was not yet open. (It was a little before 5 PM.) so we decided to head back to the room. We relaxed for about an hour and went back out to the restaurant.
The place had been recommended to us, and this was a case where the food was actually very good, and not quite as expensive as most places. You still had to go up and order your own, and then wait in a second line for drinks. They had a guy in the Tavern doing trivia, and was asking for people to sign up. I finally relented, not sure (a) how I would fair with Australia trivia and (b) if I DID fare well, would they like ride us out of town on a rail.
The funny thing is the first few questions were very America-centric. Asking who the 12th president was or something like that. I started out OK with some movie trivia too, but then they got as I feared to some Aussie specific questions: "What product advertises with the saying…" Gah! Anyways, suffice it to say we did NOT win that first round, and by the time it was over it was time to go. The evening was spent relaxing and re-packing, this time with heat in the house! Tonight was sort of our last night "on the road" in Australia!