Hello and welcome!
Iím Eight, or Rachel, and Iíll be your captain for this trip report from the Tinker Bell Half Marathon.
A little bit about me, Iím twentythree, I love Disney (wait, really?), and Iíve started to love running, something I never thought I would say.
I was at Disneyland with my mom from January 17th to the 22nd and I ran the Tinker Bell Half Marathon, all 13.1 miles of it (okay, okay, I walked some of it too. Iíve found that regular walk breaks prevent my exercised induced asthma from giving me too many problems). It was such a fun experience, and I am definitely hoping to run again next year!
For the recap Iím going to post one or two photos with text. Itís different than how I normally trip report, but I was able to write this a lot faster and honestly, it was more fun and less stressful than trying to recount every last little detail. Let me know how you feel about this style. Not that itíll change much for this report, since I already finished it and just need to post the rest of the updates, but for future reference, you know?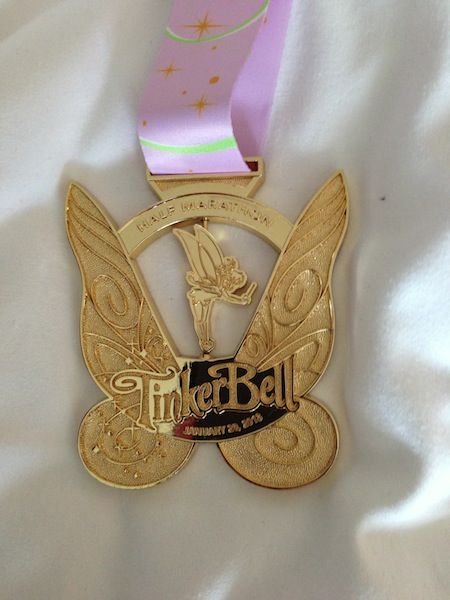 Weíll start with the medal.
Spoiler Alert: I finished!
So here it is! As you might know, Iím not a fan of Tinker Bell, but I love the medal because itís mostly about the wings, not her. And who doesnít like wings and pretending they can fly?
Speaking of not liking Tinker Bell, I have to admit I was not thrilled with the selection of official merchandise, because it was ALL Tinker Bell. Everything had her on it, which is not surprising considering itís called the Tinker Bell Half Marathon, but I was hoping it would be more subtle, you know?
Which is why I love the tech shirt you got (even if itís a super weird shade of green!), because, like the medal, she isnít the main focus.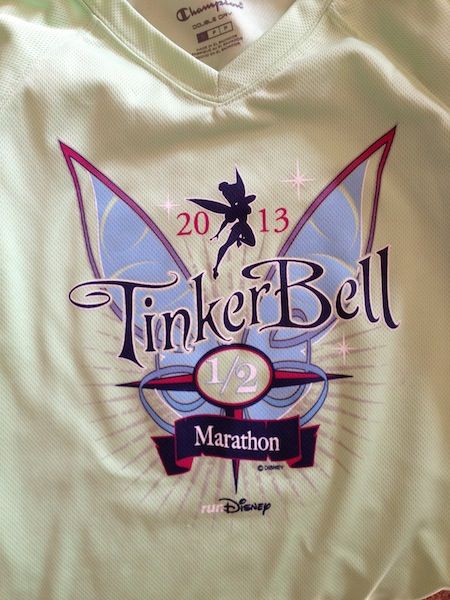 Not the best picture of it, I took it with my phone, and while itís still a weird shade of green, itís not the same weird green it is in real life. Anyway though.
This was my first half marathon, and I am very proud of myself for finishing. I didnít have a super fast time, but considering all the things that happened in the months and weeks prior, considering that I didnít train as much as I probably should have because of those things, considering my stomach was bothering me for the first five miles, considering I was always the slowest runner in PE, and considering several other things, I am happy with it.

Table of Contents:
Prologue: Spoiler Alert: I Finished! (aka this post)
I Couldn't Stop Staring At It
I Think This Thing Knows I Hate It
Disney Parks Blog runDisney Meet Up Part 1 (The Run)
Disney Parks Blog runDisney Meet Up Part 2 (Photo Ops)
Disney Parks Blog runDisney Meet Up Part 3 (The Ultimate Fast Pass)
Expo
People Might Get Crazy Over Shoes

Captain of the Columbia
The Costume (aka finish my costume the night before actually worked out!)
Corral-ing Around
Things I Actually Remember About the Run Because Most Of It Is A Blur
You Already Know I Finished
This Might Be the Most Stressful Disney Day
"I Can Do the Choreography To This!"
And Then We Had to Go Home
One Last Picture