Oh no! The last full day? How sad! I still love the idea of staying at a monorail resort and just going to MK and Epcot and all the other connecting resorts for meals! Stinks that you didn't have as good a time at Whispering Canyon. I always wanted to try that place but only with a bigger group of people.
__________________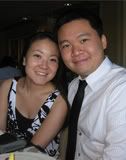 Always the Weird to my Ninja
Weird and Ninja Shout Out to You
(Jan '15 TR in progress) //
Mr. and Mrs. Weak Sauce Go the Distance
(May '12 Disneymoon TR) //
Delicious Indeed!
(Feb '11 TR) //
Saving Dole Whip Float Money
(Feb '11 PTR) //
Weird and Ninja's Pre-Disneymoon
(April '10 TR) //
It's Better Than Stuffed Mezzaluna with Sausage!
(April '10 PTR) //
A DISer's Trip of Firsts!
(Feb '08 TR) //
The Flat Adventures of Weird and Ninja!
(Living the Life Outside of VMK)
BLOG / INSTAGRAM / TWITTER
- Msg me here if you want to follow