Cast of characters: Me (34), DH (35)
Length of stay: 2 days at Disney, 2 nights in hotel
Accommodations: King room at Best Western Orange Plaza
Reason for stay: Vons and Safeway had a private party event at Disneyland; $45 per person gets you free parking and entrance to Disneyland from 4pm to 130am. They also offered an option for $90 where you could ride a bus down that morning, go to Disneyland and then it drives you home after 130 so you don't have to get a hotel. We decided to just do the "drive yourself" option and make a mini 2-day trip out of it.
Thursday, 1/24
After dropping kids off at school and the 2 year old off with my Granny, I headed home to get DH. We left the house at 9:17am (running a little late since we were shooting for leaving at 8:30). After gassing up the car, we were on our way. A very uneventful ride, I think I fell asleep from Fresno to Bakersfield (thanks Dramamine!). We stopped for a bathroom-and-top-off-the-tank break at our usual stop, Olive Ave in Bakersfield. This stop is great because there is a Starbucks, gas station and now several fast food restaurants all right off the exit, and it is super easy to get back on the freeway. Gas was a little high here, $3.89/gallon.
Grapevine was uneventful and drive through LA was our quickest EVER. Man, did we time this drive correctly!!! We arrived at our hotel between 2:15 and 2:30 (5 hours exactly, woot!) and proceeded to check-in. Checking in didn't go as smoothly as I would have hoped. The clerk behind the counter misheard my name and gave me someone elses reservation (1 queen bed and a higher rate) and then took a phone call and made a booking while making me wait. There was another clerk at the desk that was doing nothing. GRRR! Lol Oh well. We got into the correct room and dropped off our stuff. It was kind of small but SUPER clean. We had a king size bed, a desk and office chair next to the TV stand/dresser, a little round table by the window with 2 chairs for eating, and the sink, counter and hair dryer were outside of the bathroom.
On our way to Disneyland, we decided to stop for a light late lunch at OC Poultry and Rotisserie. After checking the menu online several times leading up to the trip I get there and completely forgot what I had planned to get (some type of Banh Mi) so settled for House Fried Rice. DH got some kind of Pho with meat and he loved it. Looking at the menu online now I don't see Pho on it and the menu we got there didn't have any of the Banh Mi on it so maybe the one online is a lunch menu and since we were there later it was a dinner menu? DH ordered the Vietnamese coffee and I got water, total was $18.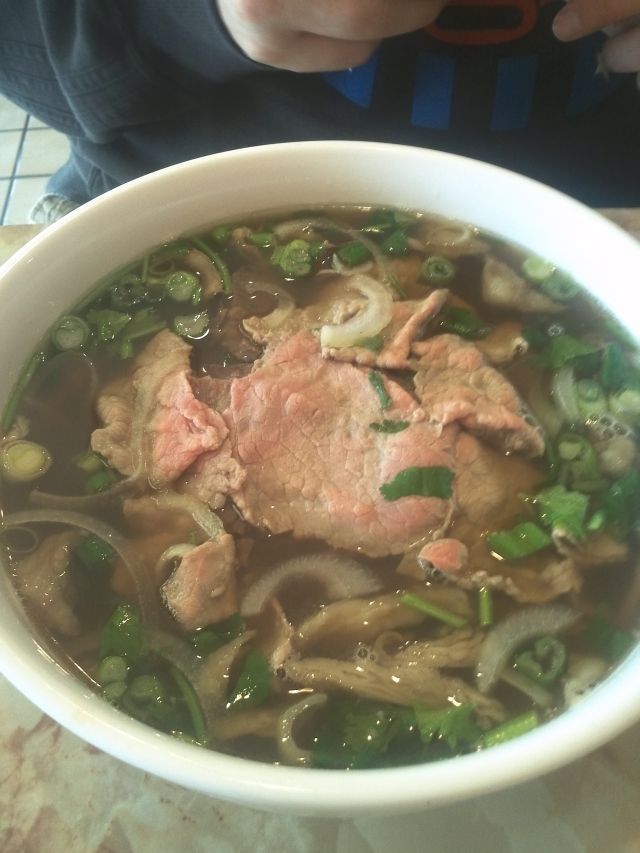 After chowing down we (FINALLY!) headed to Disneyland. We received free parking with our event ticket (woot!) and were sent up to Donald. While in line to enter the park (maybe 3 people ahead of us), we were told to put our red bracelets on now (even tho all of the paperwork said they didn't need to be on until 7pm but who are we to argue?) so we did and went through the turnstiles.