On December 20 we had an 8am (pre-park opening) ADR for Hollywood & Vine.
Now, I know this is not the highest quality breakfast one can find on WDW property, but it was pre-park opening...and we wanted to get Hunter into JTA as well as get FP for TSM, but mostly because Jaxon & Evan enjoy those characters.
Speaking of which, in case anyone is wondering, the current characters are Jake, Handy Manny, Oso & June.
We were allowed into HS about 750am. We took a couple pictures and headed over to check in at the podium. We were seated just a couple minutes past 8am.
Our server came over and told us the characters would be there in just a moment so we should wait to go to the buffet. She took our drink orders and as she was walking away, Jake approached our table.
After he left we headed up to the buffet. There are 2 sides, however they only had 1 side open...and there was a crazy line!!!
About the time I was halfway through the line, they opened the other side.
I apologize for no buffet pictures, but there were quite a few people and I could see Oso quickly approaching our table.
Menu taken from Allears.net
Seasonal fruit
Freshly baked pastries
Assorted yogurts
Breakfast Meats
Scrambled Eggs and Frittata
Mickey Waffles with assorted toppings
Oven Roasted Potatoes
Sausage Gravy and Biscuits.
Children's options available
Here is a picture of my one plate that I had.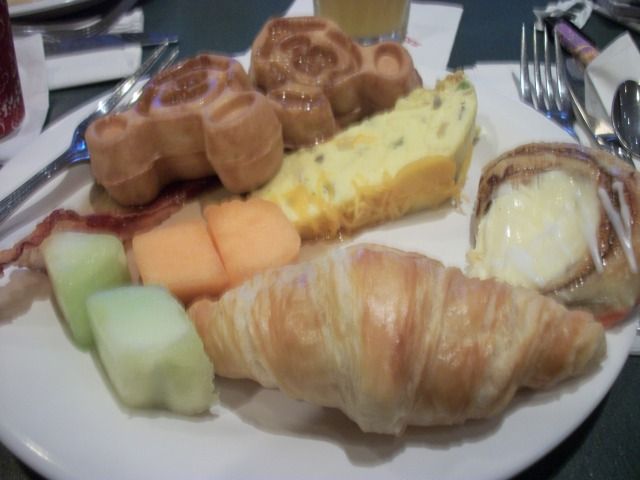 The fritatta was -- well -- it didnt have a very good taste. I dont know what it was about it really, but I only took 2 bites of it and moved along with the other items on my plate.
The danish was nice, the croissant was fluffy, fruit was nice and fresh and the Mickey waffles...perfection as always! Bacon, limp as always
I also had a small bowl of strawberry yogurt that Evan ended up eating.
We finished up our meal quickly (luckily we were given our check with our drinks
) and headed on our way.
Total cost before automatic 18% gratuity $136.26 - 6 dining credits used