Firstly, I need to apologise for the lack of photographs in this section. I didn't take many photographs during the day and then something happened which stopped me taking photographs during the evening too...
DAY OFF!!!! Yes the first rest day of our trip. We were both feeling the strain of having three long days at the parks in the heat and it was nice to have a bit of a lay in!
We went to the Sizzler restaurant for breakfast. Buffet at its best. Karl and I had quite a lot of food but it was goooooooood! I had my first lot of pancakes, maple syrup and bacon, yum! Karl thinks its strange that I like it but I so do!
After breakfast we went back to the room to get our swim wear on and headed to the pool!
At first, there was cloud and then that cleared really quickly but the sky was soon filled with helicopters... LOADS of them!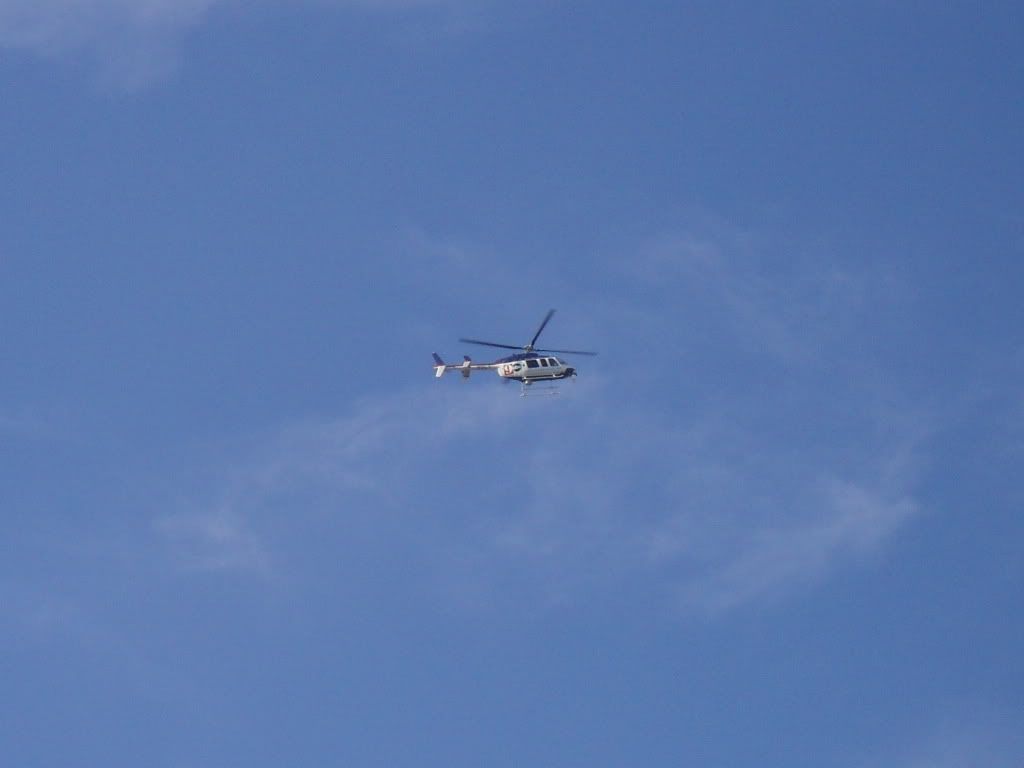 Everyone sat around the pool staring at the them all. Something was going down!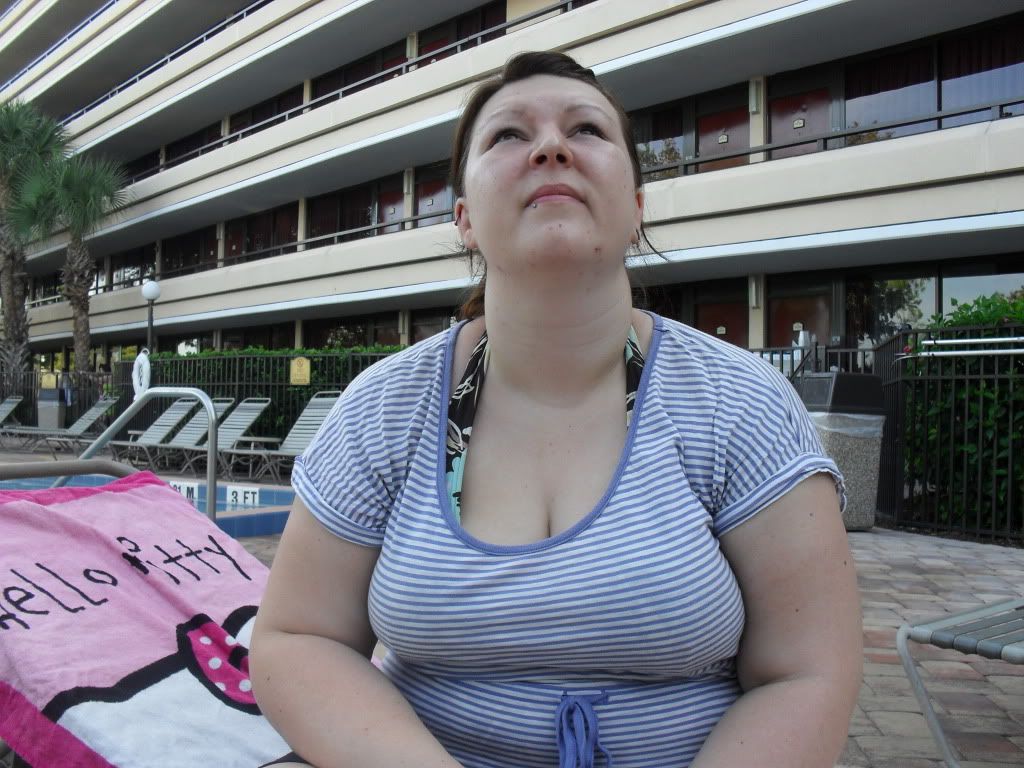 We would later find out on the TV that someone went and shot two people in a hotel further down IDrive!
Poor people and not what you expect to hear on holiday!
Anyway, we spent the day lounging by the pool, swimming and chilling but it was soooo HOT!!!!
I mean seriously roasting! I think we stayed out in the sun till about 3 and then had to go in it was just too warm. Living in England believe me, I am not complaining that it was too hot its just we couldn't cope in it! We decided to go and have some lunch from the on-site shop and then have a afternoon snooze!
I bought one of these to eat just because of The Goonies!!!!
It was actually quite nice!
There we were both having a lovely snooze when there was an almighty CRAAAAAASH!!! I woke with a start to see Karl standing at the window! I ran over to see what it was and it was one almighty thunderstorm! I have honestly never heard anything like it!
Thunderstorms don't usually bother me but this one was plain scary! We had decided tonight we would go to Downtown Disney but our plans looked in jeopardy. We waited in the room till about 7:30 when the rain stopped and the thunderstorm had faded and then headed to Downtown Disney.
I was really excited about going here as I had read so much about it and seen that there were some cool shops and places to eat. We arrived and started walking around and it was PACKED!! It was so busy! I think everyone had the same idea about waiting for the storm to stop. We walked around a few of the shops but they were so busy. I got hit in the ankles about 100,00 times by people with buggies
which was really annoying and I started to get really fed up!
We walked around trying to find somewhere to eat but the waiting time for everywhere was between 45-60 minutes and we really didn't fancy waiting that long. I know we should have expected it but it was just not how I thought it was going to be!
We decided we would try and eat in one last place, Planet Hollywood! We went over to it and managed to get a table straight away which was fab
We sat straight down and we were both amazed at the amount of memorabilia in there. We ordered our food and I decided to get my camera out to take some pictures. I couldn't tell you what we both ordered as something happened that I could not believe.
I took my camera out of my bag, turned it on and and put the strap around my wrist and then it slipped out of my hand and landed lens down on the table!! It was broken!!!
I could not believe it! I was in Disney World and now I didn't have a camera!
I sat there and started crying in the middle of the restaurant. Luckily I could still see the pictures I had already taken I just couldn't use it as a camera as the lens had broken, I was gutted! I couldn't think straight, what was I going to do, we were going to Universal Studios tomorrow and I didn't have a camera. Karl and I spent the whole meal pretty much in silence. What a great night this had turned in to. I left most of my meal and told Karl I wanted to go back to the hotel, I'd had enough!
We arrived back at the hotel and Karl said we could try and find a camera shop on IDrive and go and buy one. I was happy about this but it was late so didn't think there would be anywhere open. We literally walked for about 30 minutes up to a camera shop on IDrive stopping at some Walmarts on the way to see if they had any but no luck! The shop when we got to it was also shut! Ggggggrrrrrrrr
We walked all the way back to the hotel which took us another 30 minutes with nothing to show for it!
So, we were heading to Universal and I didn't have a camera, great!
Continued...