Once upon a Christmas Time...
This is the story of our little family and our amazing trip to WDW which took place December 18-28, 2012.
First, a little introduction shall we?
Me, Debra -- mommy to 4 amazing kids, wife to a wonderful man. Stay at home mom. This was my 3rd trip to WDW. I have just recently started running. I signed up for the ToT 10 miler in October, and my goal is to do the Princess 1/2 marathon in 2014! Run Disney!!
DH, Bo -- my other half. He is becoming just as obsessed with Disney as I am. This was his second trip to WDW. He works at a University teaching and as a volunteer volleyball coach (he retired from coaching about a year ago). He is working on his Doctorate degree.
DS11, Hunter -- my oldest and definately my adventure child. He will try and ride once. Before this trip his favorite ride was Expedition Everest. Will that still hold true? This was his second trip to WDW. He loves playing soccer, goalie particularly.
DD9, Harper -- my only daughter. Definately not "as" adventurous as Hunter. She was brave for this trip though and did a few new rides. This was her second trip to WDW. She loves to dance. She also declared on this trip that she "would like to get married at WDW". Awww, she has made me proud! Loves Disney princesses.
DS4, Jaxon -- he was 42" for this trip and was pretty brave. This was his first trip to WDW. Donald Duck is his favorite character. How would he react to the characters whom he loves more than anything at home?
DS3, Evan -- he was still a wee bit short at 37", so his ride options were a bit more limited. This was his first trip to WDW as well. Goofy is his favorite character.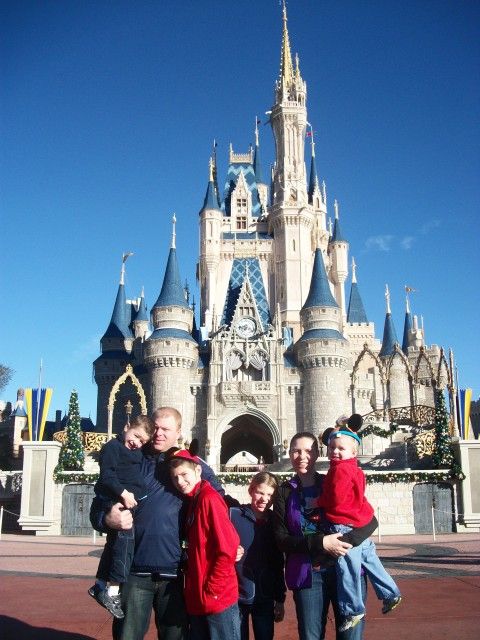 So, thats us. The happy family at the happiest place on Earth. Did we survive the crazy holiday crowds? Did the little boys enjoy meeting all the characters? What did we eat? What did we do with all that park time?
Go ahead and grab some Mickey popcorn and sit back and enjoy my ramblings
of this trip report.
And most of all, welcome!!