A Savanna, A Wizard, and Oodles of Food
Let the Memories Begin—A Sister Extravaganza
February 4-12, 2012
Welcome!
What began as a simple and fun sisters-only vacation turned into a deluxe whirlwind—eight nights at a beautiful deluxe resort, loads of delicious food, and an offsite day to my other dream Orlando destination. Let's also throw in a dazzling evening at Downtown Disney, and unfortunately, a few Brazilian tour groups. (No vacation is perfect, right?)
First, the cast of characters: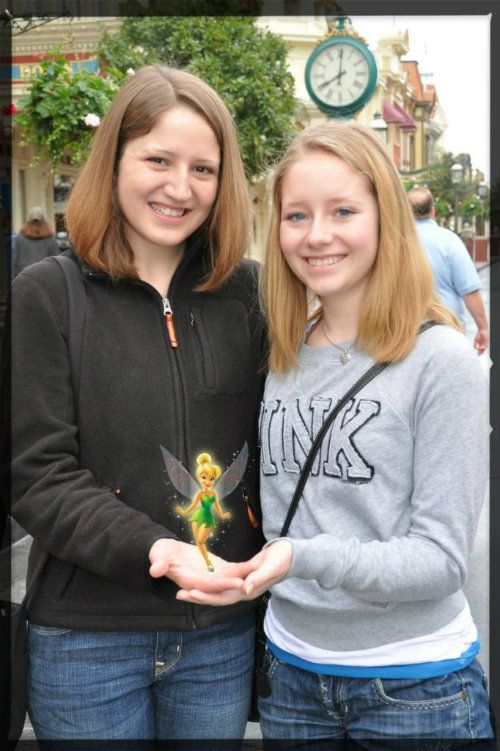 On the left is me, Jenny. I put my theatre degree to good use in the world of banking, love to watch and go to the movies, and have never found a dessert I didn't like.
On the right is my lovely sister, Anika. She is 15, mildly obsessed with her her iPhone, and is a competitive swimmer. She was excited to go on a parent-free vacation—but was thrilled those same parents got her out of school for a week!
Tinkerbell was nice enough to sneak into our picture.
The background:
About eight months before our trip, I came up with the idea that it may be fun to go on a vacation with ONLY Anika. I considered a few destinations, only to conclude that Disney World would be PERFECT. We had both been to the World and knew we loved it—and eight days of theme park rides would be great! Then I stumbled across the DisBoards and the cost of my sister-venture exploded…
"Wow, maybe we should stay at a deluxe resort—this looks awesome!"

"Wait, they have dining plans?! We could try out all those restaurants!"

"They have restaurants at the resorts, too? Yum, THAT one looks good!"

"Ooo, Cirque du Soleil sounds fun!"

"I COULD VISIT THE WIZARDING WORLD OF HARRY POTTER!!!"
And so on…
I'm thrilled you're along for the ride!
Chapter Links:
Pre-Trip
Those Pesky (Awesome!) Details
Day Zero - Friday, February 3rd
And We're Off!
Day 1 - Saturday, February 4th
Where did all this snow come from?!
Welcome to the Animal Kingdom Lodge!
(continued)
Chicken... and More Chicken
An Afternoon in Epcot
(continued)
Chock Full of Cute Italian Waiters
Day 2 - Sunday, February 5th
Those drinks are not included on the dining plan!
Fantasyland Rush
(continued)
All Hail the Ooey Gooey Toffee Cake
Bring on the Mountains!
(continued)
A Hammock at the Poly
Aloha!
I didn't wish for rain!
(continued)
Day 3 - Monday, February 6th
Breakfast with the Princesses
(continued)
Multiple Soars and Thrills
The Best Waitress of Our Trip
A Tour of the Lodge
(continued)
Let Them Eat Steak!
A Fantasmic-less Extra Magic Hours
(continued)
Day 4 - Tuesday, February 7th
Aloha! Part II
This is Why You Get There Early...
An (Un)Hollywood Experience
Nostalgia and a Few Toys
(continued)
Circus Time!
No Dancing for You!
Day 5 - Wednesday, February 8th
A Very Early Morning
Mount Your Broomsticks!
(continued)
A Flight and a Challenge
(continued)
Hello, Hogsmeade!
(continued)
Three Thumbs Up for Three Broomsticks!
The Rest of the Island
(continued)
The Other Universal Park
A Signature AKL Experience
Day 6- Thursday, February 9th
Goofy, You're My Favorite!
The Best Safari EVER
Yetis, Dinos, Bugs, and Fish
(continued)
For the Love of Pot Stickers