Welcome, welcome! I'm so happy you took the time to check out my trip report. Over the years I have made some really great friends here on the Dis. I absolutely love reading other trip reports and feeling like I was right there with them! This is my third report I have and am excited to do so again! I always have to make the disclaimer that I am not a "writer" so I apologize in advance!
We took this trip back in October. I know it's already January but the holiday madness was crazy! Concerts, shopping, cards, trips, etc., etc. I wanted to wait until the rush settled down and I could devote some time to this TR.
Let's get the introductions out of the way first, shall we? My name is Kelli and I have four kiddos, even if my screen name doesn't say so. (We adopted our youngest son Michael after I established my Dis account.) We have two girls (ages 13 & 12) and two boys (ages 9 & 6). This trip was a special birthday trip with my oldest daughter, Morghan. She's my big girl and shares my love for Disney. I'm sad to say my other three kiddos really do not.
All three older kiddos have been twice before this trip and while they enjoyed it, they didn't LOVE it like we all do. That makes me a sad panda. Expect for Morghan. My Morgs. My big girl. She's a girl after her mom's own heart. We both claim that Disney is our Happy Place. We love all rides, especially the big ones! I was itching to get back to Disney. It had been two years since the last trip. So, I thought a 13th birthday trip would be something special we could do together. How often does a girl turn 13 after all? Morghan officially is a teenager so I thought we should celebrate! So, this trip is just a mother & daughter trip.
I am glad you are joining us.
Here is my Morghan:
Here we are together: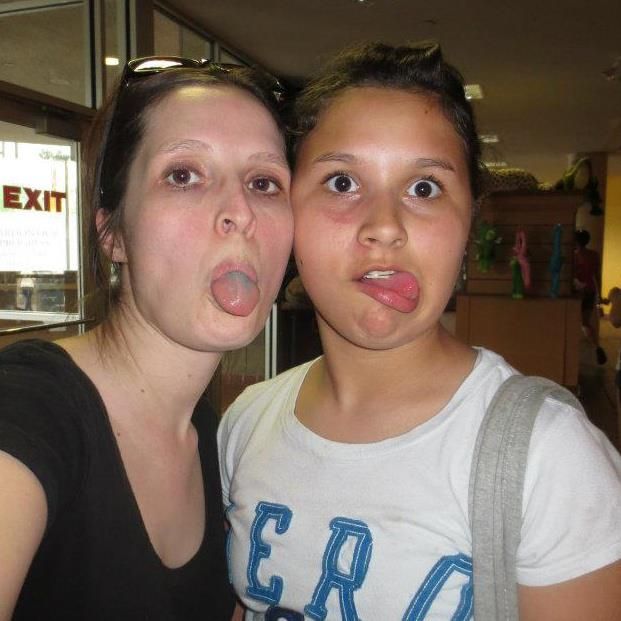 (we're goofy!)
I planned for over a year. I wanted to go in October for a long while because our school district receives 2.5 days off from school. I thought that would be the perfect time. The weather should be nice, crowds not too high and the less school missed, the better! I don't mind taking my kids out because we do it very rarely. But the less homework, the better as well! Heehee.
So our dates were set in stone for a long while. For financial reasons only, we had to make it a shorter trip. We left on a Monday (October 15th) and came back on a Friday (October 19th). I would have loved to stay longer but I definitely took what I could get! Free dining came out for other October dates but not ours! I was so bummed. I held out hope however and by golly, a room discount came out! This really helped out with the budget as the trip definitely was something I had to save and scrimp for this time.
Now where would we stay? This was sort of a process. My initial instinct was Caribbean Beach. I LOVED the look and loved reading Dis friends other reports on this one. So we booked! But, you know how that goes? Eek! I changed to CSR. This was sort of a silly change. It just looked fancier and I don't know what I was thinking really. Finally my friend Samantha, who is also a Disney travel agent recommended POR. POR wasn't a consideration at all because I wanted to save that future stay for a trundle bed room with the family. I'm trying to possibly stay at each resort once so didn't want to "waste" a stay if that makes sense. But she talked about the new Royal Rooms and I thought it sounded perfect for Morghan's 13th Birthday trip!
She re-booked us with the released discount and boom! She's a great friend and a wonderful Disney travel agent. That's how we settled upon POR. I will save you the suspense and tell you we really, really liked it! But we will FOR SURE visit Caribbean Beach in the future.
Ok, I think that is the nitty gritty. Now that we have that out of the way, my next update our trip will start! ! I will try my best and update hopefully once a week. I work full-time and have four kids so we all know what they say about the best laid plans however. Thanks for joining me friends!