Hello everyone, and welcome! I am currently in the middle of planning 3 different Disney trips! It's a little overwhelming, to be honest, so I'm trying to make a few PTR to keep all of my thoughts and plans straight. I had planned to go twice in 2013 (I'll be going in February and April). Then we got invited to a friend's wedding there in August and I couldn't pass up the chance to go to a Disney wedding and be there to support my friend! It will be a shorter trip, from Wed. 7/31 to Sunday 8/4. The wedding is on the 3rd.
It will be just me and my husband on this trip. I'm 24 years old (will be 25 by this trip), and just finished grad school with a masters degree in library science. I currently work as a tutor and drama teacher but I'm hoping to find a library job soon! My love for Disney has grown every year. The last time I went was for our honeymoon in September 2011. I also write for a Disney blog and am on a Disney podcast called Come Home to Disney - all about ways to bring Disney into your home and your every day life!
DH is not as much of a Disney fan as I am, but he still enjoys the trips. He likes to do anything new and different. He is 23 (24 by the trip) and works as a computer software engineer. In his free time he likes to play video games and also design and develop his own video games/apps!
Here we are on our honeymoon trip, when we stayed at POR: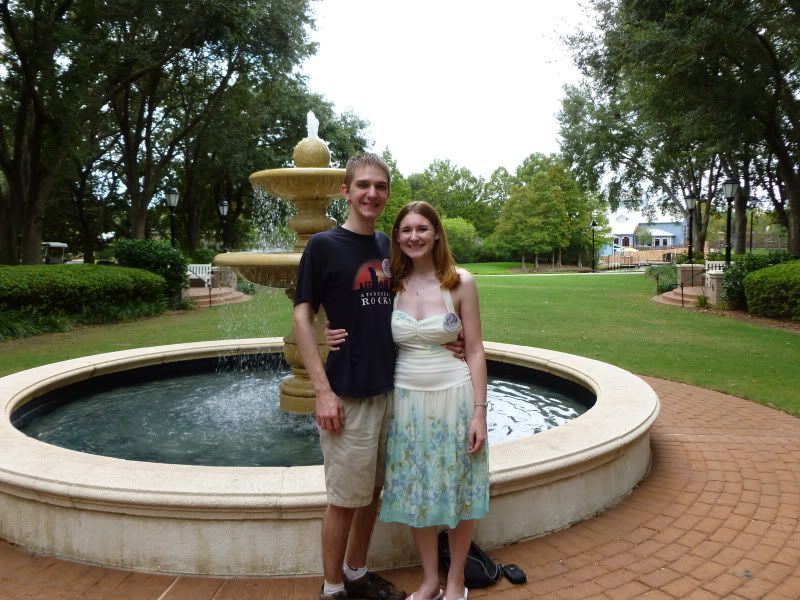 More info to come in the next post!