So where did I leave off...getting my official win confirmation & choosing my destination....
Now I wait for Disney to contact me. Each day that passed seemed like an eternity when you're so excited & anxious for more details! It appeared as if they were waiting to contact all us February winners until after the sweepstakes ended, because ALL of us were still anxiously stalking our emails, looking for any sign of Disney as of early March.
Finally bright and early Monday , March 19 (about a month later) I received an email with the official Disney trip questionnaire.
With my official Disney letterhead in hand, Andy finally believes this is all real now & not some scam. The questionnaire I received is a few pages long. It asked for our guest info, our top 3 choices of trip dates and which general flight times we preferred. It indeed listed all the Deluxe resorts, and asked me to rank them in order of preference. We are given the opportunity to add on nights (at our expense). Add-on nights could be booked at any level of resort - Deluxe, Mod, or Value.
Of course we had already been going through the WDW website to try to decide on a resort. I was already way sold on the Poly. On our last (and only) trip to WDW in 2011, I wanted to stay there, but couldn't quite swing the pricetag.
On each of our Disney trips, I enjoy seeing how far into our trip it is before somebody already starts planning our "next trip".. Usually it's you know, like day 1. In 2011, we had a great stay at the Wilderness Lodge , but visited the Poly to eat dinner at Ohanas. Once Tyler saw that volcano pool, it was all over. He turned to us and said very seriously that we DEFINITELY were staying there "next time". (this happened Day #2 - he was a little late
)
DS at the Poly (Jan '11)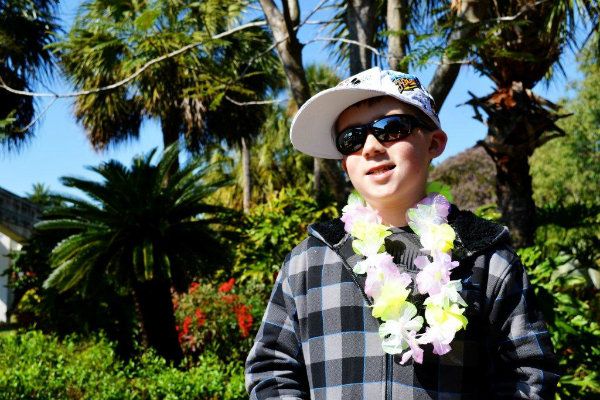 However now when looking at the resorts online, Tyler fell in love with the photos of Stormalong Bay at the Beach/Yacht Club. We finally decide to request a split stay - 4 nights at Poly and 2 additional at the Beach Club. We could've stayed at the Poly for the whole trip, or saved money and transferred to a Mod, however, we decided we might as well take advantage of this amazing opportunity to try out more than one Deluxe, especially after I found out they were offering us great discounted rates on any nights we add on,
, and they'd be "free" with our gift card anyway. We decided we should definitely take advantage of this opportunity to try out two different Deluxes, in two different parts of the World, so a split stay is what we would do.
We chose January for our travel dates, like our last trip to WDW. Many winners were taking their trips really soon -- I was definitely going to be in the minority waiting until winter, however we really prefer the low crowds during off-peak times and with both our busy jobs, January is the best month for us to take time off.
I'm sure hoping at least part of those two days of our trip are decent weather because Tyler is SO looking forward to trying out Stormalong Bay. We always do our DL trips in the winter as well, and we always manage to swim, so I'm hoping for the best!
Since there are only 3 of us (and the prize is for 4 travelers), we ponder the thought of bringing Andy's 2 (teen) nephews with us. They don't get to travel much & have never even flown on a plane before.
We'd have to pay out of pocket for our fifth traveler, but that was okay with us. However, upon closer inspection of the rules, it says all minors must travel with legal guardians. Ruh Roh.
Not to mention, it also said you could potentially forfeit your whole prize if you violate any of the rules... Well, that sealed the deal for me!! Sorry kids!
Maybe we'll have money on our gift cards left from this trip & we'll drive you to DL next year !!
For our prize options, we choose the shopping spree, which is actually another gift card. So upon check in, we will receive $1500 total in gift cards. Not sure how much shopping we will actually end up doing. That money will primarily be going to dining & our 2 extra nights, so I'll have to see what's left...I'm used to doing Disney on a budget, so this will be a new experience for me for sure. However I do know that those Dooney's that some other winners have splurged on sure look nice………..
With all the tough decisions finally made, I email our questionaire back ..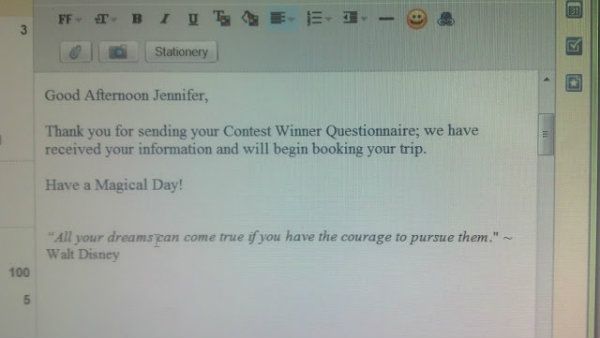 So now I'm back to waiting patiently by my computer inbox again ...
Unfortunately a couple days later I got an email back saying that since I chose January for our trip, I will not be getting any further trip correspondence from them until "FALL", because they will work on the winners' trips with the closest dates first.
Oh, how completely agonizing it was to know that I had to wait from like April to "Fall". This email was like a knife to my heart. Seriously, I wanted to cry….
Fall?? When is that anyways?? Waaay too general a description for my sanity to handle. They didn't even confirm my dates or anything.. major bummer!
Let the waiting game begin...