The penultimate day and the last full day
We decided to head off to Magic Kingdom today, so that we could try to do as many of the rides that we had missed as possible. We had an ADR at Garden Grill for dinner, so we would have several hours at MK.
One thing we wanted to do today was to go on all of the Mountains. Our first stop was Space Mountain. I wasn't impressed by this as I don't like the fact that your back doesn't feel supported. Space Mountain at DLP is a much better ride. As we were in Tomorrowland, we headed for Stitch's Great Escape. I went on this with Olivia and Jess. We were all disappointed by it and thought it would be a scary experience for younger children. Not the greatest start to the day! After this we went to Monsters Inc Laugh Floor - it was great! We all really enjoyed this and found it highly entertaining.
We wandered around the Castle
and headed towards Big Thunder Mountain - Emilia's favourite ride! Once we had been on that, we saw that Splash Mountain was working. It hadn't been running on all of our MK days, so this was particularly lucky. We went on this together and we all loved it. Emilia really enjoyed it - even the huge drop at the end.
We stopped by one of the places selling drinks and tried what I believe was a Liberty Slush. It was horrible! It was bright blue and red and tasted fizzy. I can't remember where we ate lunch - we usually opted for Cosmic Ray's or Columbia Harbour House. I wish I had researched more of the counter service menus, as we were a bit limited because of my lack of knowledge. We spent a little while longer revisiting some favourites although nobody would go to the Enchanted Tiki Room with me lol.
We went to explore Tom Sawyer's Island and watched the parade from there before heading off to Epcot for our ADR.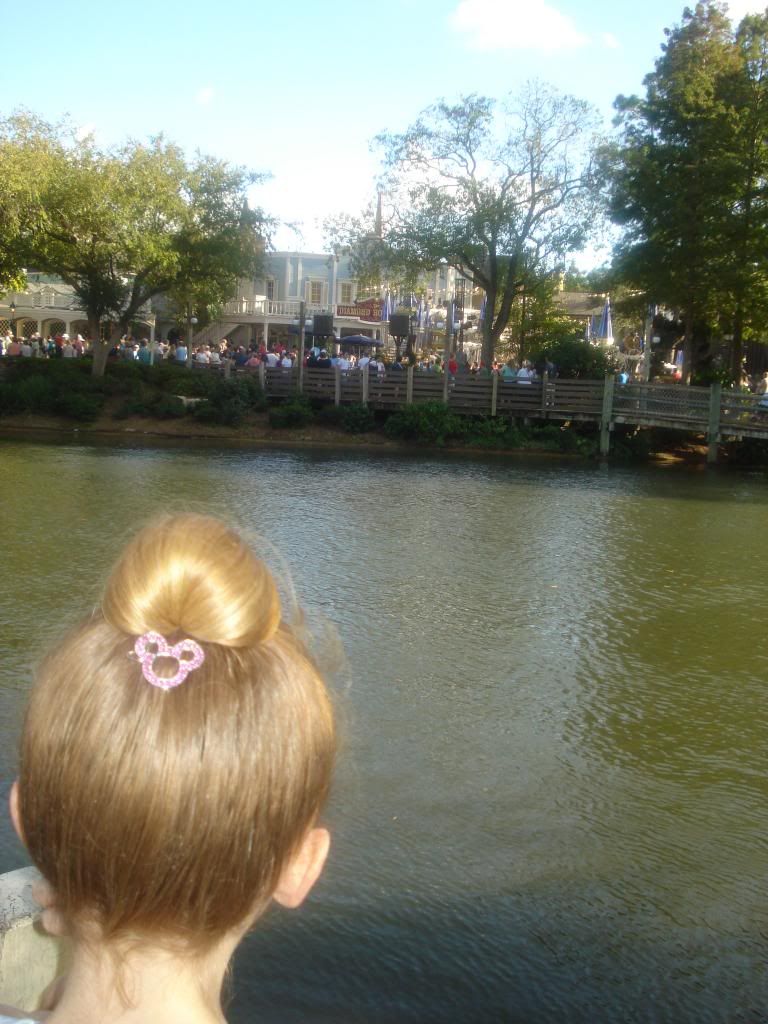 Garden Grill
We got to Epcot early enough to go on Spaceship Earth. Everyone liked this and we laughed at our future selves. Kev was mortified when his picture with Emilia appeared on the large screens.
We let the kids play on the interactive areas before heading to Garden Grill. I knew that the restaurant was surrounded by Living with the Land, so I dragged everyone on there. I was glad I did, as when the restaurant was rotating, it was fun for the girls to spot the familiar panoramas.
The character interaction was really good here. We were in a booth, sitting on the outer edge. The gilrs all enjoyed meeting Chip and Dale.
And someone else popped by!
The kids weren't the only ones wanting to meet the characters
The food was family style and there was plenty of it. I discovered that I like maple butter which is probably not a good thing lol. The dessert was a fruit cobbler which was OK and cupcakes in a cone for the kids. I know all of the girls loved the novelty that this restaurent offers. Sitting in a booth, rotating, character interaction - all of these elements were popular and we would definitely go back. Althought the restaurent rotates, it goes at a snail's pace, so there is no fear of motion sickness!
Tomorrow was to be our final day.