Post Trip Report starts on Page 5, Post #67. Table of Contents in Post #2
Hi! Welcome to my PTR. This is my 10th TR on DIS and welcome back to all my old friends and hello to my new friends.
We leave for WDW via the Autotrain on 1/12 and arrive back 12 days later. This will be an awesome trip!
But first let me introduce myself. I am Marsha, a SAHM mom who loves Disney, plays competitive volleyball, scrapbooks and is a Girl Scout Troop Leader. Here I am in July at Disney when I took just my oldest daughter on a trip to WDW for our double birthdays (we were born on the same day!)
My DD7 Rachel loves Disney nearly as much as I do. Her favorite characters are Rapunzel and Tiana and Brer Rabbit. She loves Expedition Everest and is my little artist. Here she is getting her hair done to become a Mermaid in The Pirate's League.
DD3 is just a bundle of joy ... or terror, as is typical of her age. She loves riding Aladdin's Magic Carpets and looks forward to riding Dumbo (it was down when we went last January).
Her favorite character is Sleeping Beauty -- which I credit back to when she was 9 months old and Aurora planted a big ole kiss on her forehead! If you look on her forehead, you'll see the lipstick mark she left on my DD. Aurora was never one of my favorite princesses, but now she is quite popular in our household.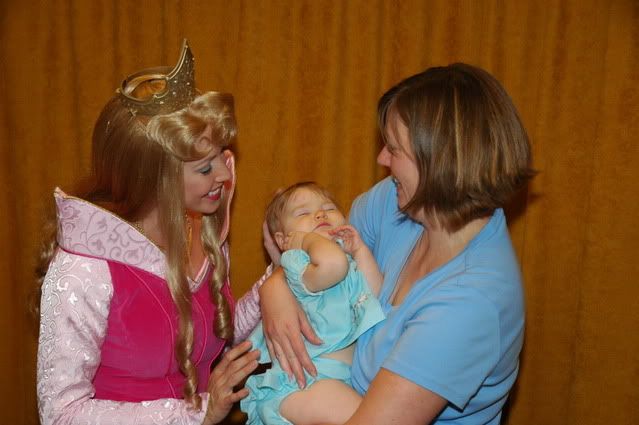 DH is a wonderful guy who loves his family and works hard so we can go to Disney each year. He loves the more wild rides of Disney and just people watching and taking photos.