Index:
Introductions and Index
Friday
Day after Thanksgiving - Coral Reef
Epcot - Christmas Tree - Duffy
Epcot - Topiaries
Saturday
You forgot what?! Pop Century
Epcot - Santa Claus and Holiday Illuminations
Sunday
Birthday Party and Disney Quest
Monday
Showcase rehearsal - AoA Tree - Tree between EoS and Once Upon a Toy
Monorail Mixup - DIS meet - Wishes
Saturday Dec 22
Part 1 - Magic Kingdom - Santa & Crystal Palace
Part 2 - Christmas Parade - Tomorrowland Christmas Stage Show - Main St.
Part 3 - New RFID Turnstiles - Walkway to Contemporary - Contemporary Decorations
Christmas Eve
Part 1 - Christmas Eve Day - Epcot/Beaches & Cream
Gingerbread Display
Complimentary Cider/Sunset/Epcot
Hey Ya'll. If you've been following me, you know we "do" Disney differently. Christmas is my favorite time of year at Disney. I love walking into the parks and hearing the Christmas music, seeing the decorations, eating the holiday treats, etc. Just as we do Disney differently, we also enjoy the Christmas- time festivities at Disney differently too. Disney, Star Wars, fishing, theater, food, Star Wars crafts, and homeschooling have become an integral part of our lives. So if you like the Christmas season and any of those things listed, you came to the right TR!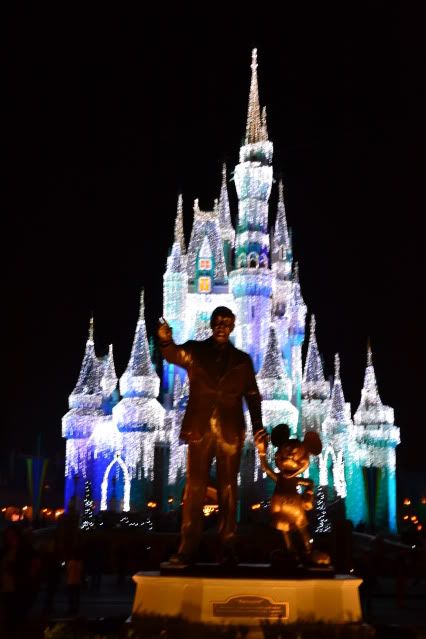 The we:
Me: Disney enthusiast, Star Wars fan, Tink Fan, SAHM, teacher, chauffer, laundry lady, etc.
DH aka Goofy: Disney enthusiast, collector (bordering hoarder) of all kinds of things, Star Wars Fan, fisherman, etc.
DS aka Grumpy: College student, fisherman, future chef, Star Wars fan
DS aka Anakin: Huge Star Wars fan, loves legos, loves Star Wars. Did I mention he is a huge Star Wars fan? He eats, breaths, and sleeps Star Wars. He recently discovered theater and singing, though it all comes back around eventually to Star Wars.
What makes this TR different? We don't really plan, we mostly wing it. What we get to see, we see. What we get to do, we do. We have to be totally flexible. We dont know how much time well get to stay in a park on any given day. A typical park day for us is averages two or three hours. Maybe four or five hours if its a cool day. Why? Anakin has a medical condition that causes him to have seizures, sensory issues, impulsiveness and severe anxiety. Weve learned to live in the moment, handle issues as the come up, and savor the positive.
Updates will come frequently and with lots of pictures. We live close to the action so I hope to update as we visit the parks. For now, we will back track to Thanksgiving week and the Christmas festivities that emerge the day after Thanksgiving. Here we go!