Day 1, November 30: We started out from Alaska (Anchorage) on a red eye flight on Friday morning, with a connection in PDX. I just love that little airport! Our flight boarded on time, and despite my fears (nervous flyer) due to reported Northwest storms, it was actually an uneventful & pleasant flight! No crying babies, kicking kids or major turbulence. Very accommodating & kind flight attendants too! I rented a "digi player" and watched a quirky movie to pass the time, while both my traveling partners dozed peacefully!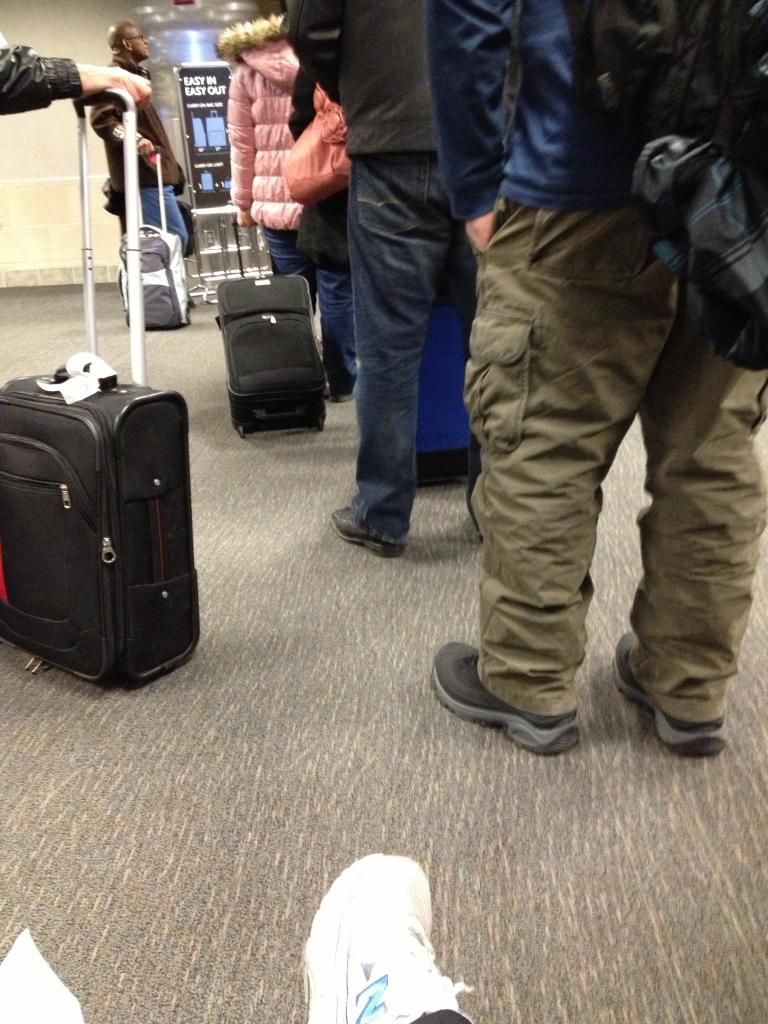 We got to PDX amid some foggy/rainy conditions, but right on schedule! we wandered around the airport & decided we were hungry, so had a delicious breakfast at Gustavs, kind of like being in the middle of Bavaria in an airport! My sis & niece split a western omelette, and I had a yummy croissant scrambled egg concoction with hearty potatoes in the side, along with a rather large glass of cranberry juice. After we stuffed ourselves, we headed to our next gate to wait for our 715a flight. My sis & niece got to board before I did (one due to mobility issues & one is an MVP) so I was finally able to board after a while. This flight seemed a little emptier, yet still quite full, the exit row seats were empty though. Flight attendants not as friendly as the other flight, one in particular seemed like she needed to have a magical moment or two, haha!!
After a little over 2 hour flight (first one being 3.5 hours!) we started our descent into the happiest airport on earth!! I don't know if it was because I couldn't wait to get here, but that flight slower than the first, even if it was 1.5 hrs shorter! We touched down at the Tarmac at about 945a, slightly later than our ETA, due to 50mph headwinds, although, again, very pleasant flight, with minimal turbulence! Kudos to our experienced Alaska Air pilots!!!
I was beaming inside & out, exhausted from lack of sleep as usual, but sooo happy to be at my favorite little airport!! I had bought a pkg through my TA via Walt Disney travel, & decided to try the Magical Express bus, which I determined was neither Magical nor Express! We had just missed the one, saw it pulling away, the next one wasn't supposed to be there until 1040a, and it was only 1005!
I'm not sure what is going on with my iphone, but it seems to be draining the charge sooner than normal lately, so it was almost dead, and since we had so much time to wait for the next bus, I decided to take advantage of it and went back into the terminal by the John Wayne statue to charge up! (sis & niece were enjoying the warm weather outside by the Express kiosk bldg) I went out to meet up with them once my phone was charged enough, not wanting to miss the next bus, but realized after a little bit that it was late! It was 1044a when I headed over to talk to the attendant who informed me that they were running late (duh!) when it finally arrived, there were hoards of people getting on, so we got a seat sort of in the middle, and the first thing I noticed was no little overhead tv playing, I was expecting Disney movies or something, & also the windows were both fogged up as well as hard to see out of anyway due to the little shades they had on them! I was missing my Super Shuttle about this time!! Regardless, before we knew it, we started approaching the Disney hotels, the Grand first, DL hotel 2nd, and then us!!
Ok, the first thing I did was sit my sister down, she looked tired and I didn't want her to start out our vacation on a bad note! I was going to stand in line at the front desk, but a CM whisked me to the opposite side where he promptly started checking me in, and despite my attempts to upgrade us to a park view room (had mentioned it to the WD agents early on) about my sister's long awaited retirement, etc. he claimed they didn't have any available. I was really wanting something more special for us, my sister hadn't been to Disney for over 20 yrs, so I told him I was going to check into upgrading, and he said I'd have to call WD Travel for that, so I got out of his line, with room keys in hand (he went ahead and gave them to me just in case) so I moved over to the front desk side area to gather my thoughts and decide what to do, and since there was no one in line then, one of the front desk CM's asked if she could help! I explained my situation, and to make a long story short, ended up upgrading to club level! Not for nothing, mind you, but I thought it was reasonable enough! Very happy, not park view room, but pool view and club level, which is better yet! We were able to check in right away, which was wonderful because by then it was only about 1p (could have been earlier, don't really remember, too tired by then!) so we got our *magical* room keys, headed to the 14th floor to get settled!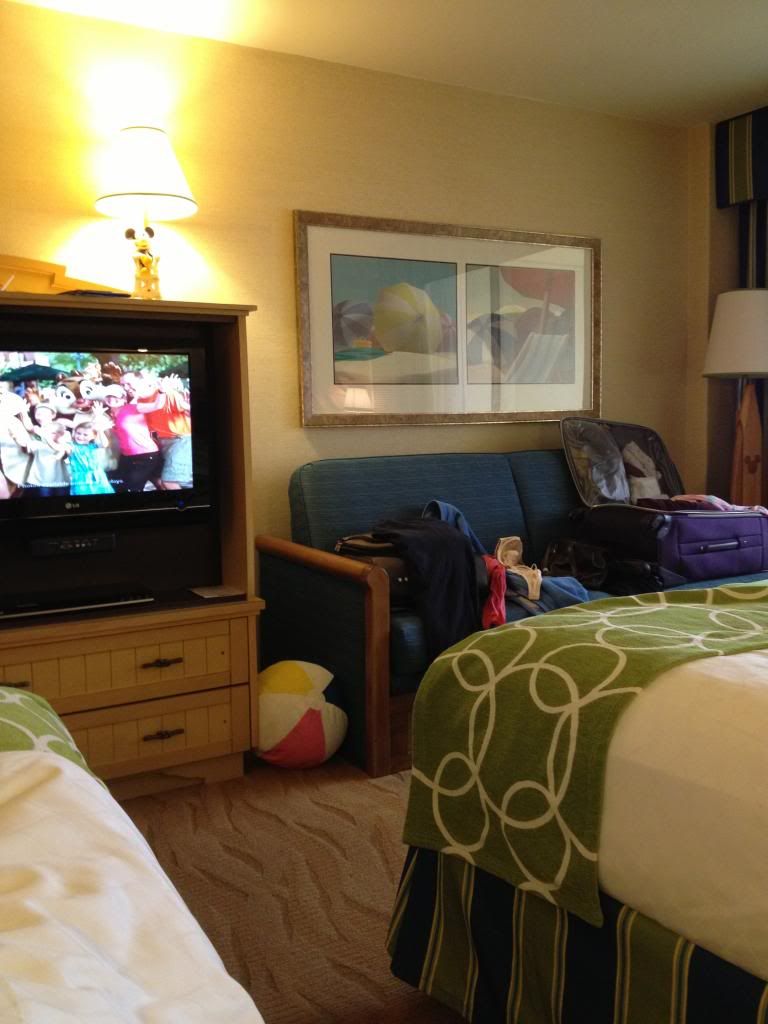 We got in, got a few things put away, and crawled into bed for a Magical nap! Later, refreshed, we headed to the 2nd floor to take advantage of the club level perks! I had stayed on this level before, but it was new to them, and they were pleasantly surprised! They really enjoyed the offerings such as; egg rolls w/sauce, delicious veggies with different ones like jicima, blanched broccoli, blanched asparagus, yellow & red pepper strips, cucumber, cauliflower, and more! Homemade ranch dip, homemade chips & salsa, yummy cheeses with brick of honey, fig sauce, crackers/bread, and the desserts! Mini pecan pies, fruit tarts with very fresh fruit such as blueberries, strawberries, raspberries & blackberries! Cookies; macadamia, choc chip & oatmeal raisin. They also offer bottled water, fruit flavored water, beer/wine, sodas, juice, coffee, tea, hot chocolate. The best part is the staff! So friendly and helpful. Anything you need, they can help with! I'm typing this report on the computer that is available to use in the lounge as well! There are tables/chairs everywhere, a sofa, beautiful Christmas tree, fun framed pictures of the Paradise Pier park, and a view of the downstairs lobby tree, last night we could hear the carolers, it was so beautiful sounding!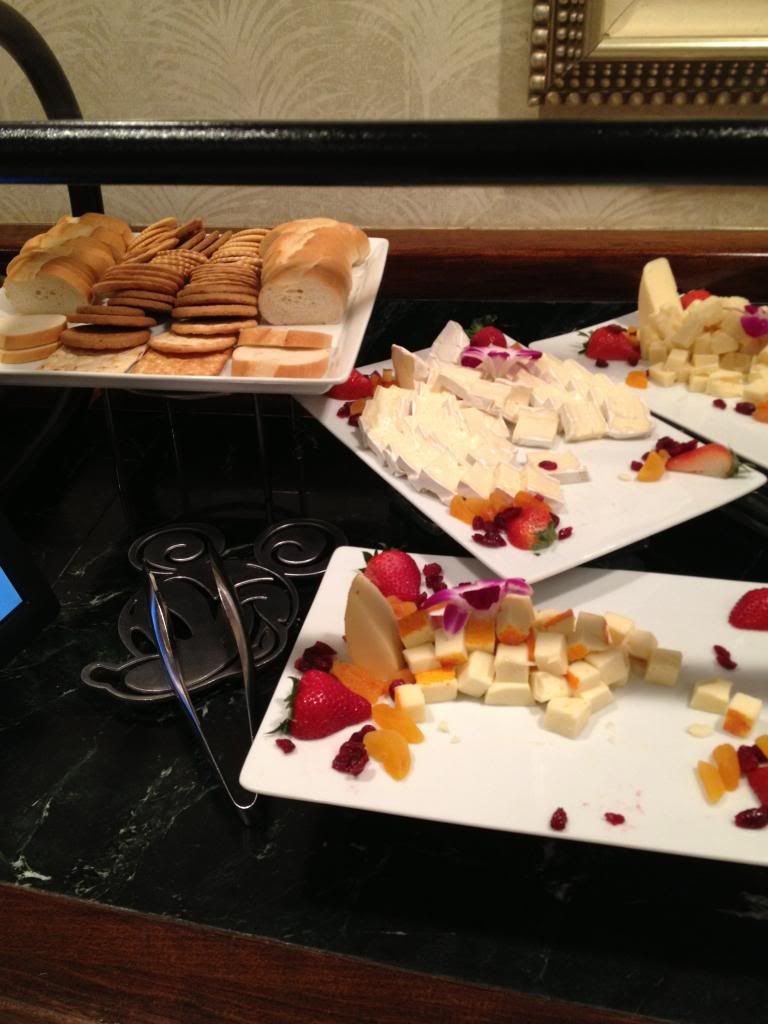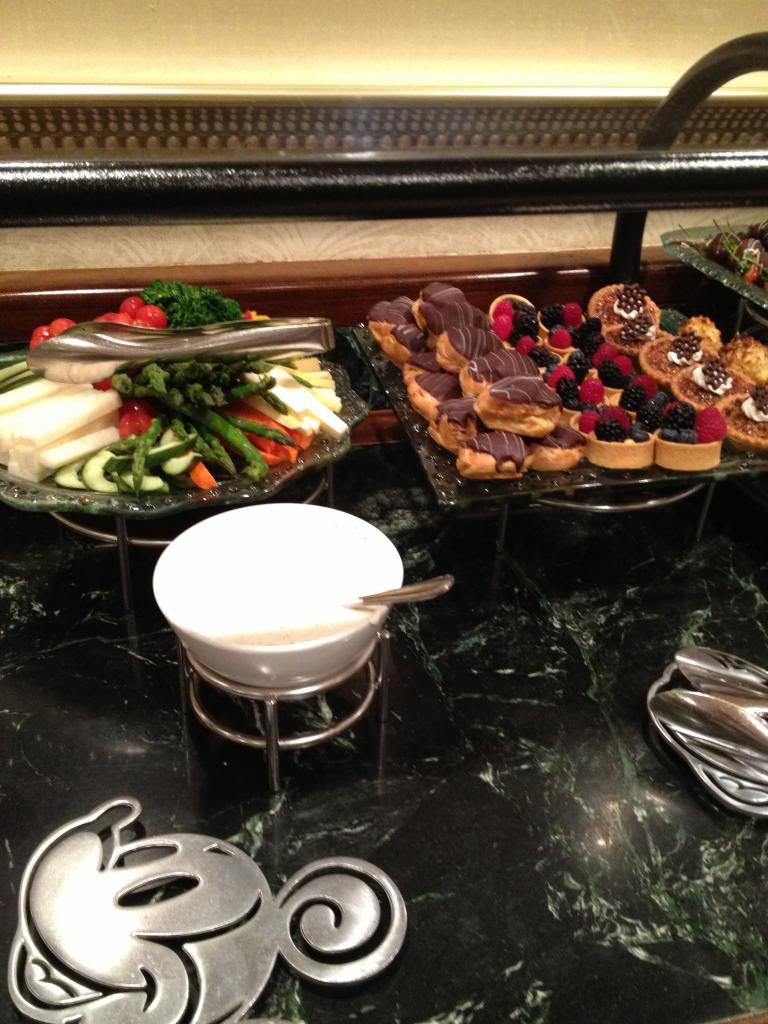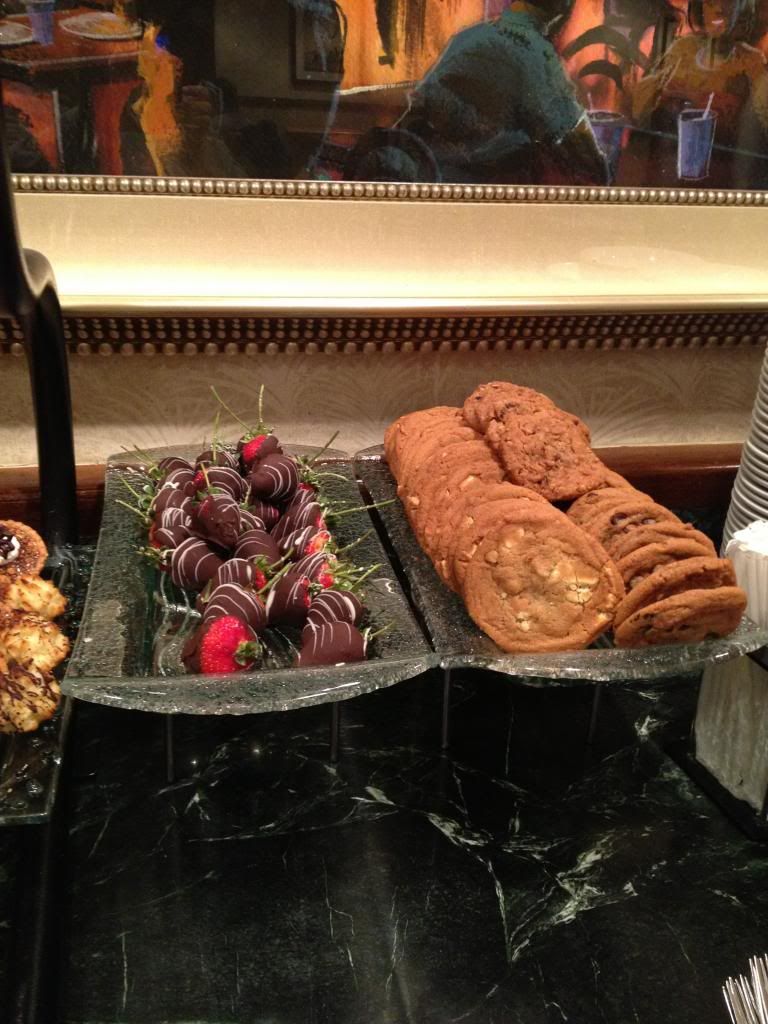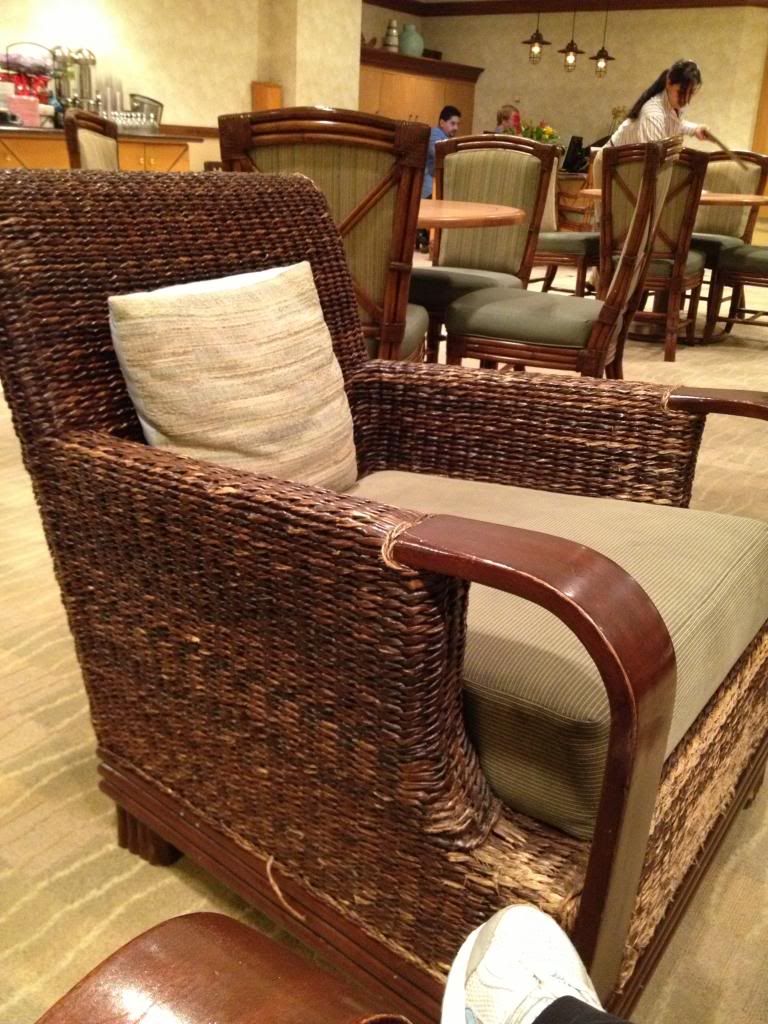 Ok, so that night (Friday) we were just too tired to go to the parks, not to mention we have 3 day parkhoppers instead of 4, so the first night we spent around here resting but later in the evening, my niece decided to check out the hot tub on the 3rd floor on the pool deck, so my sister and I decided to go through the Grand Californian to get to Downtown Disney and wander through there, since she had never been! I had never seen it at Christmas, so I was blown away by the beautiful ginormous tree as well as all the other decor!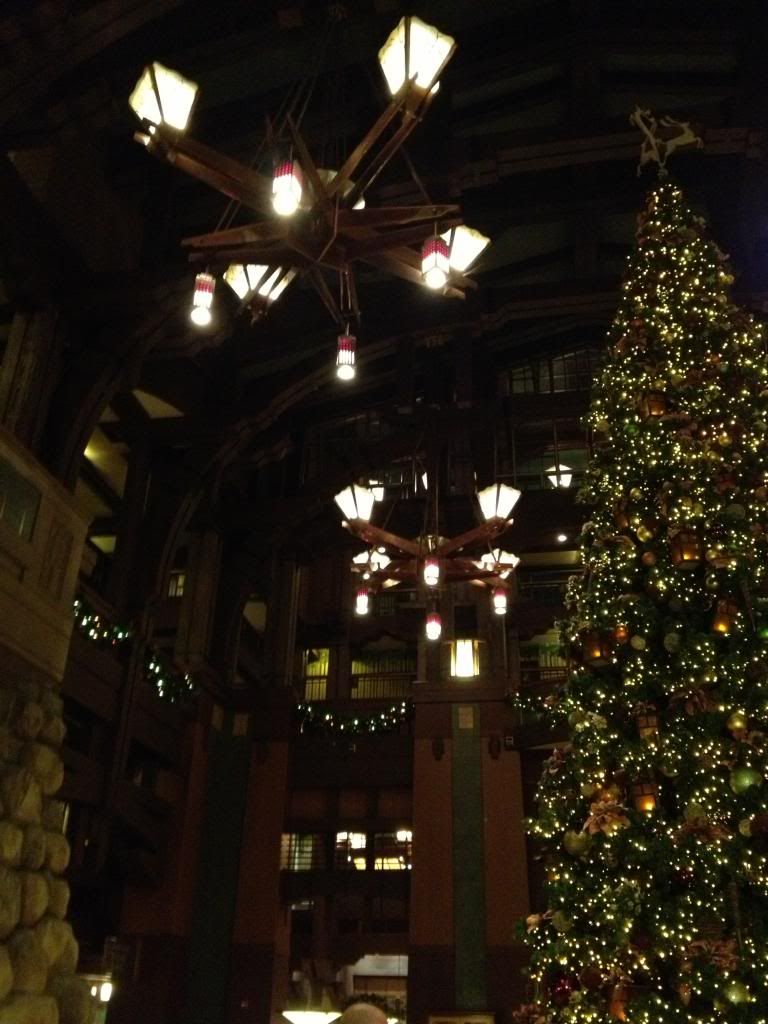 As we headed towards the back of the lobby, we saw and heard carolers as they were just finishing up, so I grabbed a pic just as they were leaving!
We spotted Santa, and there were dozens of kids and families waiting in line to get their picture with the famous man in the red suit! What festivities! Piano music was playing, it was so MAGICAL!!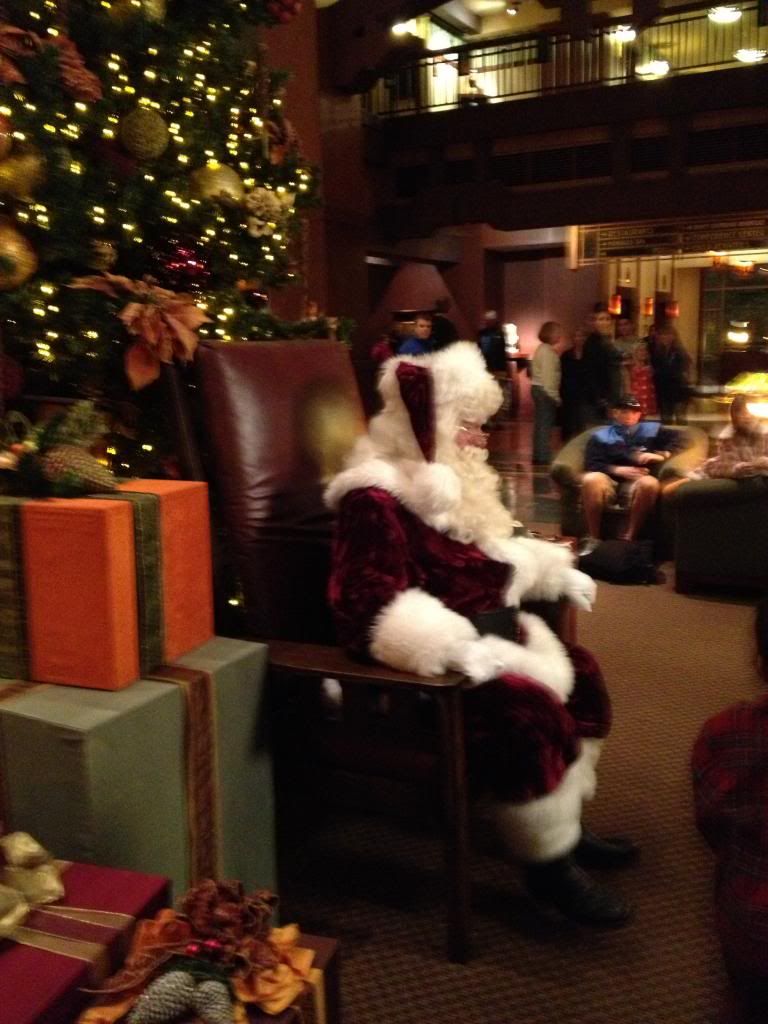 She was amazed by all the shops & restaurants in Downtown Disney, and we decided to stop and check out a few shops. She was overwhelmed by the World of Disney store, but I just wanted to show her the enormity of it all! We walked all the way down to the end of DD and I pointed out where we would be going through to get to Disneyland park the next day. We then headed back to our hotel for the end of a very long but exciting first day, and we hadn't even been to the parks yet!!
Day 2, Saturday, December 1: We headed downstairs to the club lounge to grab a bite before our day begin, went through the Grand again, downtown disney exit and got to the main gate and entered about 8:10a, which I was afraid would be a disaster with hoards of people, but guess what? We walked right in! We sauntered down Main Street, (normally I'm running for Magic morning) and got to Fantasyland where there was only a 10 minute wait for Peter Pan! What a Magical morning so far!! We also rode Dumbo, then Storybook Canal rides, Small World, then Alice in Wonderland before heading over towards Adventureland. By then, they were getting hungry, so my niece got a popcorn & some churros for snacking. After that, we went to the Tiki Room, they sat in the waiting area while I mosied over to the Tiki bar & walked right up with no wait for my favorite snack on earth, the infamous Pineapple Dole Whip float!! It was like heaven!! I shared it with them, and they loved it too! With a very short wait, we found front row seats at the Tiki show, they loved it! After that, we headed to POTC, which we all enjoyed throughly, had a long line, but it moves fast, so no worries there! By then, it was lunch time, we were hungry, so I made reservations at Cafe Orleans, they gave us the buzzer and it must have only been 10 minutes that we waited, and we were in! I suggested we order one order of Pomme Frittes & cup of gumbo for each of us, and it was perfect as usual! My sister ordered the Gingerbread beignets with egg nog creme sauce, which was HEAVENLY!! Stuffed out of our treetops, we headed to the long awaited (for me for sure) Nightmare Before Christmas Haunted Mansion!! I couldn't wait, because I've never experienced it since we always go to DL in the summer! It was the best!! Everything I expected & more!! I can't wait to go on it again! I love it better than the normal version!!
After riding that, we decided to hop on the train to go back to the front of the park, and head back to the hotel for a nap. We got on and had excellent seats, in front of the open space where there is no railing to block our view. It seemed that everything was going so perfectly! I just loved every minute of it!! Never get enough of the old fashioned narration when you go through the part where you go by the Grand Canyon & the Primevil World!! It's just classic Disney, and I feel transported back in time!!
We took advantage of the evening offerings again here at the club lounge, had a glass of wine each, then headed to Downtown Disney for some shopping & enjoying the evening entertainment! There were several options for entertainment, including a group that was singing old fashioned 30's-40's type songs like "Boogie Woogie Bugle Boy" and accompanying jitterbugging! Wow we really enjoyed this, I videotaped some of it too! There is also an ice skating rink set up set to music at the far end of DD, not far from the theater & the new Earl of Sandwich! After enjoying the music & dancers, I wanted us to experience the Trader Sam's bar since I heard so many good things about it! This is on the grounds of the Disneyland Hotel complex, next to the Tangaroa Terrace restaurant with all the adorable little Tiki torches!
We entered, and discovered that it was very intimate (aka, small) and there wasn't an available table for us other than a little high one with 2 chairs, but luckily another couple wanted a smaller one and they were going to sit at the bigger one that had just been vacated, so we got it! We were in like flynn! We decided to order some tropical drinks and enjoy the show! Everytime someone orders certain drinks, certain things happen that make it so much more exciting!! I don't want to spoil it for everyone that hasn't been, so I'll leave it at that! After finishing our nips, we decided to head back to the hotel to get some much needed rest. Outside they have a patio area with comfy chairs/sofas, and live guitar music played by two polynesian guys! Very nice!! There is also a nice outdoor fireplace/sitting area which is so amazing! On our way back, I wanted us to wander through the lobby since they had never seen it, we appreciated the old pictures of the way it was way back when, and then the beautiful redesigned lobby and got some pics of us in the "teacup" chairs! The grounds are so beautiful inside & out, and the Christmas decor makes it that much more festive & gorgeous!! We walked back to our hotel and headed up to our room to call it a night. What a wonderful first day at the parks!! Can't wait to get on with our day today!! Sorry no pics for now, but will have to figure out my sign in info for Photobucket, because I did take some dandy pics yesterday! Today is DCA day, and maybe hopping back to Disney for more fun there!! TUNE IN FOR MORE!!