After a rest, we made our way back to Epcot in the early evening.
First, we stopped in France for a little frozen cocktail...
The lemon Grey Goose slushie that needs no introduction around these boards. Last year, I tried the Grand Marnier one and it woulld be difficult to pick a favorite. The orange one is a little sweeter, the lemon one would be better on a hot day. Both are excellent.
We then headed to Tangierene Café for a little dinner. We shared the lamb and chicken shawarma platter with an extra side of olive salad.
We found the platter was much skimpier than last year and not a very good value for 14.99. There were barely two strips of lamb and two or three strips of chicken in there. Last year, our portion was big enough for two adults to share and it was a little less expensive. This year, not so much. However, everything was fresh and delicious, even the flatbread. The olive side was tasty, but a little salty. We would get this again, to see if they really changed the portion size of if it was a fluke.
In Japan, we got some treats for the kiddos.
The Calpico was strawberry flavoured, non-fizzy soda, very sweet and a little creamy, kids loved it.
The Ramune was orange-flavored. It has a little marble that you have to push to drink it. It was mellow and not to sweet.
The Botan rice candy was interesting, a soft, chewy texture, but a fruit taste. Great value at 1.25$
The strawberry balls on the right were my favorite. They are soft, taste like a strawberry marshmallow and have a jelly center. Very good!
The citrus jellies were are little too weird in texture for me, but I had picked them up for the kids who loved them. Taste was not too strong, and it was not very sweet, but the jelly was kinda hard. It comes in cute little cups.
The last package was several fruit flavors of powder-type candy. My kids really like those kind of candy (think of Rockets) so they were a hit.
The kids were really happy with our selection.
We love testing foreign candy.
In Italy, I got a nice glass of Rosa Regale
This is seriously addictive. You could easily drink a whole bottle of this in no time.
DH got a selection of chocolates to enjoy in the next days.
He liked them all, his favorites being those hazelnut-flavored.
The orange candy is still in my cupboard, I have yet to taste it.
Since DH had his chocolate, I went into Karamell Kuche for a treat. I got a dark-chocolate salted caramel square.
These need to be enjoyed in little bites, but I was a little disappointed that the only salt in the treat was on top, in the middle. Therefore, when I would get a bit from the edge, there was no salty taste. I would have preferred an even distribution of salt in the caramel. But I would get this again, since it still delicious and lasts so long.
Before heading out, we stopped in France for a little wine.
This was a good dessert wine, but very sweet. You get a 2 once pour and it is quite enough to enjoy.
DH was a little hungry so he got another croissant from the Boulangerie-patisserie.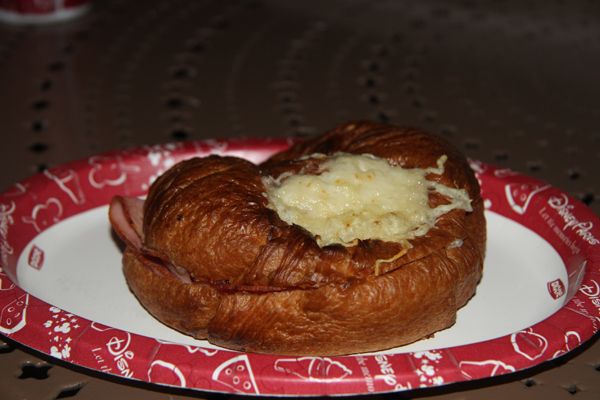 Always as awesome with some nice ooey gooey melted cheese and nice salty ham.
I got a cheese plate for later in the room and the next day.
These are massive pieces of cheese. The Brie was decent but a little boring, the swiss had a nice bite but the middle cheese was not good. As in, spoiled. It had a bad sour taste so we immediately discarded it. I was happy I was not sick. I would get this again, it's a great value and I'm sure the spoiled cheese was only a bad batch.