Jiko is my my favorite restaurant on property...bar none. While not horrible, this experience did not live up to our previous visits.
When we arrived, about 10 minutes before our ADR we were handed a pager. I asked if we would be seated around the time of our ADR, but the hostess wouldn't give an estimate. She seemed very overwhelmed at the time, so I just took my pager and we staked out some wall space as the bar was full.
We were seated after a bit.
DBF once again spied the wild boar appetizer. We had ordered this several years ago, and he though it was too rare. The next year we asked if they could cook it medium, and we were told no. I reminded him of this, but he asked anyway...and this time the waitress said, "No problem!"
Grilled Wild Boar Tenderloin - with Mealie Pap, Chakalaka, White Truffle Oil and Micro Cilantro $16.00
This was even better than last time..the boar was tender, yet flavorful. The accompaniments were flavorful.
DBF wanted to try another appetizer as well, so we decided to get a flat bread, but we couldn't decide. I had wanted to try the peri-peri chicken main dish for some time, but I've loved the appies so much that I haven't, so I finally chose this one.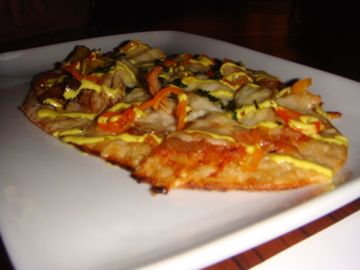 Peri Peri Chicken flatbread
I liked this even more than expected. Jiko really knows how to do flatbread.
Unfortunately, our service was quite poor this evening and we received our apps before we received our bread. In fact, we didn't receive bread until I asked for it.
I was trying to avoid bread this trip...but I was starving, as the time between our apps and our main course was about 45 minutes...I started munching on the bread.
Finally,our meals arrived.
DBF ordered his standard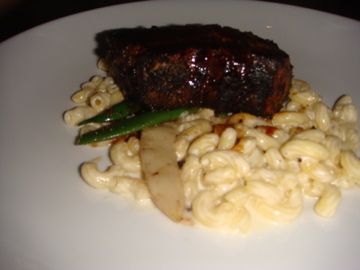 Oak-Grilled Filet Mignon - ancient grain pilaf, heirloom pole beans, South African Red Wine Sauce .
He substituted the mac and cheese. I have not been impressed with the mac and cheese in past trips, but this time it was really rich and tasty.
I ordered this for my main course: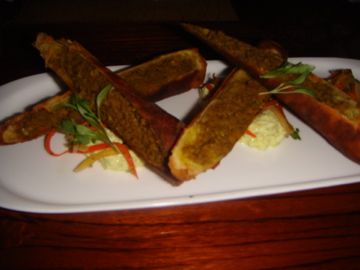 Crispy Beef "Bobotie" Roll - with Cucumber Raita, Green Mango Atjar, and Honey-roasted Groundnuts
I have had this a number of times, and loved it! I have always loved the spice of the beef and how it was complemented by the cucumber raita. Unfortunately, this time they were barely warm, and weren't crispy at all.
I was getting full at this point, but I really wanted dessert! I was sad that my favorite...one last cup had disappeared off the menu, but I thought this might fill the void....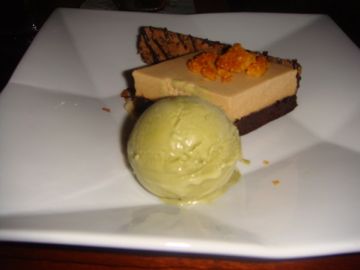 Chocolate and Tea Safari-Vanilla Rooibos-Tanzanian Chocolate Cake, Free Form "Kit Kat", and Green Tea Ice Cream
Well, I liked 1/3 of it! The cake was actually very good...it was dense and rich, but not overwhelming. Admittedly, I am not a huge fan of green tea, so I wasn't surprised that I didn't enjoy the ice cream. I expectd the free form kit kat to call to mind the flavors of a kit kat, but it didn't.
Overall, it was still a good experience...but it wasn't as wonderful as I had come to expect. I still have my reservations for April, so it can't be that bad!