I returned to Universal Orlando with my mother, step-father and little sister, just after being there a few weeks earlier for HHN 22... Hahaha. We had a very full day at both Islands of Adventure and Universal Studios and it proved to be one of the best times I've had at either Disney or Universal.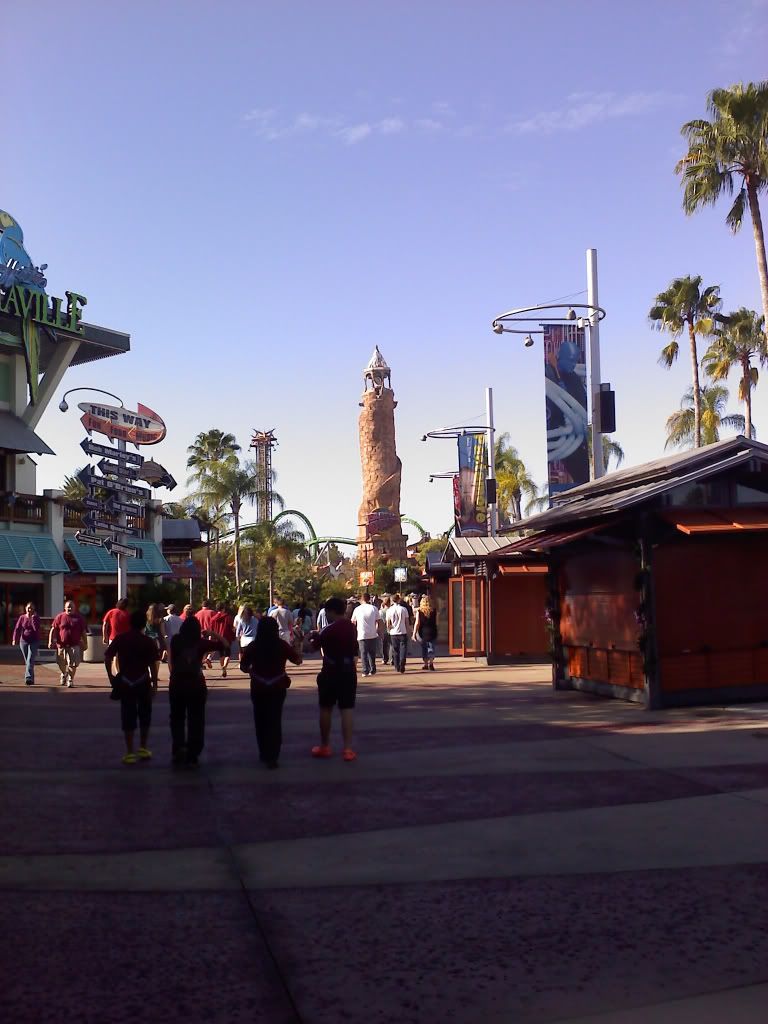 Islands of Adventure
All of the Christmas decorations are up! I don't know how long these have been up, but I sure do love Islands of Adventure during Christmas time.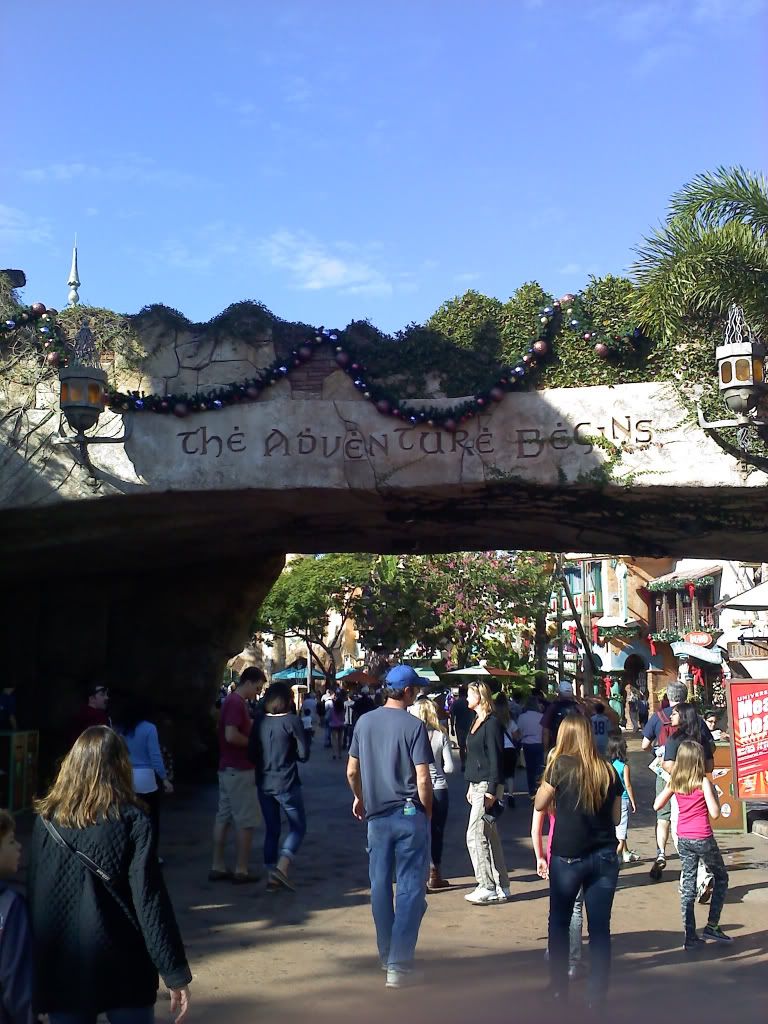 The Port of Entry looked amazing, as usual. I seriously love the entrance to Islands of Adventure. It's a seamless transition from the loud music of CityWalk to the tranquil and epic soundtrack that Islands of Adventure has. And seeing the lighthouse and hearing The Incredible Hulk's roar always gets me so excited. And all of the details in Port of Entry are just amazing. All of these things help make Port of Entry my favorite theme park entrance ever.
Seuss Landing
All I have to say is that Seuss Landing looked amazing. The new, vibrant colors really "popped" compared to the last time I visited where most of Seuss Landing was faded. The Christmas decorations really added to the vibrance and atmosphere of Seuss Landing. The theming in Seuss Landing is among the best in the world, just like the rest of Islands of Adventure.
The Cat in the Hat
was running very well and with a zero minute wait time. It had been a while since I'd ridden this and I have to say it is up there with all of the Fantasyland dark-rides. Though my 3 year old sister got terrified once it got a little darker.
One Fish, Two Fish, Red Fish, Blue Fish
was an interesting ride that I'd never cared to ride before. I know it's the same type of spinner that Dumbo is, but it was interesting with the song and the water, which successfully soaked me because I couldn't follow those directions for some reason...
The Lost Continent
The Lost Continent will always be one of my favorite islands at Islands of Adventure. Though it lacks attractions, the theming is always a redeeming factor for me. I could just sit and marvel at all of the awe-inspiring structures and rock formations in the Atlantis area. Even my step-dad turned and looked at the facade for
Poseidon's Fury
and said "wow". The Arabian area is also impressive with all of the details and little touches. There was a lot of construction happening in this area, which is obviously for the Harry Potter expansion.
I was sad we didn't do
Poseidon's Fury
which I haven't done in a very long time. I know I heard it's not that great these days, but it's something I wanted to do (though my sister would have freaked out). I also hope Harry Potter doesn't completely destroy The Lost Continent. I seriously love the theming here and it's one of the very few islands in Islands of Adventure not based off of a franchise. You can tell that the park designers really let their imaginations run wild with The Lost Continent. Plus... I love Mythos and the talking fountain.
The Wizarding World of Harry Potter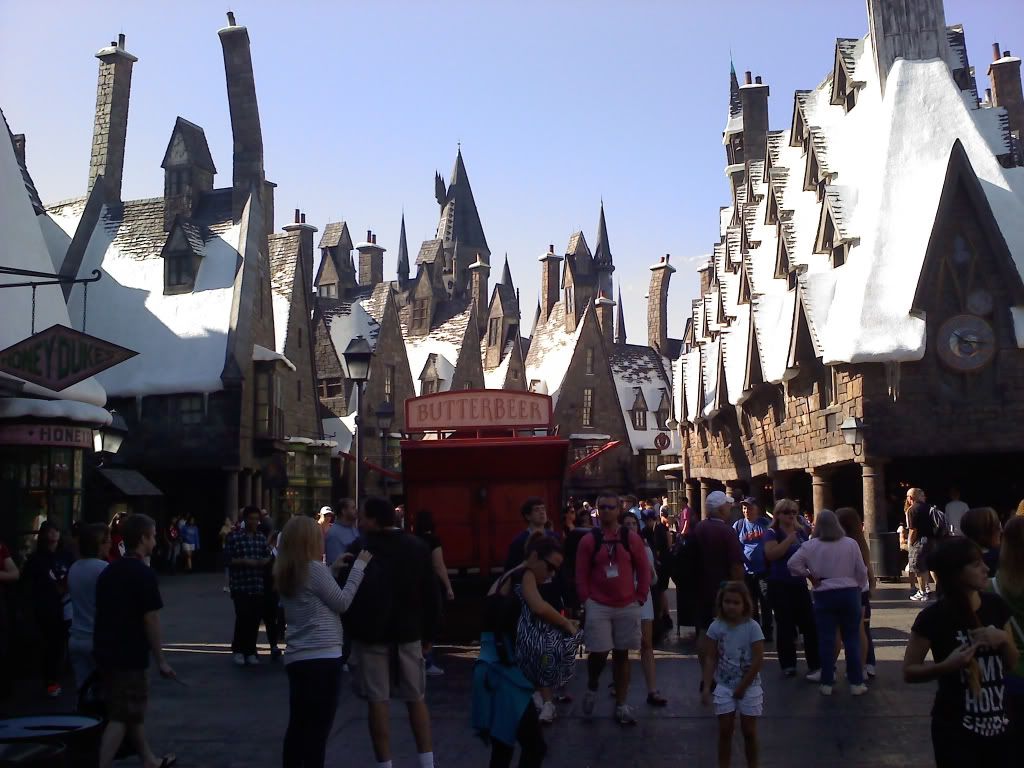 My breath is almost always taken away from me when I enter The Wizarding World of Harry Potter. The detailing and theming is so wonderful and it really just takes you right into the books, which I am a huge fan of. Once again, my step-dad stopped and looked around and said "wow". My mom was giddy about seeing this area because the last time she went to Islands of Adventure, WWoHP just opened and the crowds were immense. We immediately headed over to Harry Potter and the Forbidden Journey.
Harry Potter and the Forbidden Journey
had a 15 minute wait posted, but it was far less. The queue for this ride is amazing, clearly the best queue ever made. Now, a few days ago I could have argued that The Twilight Zone: Tower of Terror's queue was better, but walking through Hogwarts once again really put it above Tower of Terror's queue for both me and mom. We basically walked through the whole queue without stopping once, which was nice, but we didn't go too fast because we were in such awe with our surroundings. We eventually made it to the Room of Requirement, where our benches awaited us.
Here are a few notes about the ride...
- The green orb that follows you at the very beginning is much more effective than flying through the floo network or whatever that was supposed to be. The green orb really helps to show that you are flying due to Hermione's magic.
- The dragon was not working properly. Instead of the "flames" coming out of his mouth, it was just a weird red glow with no flames.
- The Whomping Willow was working.
- The soul-sucking Dementor effect was properly working.
After riding Forbidden Journey twice, we decided we would come back later for
Dragon Challenge
, so we headed into Jurassic Park.
Jurassic Park
Jurassic Park is such a beautiful island in Islands of Adventure. I really feel as if I'm walking through what the "real" Jurassic Park was supposed to be. However, entering at the right side from Harry Potter is it's only downfall. I love seeing the epic entrance gate to Jurassic Park and hearing the film score, however it's marred by Hogwarts and the Forbidden Journey's massive white show building. Once I'm past this, I end up really loving the rest of Jurassic Park. My mother and I headed to Jurassic Park River Adventure while my step-dad took my sister to Camp Jurassic and the Discovery Center.
Jurassic Park River Adventure
is one of my favorite rides at Islands of Adventure. Last time I visited it February, it was down for refurbishment, which was a bummer. This time it was open, and it had a 5 minute wait time posted! However, it was basically a walk on, which was really great. Every single effect on the ride was working, and working well. I do agree that some of the outside dinosaurs, particularly the stegosaurus and ultrasaurus, need some work. The interior dinosaurs were great, as usual. One thing that many will disagree with me on is that I find the crate effect much more effective than Hollywood's car effect. The crate feels more intimate than the car effect, and garnered quite a few screams out of my boat. However, it's probably not right for me to say that because I've only seen videos of the Hollywood version. The splash got me quite wet, which was unexpected because I don't ever remember getting that wet from the splash.
After Jurassic Park River Adventure we went looking for my sister and step-father in Camp Jurassic.
Camp Jurassic
was amazing. I've never taken the time to explore this, but wow. I was at awe on how expansive this is to explore. It's really beautiful too with the caves and the rock-work and the waterfalls. I could have explored for hours. We never found them (they were at the bathroom) but we did find this creepy, creepy cave. We both stumbled upon it and I was scared to walk through it! It was massive and there was an eerie fog and a waterfall and the fog was purple. Plus, there was some creepy dinosaur sounds in there. Small details like this always impress me when I visit Universal and Disney.
We regrouped and exited Jurassic Park for Toon Lagoon.
Toon Lagoon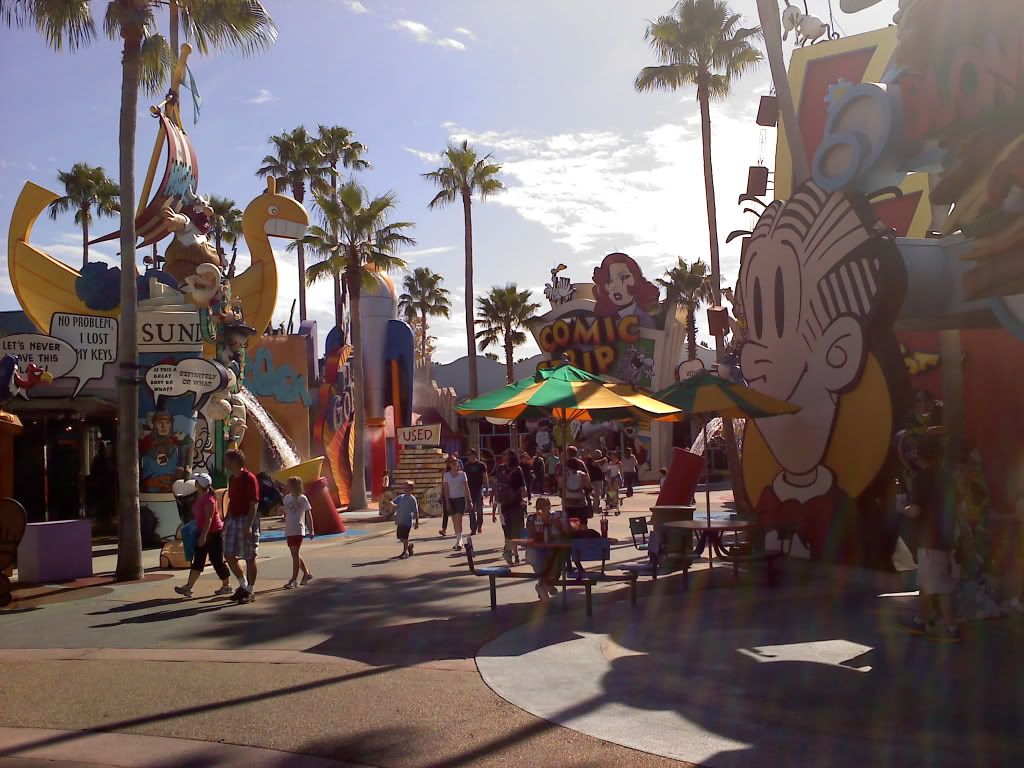 I love Toon Lagoon as it is just like stepping into the bright and colorful pages of the Sunday comics. I think the theming is marvelous throughout the whole island and it always keeps me smiling. My sister was enthralled watching
Dudley Do-Right's Ripsaw Falls
, which is a very photogenic and eye-catching ride. Sadly, we didn't this ride or
Popeye & Bluto's Bilge Rat Barges
as we didn't want to get soaked.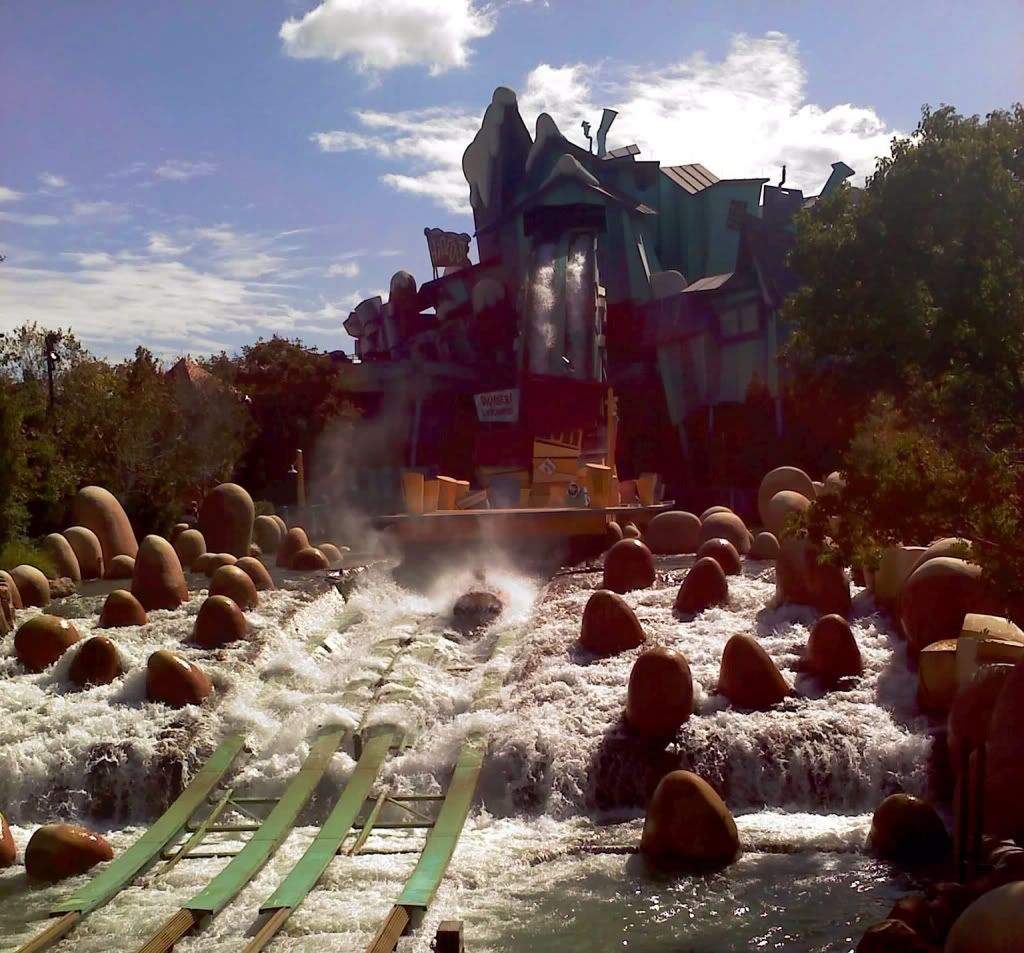 Instead, we just ate a quick lunch in Comic Strip Cafe, which was okay. The food was just normal theme park fare, with a few Asian options thrown it. But that's okay, we didn't want a huge sit down meal, so quick service was completely fine. After this, we explored Toon Lagoon a little longer and let my sister play with all of the interactive things you can find in Toon Lagoon. After this, we headed to Marvel Superhero Island.
*The pictures in Toon Lagoon didn't turn out so well due to the sun... Blah.
Marvel Superhero Island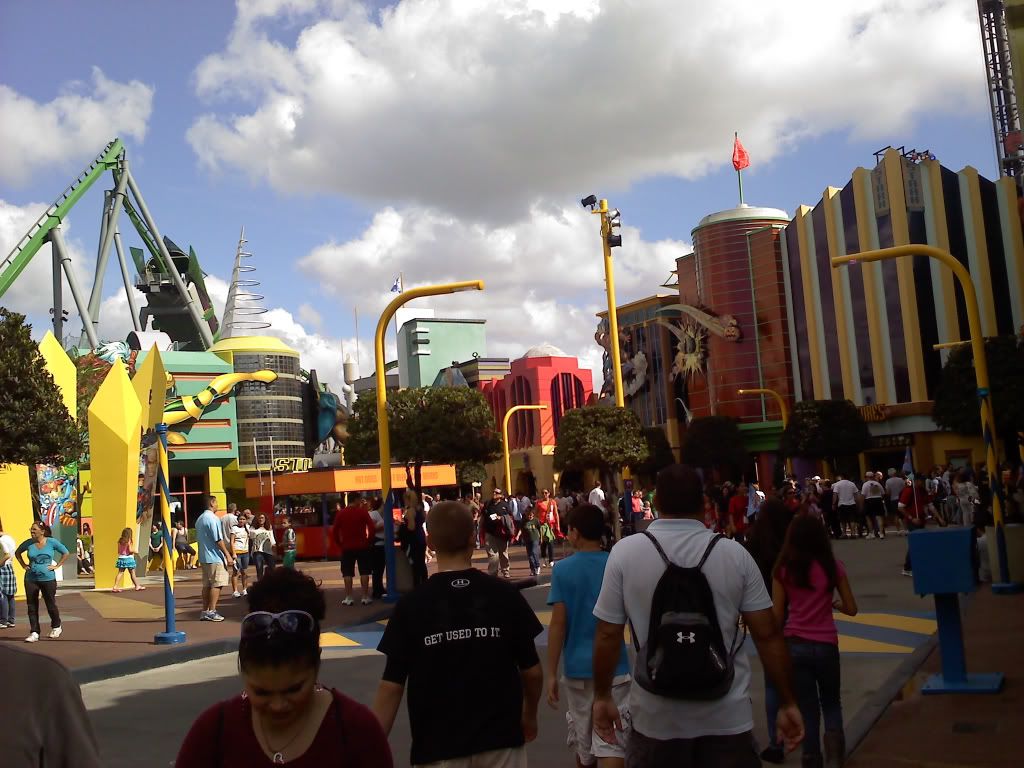 This is one of my favorite islands at Islands of Adventure. A lot of people don't like the theming here, but I don't see what people don't like about it. It's like stepping into the pages of the comics, with comic-like buildings and stores that are named generic things like "Comics" or "Food". The buildings are very eye-catching and fun. Plus, there is a lot happening in this island such as
The Incredible Hulk Coaster
roaring over-head, screams from
Doctor Doom's FearFall
and action-packed music. All in all, I think the theming is great here and with the new paint-job, it looks better than ever.
The first thing we did was head for the
The Amazing Adventures of Spider-Man
while my mother stayed with my sister.
The Amazing Adventures of Spider-Man
is one of my favorite rides in the world and I was very anxious to ride it since I last rode it in February and it wasn't yet in HD. The wait was posted as 25 minutes, but we did single rider, so it was yet another walk-on. And all I have to say is WOW. This ride is better than ever with the HD screens. The transition between set and screen is now flawless and at some parts I had a hard time deciphering what was real and what wasn't. Honestly, this ride blew my mind when it wasn't in HD. This time, I basically had a brain aneurism because it was SO AMAZING.
After the ride, we re-grouped with my mother and sister who had a very special surprise. For some reason, my 3 year old sister loves Spider-Man, and when I told her that Spider-Man was at Universal, all she wanted to do was meet him and... she did! She got to talk to Spider-Man and he asked if he was her favorite superhero, and she said yes. Then he showed her how to position her hands to shoot webs. She was enthralled and still talks about it! After this, we decided to take on
The Incredible Hulk Coaster
while my step-dad took my sister on
Storm Force Accelatron
.
The Incredible Hulk Coaster
is definitely up there as being one of my all-time favorite roller coasters and once again it was a walk-on because we utilized single rider. The first launch into the zero-g roll is the most amazing roller coaster moment for me. It just feels so... Cool and exhilarating! Accompanied with lighting effects, audio, the iconic launch tunnel, 40 MPH launch into an inversion and a massive cobra-roll and loop over the park's lake, there is no other roller coaster like it. It's just so visually stunning and always fun to ride. I read complaints about it getting rough, but if you actually just keep your head against the head-rest, you'll be fine. I rode twice, in rows 6 and 2, with no head-banging.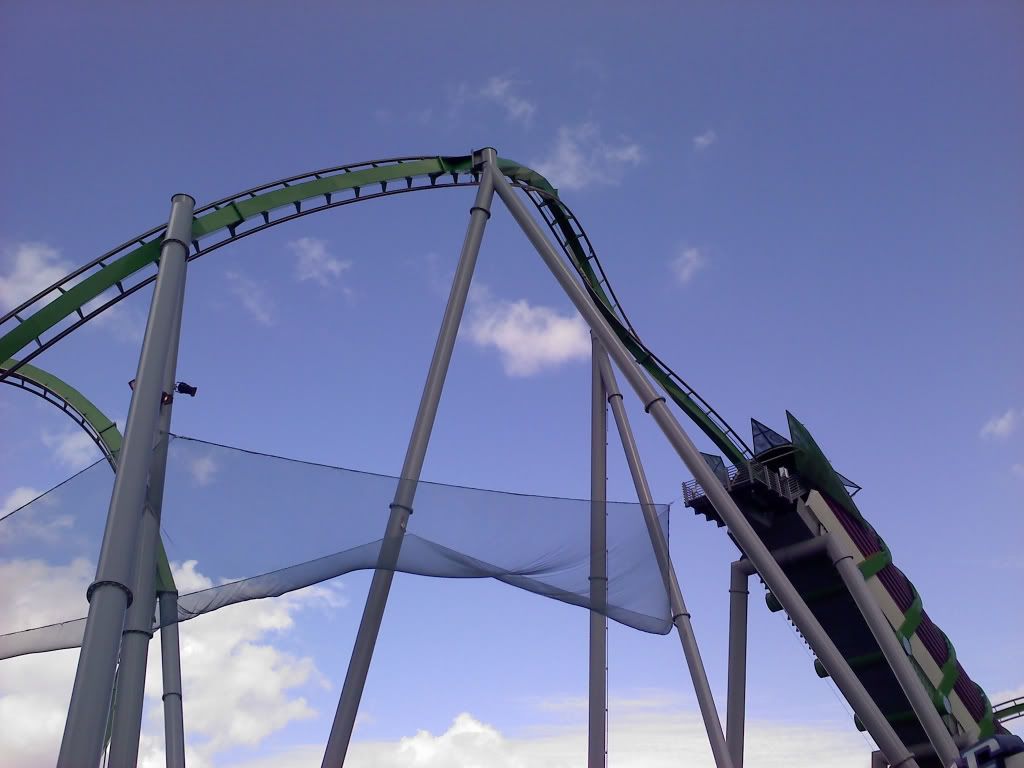 After
The Incredible Hulk Coaster
, my mother ran to the bathroom and I headed to
Storm Force Accelatron
. My step-dad and sister were getting off their first ride (yes, that's how fast we were on and off Hulk) and she absolutely loved it. She had the biggest smile on her face as she got off and wanted to go again. My mother came out of the bathroom and we all went on as a family, which she loved! If they were to ever upgrade this ride, they should fully enclose it and add some cool lighting and simulated weather effects. It would be a lot better. Though it's still a fun "teacups" ride and my sister claimed it was her favorite ride.
I decided to not ride
Doctor Doom's FearFall
, as my mother and step-dad had no interest. Plus, I'm secretly afraid of it. I've been on it about 3 times before and I hate sitting there in the seat, not knowing when you're going to launch. I can do Tower of Terror all day, but not Doctor Doom. I do really like the queue though. It as around 1:00 and we decided to leave Islands of Adventure and head to Universal Studios!
Part 2:
Universal Studios
is coming soon!