This part will probably be a little hectic so bare with me. There's a couple dining and drinking things that happen in this chunk but are small bits so I'm going to include them both here and in the dining report.
After my long stay in the Land, I figured a drink was in order. I was also really tired so I figured I could just sit and people watch while I sipped. Then after that I'd go to the International Gateway and boat my way to Beach Club for lunch.
What I really wanted was a Torontopolitan from Canada. I'd seen pictures and I love normal cosmos so this was calling to me. I looked...and looked....and looked. I couldn't for the life of me find the stupid thing. I looked at every kiosk there and no one had it on their menu. I didn't even see anyone with a drink in their hand other than beer. Yeah asking probably should have been my next step but at this point it didn't occur to me and I figured I'd just keep going til I found something else I wanted.
I went into the pub in UK remembering that I'd been reading about the Welsh Dragon and thought it sounded pretty good, but I was a little hesitant with the melon and peach combined with the mint flavor. To me that just wasn't computing. I'm stealing (sort of) this picture because I didn't take a picture of mine.
http://drinkingdisney.wordpress.com/...tmas-drink-10/
As I waited for the bartender to make it, this old guy was trying to mack it on both me AND the other girl behind the bar. "Oh where you from? My kids are all grown but I'm still a child at heart *glugs beer* so what do you do? Ah where's your husband? Boyfriend? What's a gal like you doing by herself *muffled burp*" Dude, really? Both me and the bartender are easily young enough to be your daughters. And just to be clear, this didn't come across as just friendly chit chat, it had the tone of "I don't want to go home from last call alone"
I asked for my drink to go (rather loudly hoping this dude would get the hint) and I ended up sitting outside at one of the little wire tables and made a phone call home. I had quite a nice little buzz going by the time I left. That drink is delicious!! It's sweet but not sugary, and very refreshing. Its only like $6.50 too, and I think it's a fairly sizable drink. I'd absolutely get it again.
As I sat there, I realized I really wasn't hungry. Like...at all. I'd budgeted all my meals out already and I knew there wasn't another signature I would be willing to try to leave Epcot for (but thinking back now I'm realizing I should have seen if Le Cellier would have a walk up. I'm a bit disgusted with myself now. It just goes to show you how tired I really was.) I'd been rather looking forward to trying Beaches and Cream but since I didn't have an actual ADR looming over my head, I just skipped lunch. In doing this, I came home with a full deluxe dining credit left over
So instead of eating, I just continued my sleep world tour.
I've really gotten WS down to a science as far as what I'm interested in. I don't spend any time in several countries other than the time it takes to walk through them. After the UK, I skipped my way up to my favorite pavillion, Japan! I love the CMs here because they're so friendly, especially if you can at least say "hi, how are you?" in Japanese. It's like their proud of you for making an effort. Miyuki was just finishing a show when I walked up, so as she cleaned up I used my very basic Japanese to say hi and she (I think) always says to come back to the next show and I planned on it anyway. I figured in the meantime I'd go in and pick my pearl.
There were a few people milling around the tanks, like they were trying to make up their minds if they wanted to do it or not. I paid and was the only person who was actually picking so of course it's all eyes on me at this point which kind of sucked. I've tried the hairy pearl trick the past few times but I have mixed luck with it. This time I got a 7 1/2 mm pinkish pearl. Let me say that I can't figure out how they see the color in them. I mean sure if it's very obviously gold or pink or black, but when it's essentially white with just that cast of another color... I only see it if I put one against another. Like I can look at mine and see how one is white, one is a goldish white, and one is a pinkish white but if I only looked at one at a time I wouldn't be able to see the difference.
After I had my pearl, I figured I'd sit outside by Miyuki's cart in case there was a crowd. I shouldn't have worried. There was only 2 other adult couples waiting and I'm not sure if they were doing it on purpose or just that there was seating there. There was a nice breeze so I sat by the clue for Kim Possible/Phinaes and Ferb thing and wrote a bit until the show started.
I could watch and listen to Miyuki all day. It's like she sings while she talks. I've been lucky enough now to be picked twice and 1 gifted to me (longish story, PM if you're interested) She started off with her flamingo which I think it standard issue now. I was the first picked and now I try to think of stuff I've never seen her do, or at least haven't seen in person. I opted for a blue octopus! At first as she started to make it, it seemed so simple but she kept adding to it and putting in little details and frankly I think it's the best one
Other folks picked a green dragon, a dolphin, and a pink unicorn. The unicorn was the only one picked by a kid.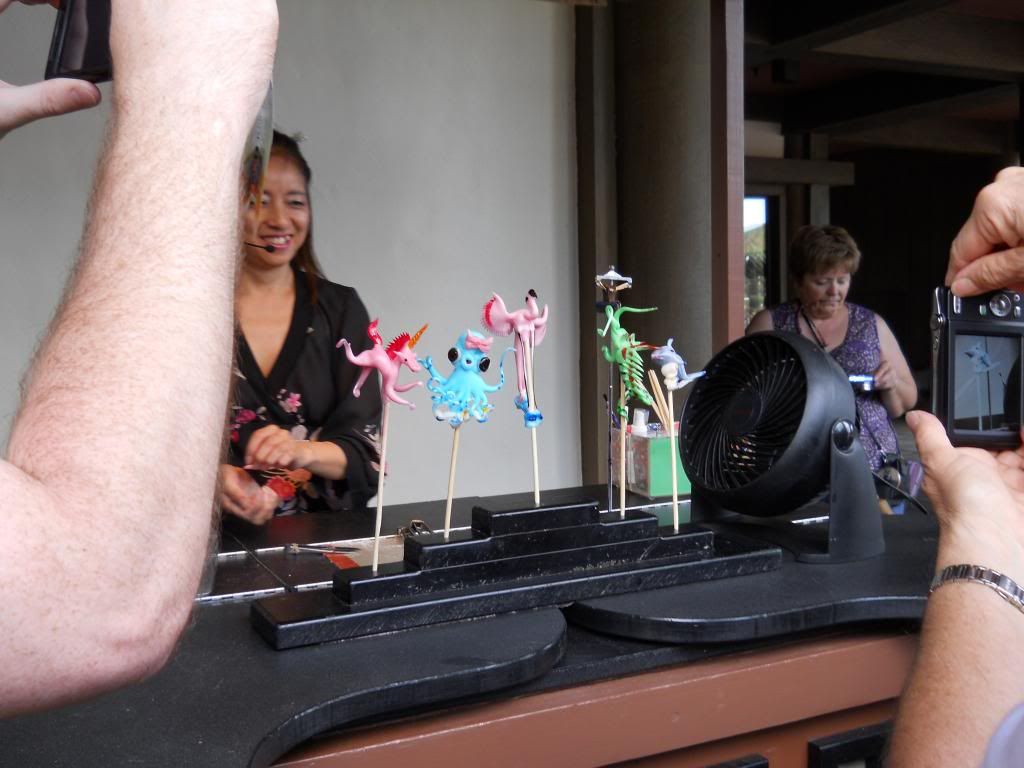 After the show, I got to talking to a couple and I believe their mother (well, one of their mothers..you know what I mean) about how Miyuki doesn't give the candy out anymore and how many theories there are about why. I debated getting henna in Morocco but decided against it and just kept walking. As I got up to American Adventure I saw the show had a 5 minute wait and I'd never seen it before so I thought why not. I managed to catch the tail end of the Voices of Liberty and they're amazing. The show on the other hand. I can really say I'm a huge fan here. It's cute but it's long and to me feels a bit like Hall of Presidents 2.0. Not to mention the ac was on so high that I was freezing and it was making me even more sleepy than I already was. I saw several other people who were dozing as well. If nothing else, I've discovered a new napping place.
After that, I knew I had to eat a little something before dinner as it was still like 3 hours away. I thought a little sugar rush might be a good idea and there was no way I was gonna pass it up again, so my next stop was Germany for Karamel Kuche! I walked through it on my last trip but we were so full from other stuff that day it just wasn't in the cards. This time however...oh baby I was getting me some caramel!
There was a bit of a line in front of me (maybe 5 parties) so it gave me a little time to think about it. What I'd really wanted was a salted caramel. I discovered those a few years ago and fell in love. I was happy to see they had them and in both milk and dark chocolate. Now what you should understand here is that after seeing pictures of them on here, I thought "man what a ripoff, a snack credit for that?" because all the pictures had nothing else in them for a size reference. To me, they looked the same size as what you'd find in like, a box of candy at Valentine's day. Like this.
So I was pleasantly surprised when I realized it was actually like this
That's the first section of my pointer finger. That thing had to be like 2 inches across and about a half an inch tall!! And good lord was it delicious. Firm but supple, chewy but not gummy. It was be nice to split but I did manage to finish it because I'm not the type of girl willing to let good caramel go to waste.
After my "lunch" I kept truckin on and got to Norway. The Maelstrom had a 10 minute wait posted that clicked over to 15 before I even got in the building. I really should have turned around because it was actually about a 25 minute wait and that's just not worth it. I ended up joking with the couple in front of me in line. Well...at least the guy. The girl looked at us like we were nuts. Ahead of this couple some guy was letting 30 ft gaps in the line open because he just had to get everything on video. I was tired and cranky and apparently mumbled out loud "cause you know he's gonna go home and watch that clip over and over..." The guy heard me, laughed and said "You should underestimate the powerful draw of maps!". I said "Wait til you see the other side of this line with the little creepy kid. They'd never noticed it before so I managed to convert more people into the creepy kid club. They were in the row in front of me on the boat which took a minute to launch and we just kept going with stupid jokes.
Him: "man you'd think they could afford to paint some pants on that guy" (meaning the viking)
Me: "Yeah but at least he's safe and won't have his hand cut off while someone else guts a fish"
Him: "Ah Norway, where you can see Cavemen and homicidal children" gesturing to the mural
Me: "and go sailing"
Him: "and take a cruise"
Me: "and drill for oil!"
If you are the girlfriend or wife of this guy, I'm so sorry. We just got on a roll and couldn't stop. I know you thought we were out of our minds and at that point, I pretty much was. It probably didn't help when we got stuck in the very first part of the ride in complete darkness and I said "well that's it, this Norwegian cruise sucks and I want a refund."
After that, I hobbled my way to Mexico. You have to understand my feet were in agony at this point. I could barely put pressure on them. I couldn't even bring myself to try to stairs to I shuffled my way up the ramp. I meandered around thinking maybe here I could find a decent gift for my mom's birthday but I failed miserably. I didn't even bother with the ride (I miss the old one)
Shuffling and grunting along I went, and I was nearly ready to leave the park because I was so tired and in so much pain with my feet. I'd been carrying around a pair of flipflops (Teva Mush, love them) but had stayed away from them figuring since my ankles had been an issue the sneaker was the better support option. I found a bench right by the giftshop , I think it's called Gateway Gifts. I managed to wiggle my feet out of my sneakers and peeled off my socks and gave myself a mini massage right there. My feet were so swollen I could barely get them into my sandals and keep in mind they're normally a little loose on me. What a difference! I didn't feel like crying anymore. I got a plastic bag from the giftshop to put my sneakers in and made my way over to Universe of Energy.
I never realized they close that a little while before the park closes so 7pm was the last show. I scored a row to myself, which wasn't exactly hard but the row behind me had a 5 or 6 person group and I don't know why they didn't spread out more. Once the ride started I had my sandals off and gave myself a 37 minute long massage, alternately putting my feet up on the bench. I heard snickering behind me and the mom from the group behind me says "I don't blame you, I'd do it too if I had the room!" That little rest made a world of difference in that I could walk like an upright human again. But I was still very very tired.
I didn't feel like dealing with Imagination, and I thought I'd hit the Land again after dinner. I decided I'd just hang out with the fishies until dinner. Of course the ride had no wait but man I wish they'd go through and close some of the switchbacks because no one wants to walk all the way through that line when there's no one ahead of them!! I was a bit disappointed because the angler fish wasn't working.
**Aside** the first time I rode Nemo, I thought the angler fish was a puppet being held by somewhere wearing all black, kind of like Voyage of the Little Mermaid. I also thought they'd rush towards the vehicle and try to scare people and I was for a split second absolutely terrified of that thing
Post Nemo, I started walking around the aquariums and I was so tired I couldn't tell you now a single thing I saw. I went to go down the escalator. I looked down to step onto one of the stairs and the motion made me very very off balance and I realized I was leaning forward, out over the stairs. I started to windmill, trying to use the railings to push myself back upright but since the railings were also moving down so it took a bit of effort to get up and back from the escalator. I realized that I'd finally reached the point that I was so tired it was getting dangerous for me to keep walking around. It was almost like I was drunk. I went and took the elevator instead and decided it was time to just go over to Coral Reef and if I had to wait, it was no big deal.
Next up: Tankside? and riding the chocolate wave.