DIS Veteran
Join Date: Aug 2008
Posts: 6,429
GREEN APPLE. A November Anniversary TR with too many photos! *update 12/19*
---
Hello, hello! Welcome to the TR with a dumb name. You might ask yourself what GREEN APPLE means...it means nothing. It was the kind of blowpop my dh had on the airplane when I asked what my TR name should be. That's it.
I had all kinds of other TR names brewing, but none of them quite captured this Anniversary trip of ours. Here are a few I considered:

"How to gain 10 pounds in 4 days!"
"We're together, that's all that matters"
"You are going to end up spending $50 just on water!"
"We're staying at Animal Kingdom Lodge and you forgot your ZOOM LENS?!?!?"
"Ever sit on the lobby floor of AKL at 4am? I have!"
"You went to Disney and went on HOW MANY rides?!??!"

Yep, they didn't really do much for me either...so I went with Rey's suggestion when I asked him on the plane. Green Apple it is.


I guess I should introduce myself, I'm guessing most reading this know me though, so the short and sweet?? (that's a laugh)

My name is Karen, I'm STILL in my 30s! Barely, but hanging in there for a couple more months!
I have my own petisitting business, homeschool my kids, and I'm a photographer (hence the plethora of photos in this TR!). I'm a runner as well and just ran my first 5K! Ok, I can't really make this short, I think I really just like talking about myself.
I have only been to WDW as an adult, Rey says I act like it scared me for life to not go as a child.
I guess I get to insert a pic here. This is one of the VERY FEW rides we went on this trip. How few? You'll have to wait for that. Yours truly on the People Mover! Yes, I was trying to look all cute...it happens sometimes.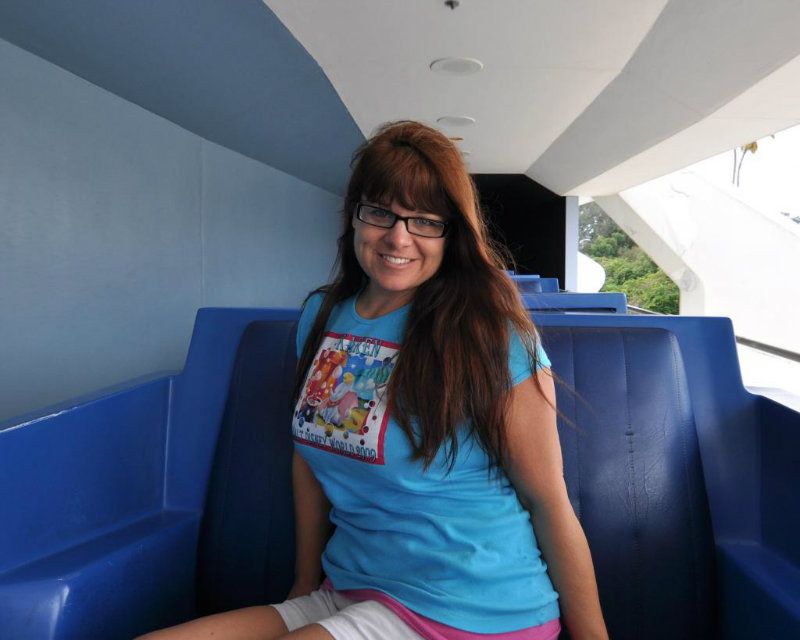 This was my 4th trip...I actually cannot believe that! We went on our first family trip totally alone (no IL's) this past January and somewhere along the line I decided that Rey & I should go back to celebrate our 21 years together! It was actually way more complicated than that. First, I was going to go back early March 2013 with my BFF, for my 40th bday, but then I started looking ahead to finances/trips and started feeling like I don't have that much time left for vacationing with my family. My boys are 17 & 18 and we are just now finally financially able to vacation, and I want to make the most of it. I decided on a trip with Rey and then another short trip with Savannah, my 12 year old, before another family trip! Luckily, I have the bestest BFF in the world and she agreed that we'll have lots of years after our kids are grown to hit WDW and do the BFF thing!

Ok...if you have JUST NOW realized that I can ramble, you may want to consider your time management and if you can handle my TR. I tend to go off on rambles. I've tried to control it, it's just not possible!


Unfortunately, it's a shorter report than my previous b/c it was only 3 nights! Have no fear, fellow reader, I took enough pictures for a full TR!

Rey is my companion on this trip! It was his 3rd trip. We've been together 21 years and this was the first time we actually went away together! We did do 2 nights in "the city" last fall and that made me realize what we were missing, not getting away together! Rey is my funny, incredibly supportive, snarky dh. He likes Disney a lot, but he would tell you that Vegas is his Disney World. He loves Food & Wine, we had briefly spent time at F&W when we went to WDW with his parents, so it was a no-brainer to go on our trip in November! Oh and Rey requested Crystal Palace. He actually got offended when I suggested we cancel it to save a little cash. He loves Piglet, but his picture with Tigger was funnier. Tigger came up behind him when he had a mouthful of food! That's why Rey's smiling so funny. I thought it was hilarious b/c Rey was all polite and smiling but with his cheeks full of food!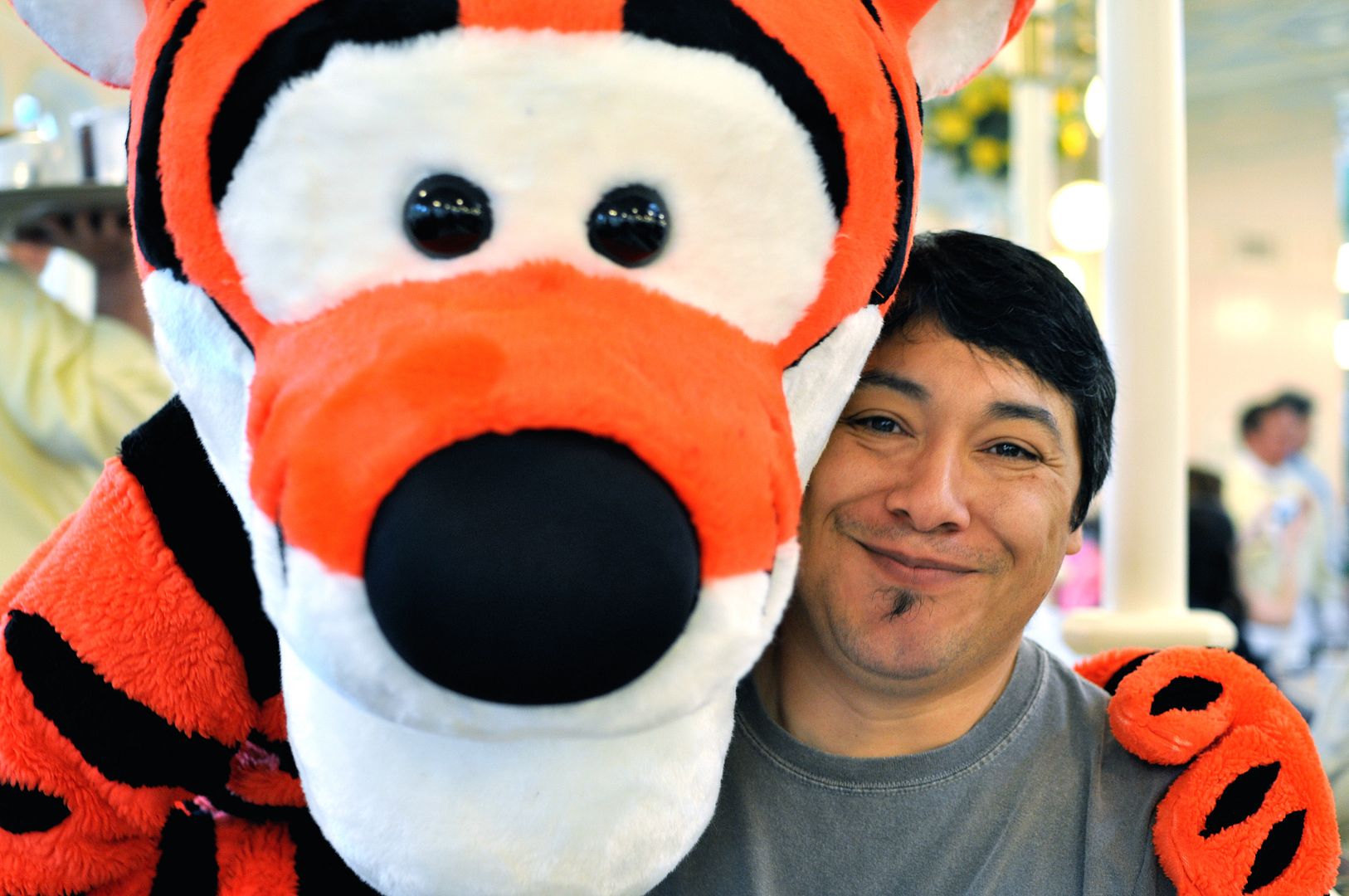 Ok, intro is getting too long! (surprise, surprise!)
Here are the official details for anyone interested:
Trip dates:
Monday, November 5th-Thursday November 8th (yep, Jersey Week!)
Anniversary trip renting points at Animal Kingdom Lodge for 3 nights
2 day park hoppers (Tuesday & Wednesday)
Flying & using Disney transport
Cash for food, no dining plan this time!

So WELCOME!!! Hope you like pictures of just about everything from the airplane to the food, b/c that's what I got!


A pic of both of us, together, this was while waiting to grab the shuttle to Sanaa for our first meal!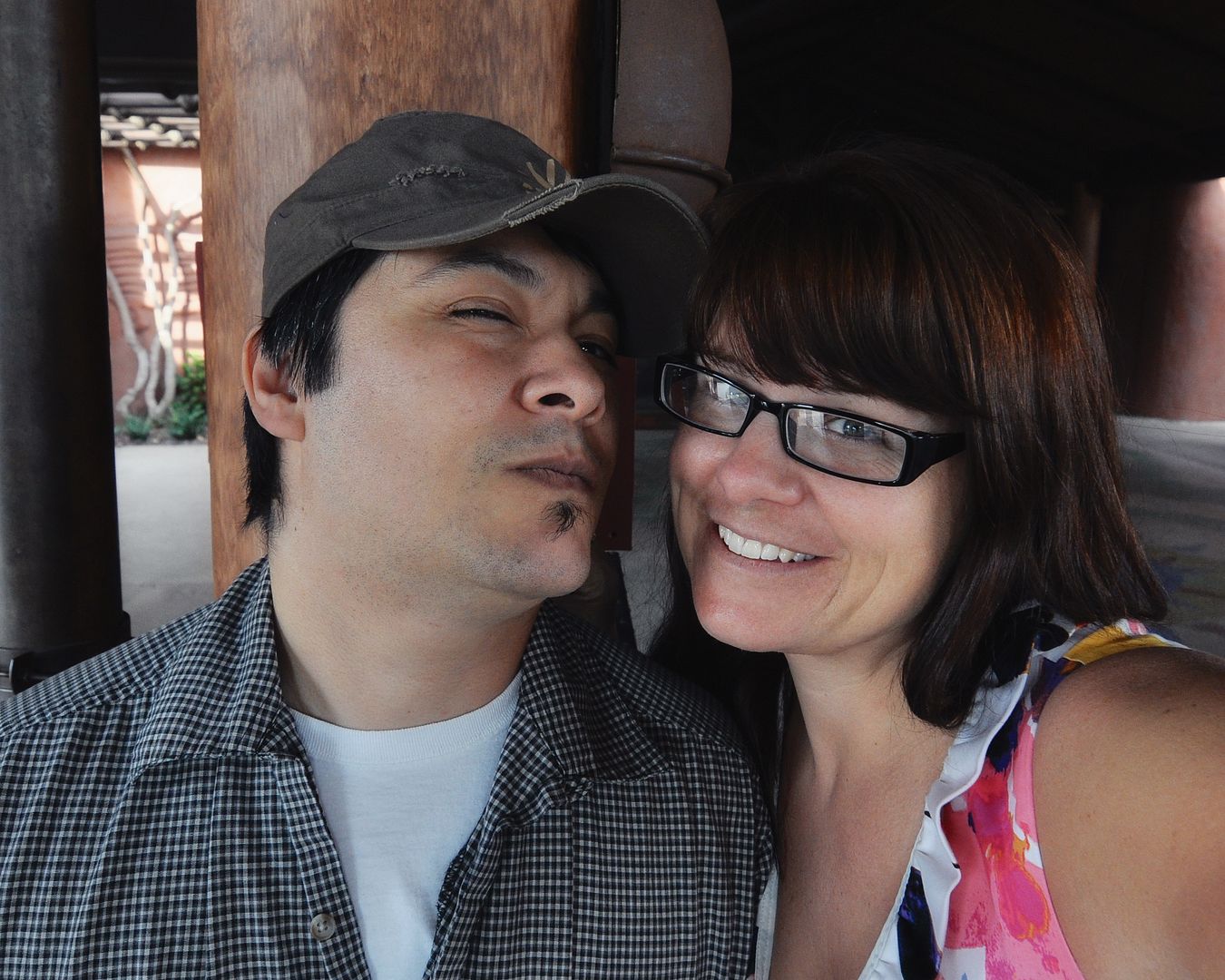 Oh and here's my Pre-Trip Report if you have way too much time on your hands and want to stalk me. I'm not super interesting to stalk, but I do post a lot of photos!

The BFF-Birthday-bash PTR turned Anniversary Trip and Mother/Daughter trip!

Here's the sunrise view from our balcony at AKL, just to wet your appetite!
---
Last edited by Twoboysnmygirl; 12-19-2012 at

08:33 AM

.