hello again!
originally, i had booked a quick thanksgiving holiday trip with my daughter on 11/23-11/25. this reservation has a dinner reservation at BOG.
during my attempt at acquiring a passholder preview for fantasyland, the website crashed. i had flashbacks of my time trying to get a BOG reservation so i never made another attempt.
a few days ago, i did enter the "sweepstakes" for the passholder preview & didn't think anything of it.
yesterday, i received an email from disney stating,
"You have been selected to participate in the New Fantasyland® of Magic Kingdom® Park Preview Sweepstakes for Walt Disney World® Resort Annual Passholders.
"
but i'm pretty sure everyone who entered got a time slot!
so i decided to take back to back trips down to disney. call me crazy or kind of obsessed but i'm so excited! my daughter is a huge little mermaid fan & she is going to LOVE the "under the sea" ride. she's seen videos on youtube from DL & watches it on repeat.
a little introduction of the two of us:
me & my DD emme (age 2).
i am a single mother working as a nurse in florida. my daughter & i both LOVE disney. i really enjoy our trips to disney together as we get in so much quality time. we have an absolute blast together!
photo taken during our last trip...
MNSSHP 2012 DINING & TRIP REVIEW can be found here.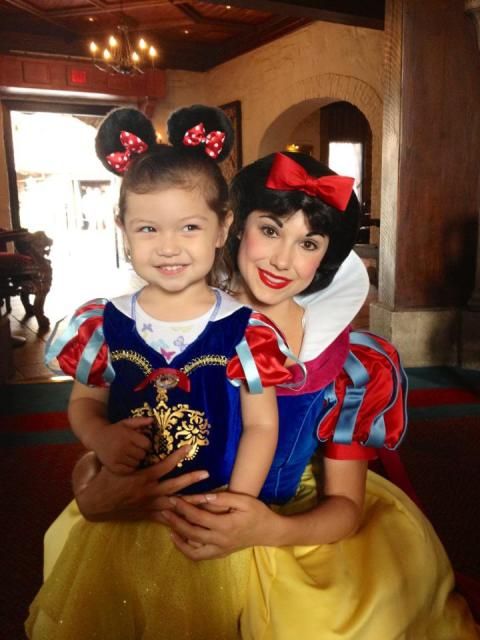 this is my DD daughter, emme. she
LOVES
the disney princesses! a lot of our meals are character driven meals because of her age but needless to say, we love any chance to see the characters up close & personal while also stuffing our faces.
now onto the PTR!
TRIP 1: 11/17/12 - 11/18/12
on this trip, i will be paying OOP & using my TIW card where accepted. we are also staying off property for this short trip as i got a great deal at a disney good neighbor hotel.
DAY 1: AP Fantasyland Preview
LUNCH: Be Our Guest
DINNER: Akershus Royal Banquet Hall
my daughter was pretty miserable at 1900 park fare during our last trip during MNSSHP as all the wind from superstorm sandy finally caught up to her & she acquired a cold. i booked again in hoping she will have a better time & get her princess fix.
our preview is scheduled from 12:30-4!
DAY 2: SeaWorld
we have never been to seaworld together & i think she will really enjoy it. she loves "the seas" & the georgia aquarium is one of her most favorite places ever.
BREAKFAST: The Crystal Palace
TRIP 2: 11/23/12 - 11/25/12
we will be staying at AOA - LM for this trip. we stayed here in october & absolutely loved the hotel!
we are also on the deluxe dining plan for this trip. we will have 6 TS credits and 4 snacks. i also have a TIW card for adult beverages.
fantasyland will also be under soft openings so i'm hoping to check it out again.
DAY 1
LUNCH: Akershus Royal Banquet Hall
DINNER: California Grill
DAY 2
BREAKFAST: 'Ohana
DINNER: Be Our Guest
DAY 3
LUNCH: Cinderella's Royal Table
thank you for reading & i will be updating soon!!